Thanksgiving was always one of my favorite holidays!  Growing up, Thanksgiving meant going to both sets of my grandparents house.  I always knew that I was very blessed to have all of my grandparents alive and well and I was fortunate enough to grow up with them being a large and important part of my life.  The day was start with a big Thanksgiving feast at my Grandma and Grandpa Linn's house where my grandma made massive amounts of delicious food.  My Aunt Penny lived there as well and she was one of my best friends.  We would play games, laugh, and eat our body weight in pumpkin pie, (I still firmly believe that Grandma Linn's pumpkin pie is THE ONLY pumpkin pie worth eating).  The day would end with us rolling our stuffed selves to my Grandma and Grandpa Smith's house where we would lounge around and spend time together on the porch while until we were capable of eating again, (such an American thing to do right? #FWP- First World Problems).  But in all seriousness, the best part was being with my entire family.  As a child it's very easy to not realize that this bliss and fulfillment or being surrounded by everyone you love is not permanent.  Not once did I imagine that when I was 19 years old my Grandma and Grandpa Linn, Aunt Penny, and Grandpa Smith would pass away all within the next five years.  I have recently lost some of the most important people in my life and have been struggling to be as excited Thanksgiving since there are no grandparents to excitedly rush off to who want nothing more than for you, your cousins, siblings and everyone in the family to simply be present.  Thanksgiving will probably be at my house this year and as it approaches I am wishing that I had my grandparents back and that I could walk into their warm homes to the smell of pumpkin pie mixed with various other delicious smells and hear the chatter (sometimes arguing) as everyone prepares for dinner.
I wish that I had known that just a few years later all of that would be gone and I would no longer see and hear them around the holidays and be able to look forward to our gatherings.  Perhaps if I had known, I would have appreciated the moments even more than I did.  My Aunt Penny was the most sentimental and caring person that I have ever known, and one of her ways of showing this was her excessive card giving.  We received cards for literally everything and it was amazing.  I would give anything for another one go hr cards.  I want to show my love for others as much as she did and I wish that I had expressed my love for the amazing people in my life when I had the chance.  Cards are one of the most simple yet significant way of showing this.  They are often overlooked but the effort is actually very endearing that someone took the time to pick out something that they believe you will like.
In a world full of technology there are various ways to express our love for others.  With unlimited communication abilities, you can text your love to anyone you wish but  let's dress it up little bit.  E-Cards are the perfect way to do that!  Everyone checks their emails at least once a day and typically emails are not exciting, (in my case it's always emails about homework and school stuff…) A fun musical E-card in someones inbox could certainly brighten up their day knowing that you were thinking of them.
Hallmark Ecards are not only beautiful and entertaining but a membership will open up many opportunities for you!  One of my favorite features is card scheduling!  You can make your Ecards in advance and schedule them to send, that way you never forget to send out your cards or have to worry about getting them out late.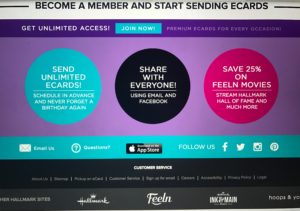 There are also amazing features such as the option to use handwriting fonts to make your cards more personable and fun!  I am really loving the idea of E-cards that are musical and have beautiful visual quality and Hallmark has the highest quality, (duh).
Forgive me for this messed up video, I am technologically challenged and did not cut the music off when the video ends at 1:11.  I will try to do better with videos in the future, (unfortunately I already uploaded it to Youtube and it was so difficult for me to get up I just don't have the heart to take it down).
I hope that everyone has a fantastic holiday season and make sure to let your loved ones know exactly what they mean to you