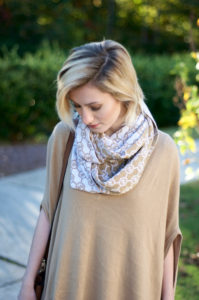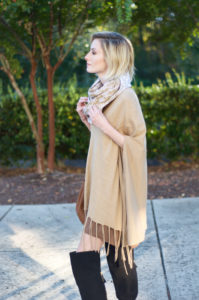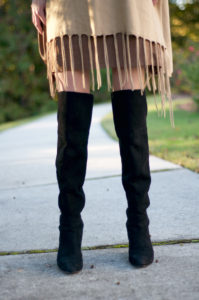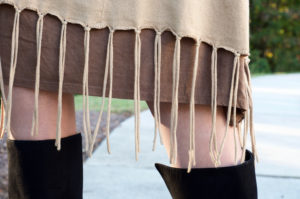 Hello everyone! I hope that you all had a fantastic Thanksgiving and enjoyed you friends and family, (and had a ton of food)!  I know that I sure did.  I love the colors of fall and Thanksgiving which is probably why I am loving this neutral warm toned outfit!
I found this Michael Kors warm tan poncho/shawl at Macy's. I honestly have no idea what it is called but I love it, and look at the little fringe on the bottom! I can't get enough of it.  I layered it on top of a simple short sleeved faux suede dress that I do not like on it's own but it works great as a layering piece.  I purchased this Michael Kors scarf with the poncho because they were styled on the mannequin together and looked perfect.  They infinity scarf is a bit uncomfortable and cumbersome almost as if it is too short to wrap around but too long to wear without twisting once. The gold colors make up for that though.  I wore it with my cold weather staple, Ninewest faux suede black over the knee boots.  I have had these boots for a few years now and they don't look too shabby considering I have always worn them everyday through fall and winter.  Go get you some!
Scarf/ Michael Kors at Macy's similar here (not 100% sure if this link is real or a knock off).
Faux Suede Dress/ Ross similar here
Poncho/ Michael Kors at Macy's here (I believe that this is real and the exact one I am wearing and the price on Amazon is a much better deal than mine was at Macy's).
Purse/ Michael Kors
Boots/ Ninewest similar here