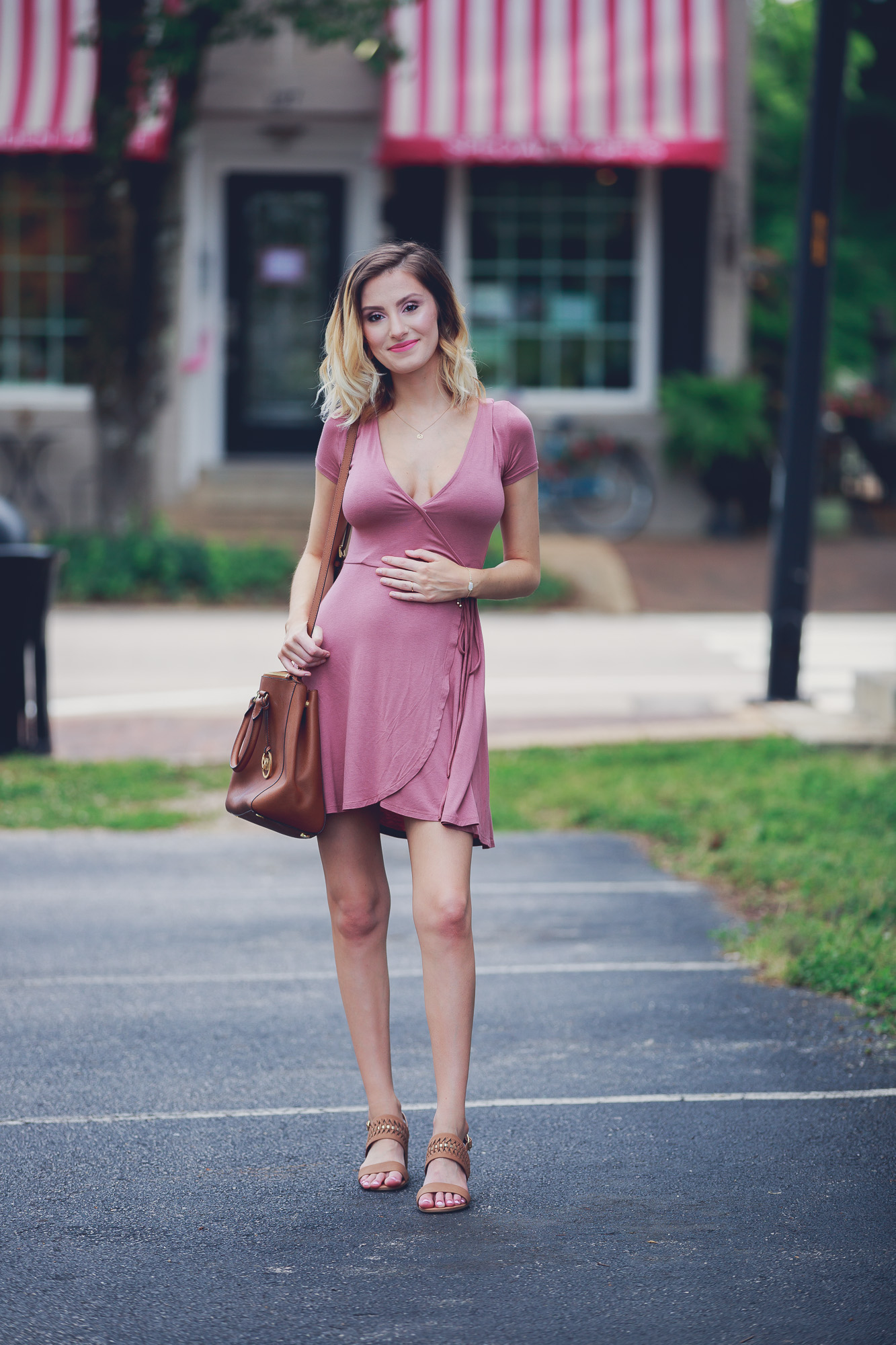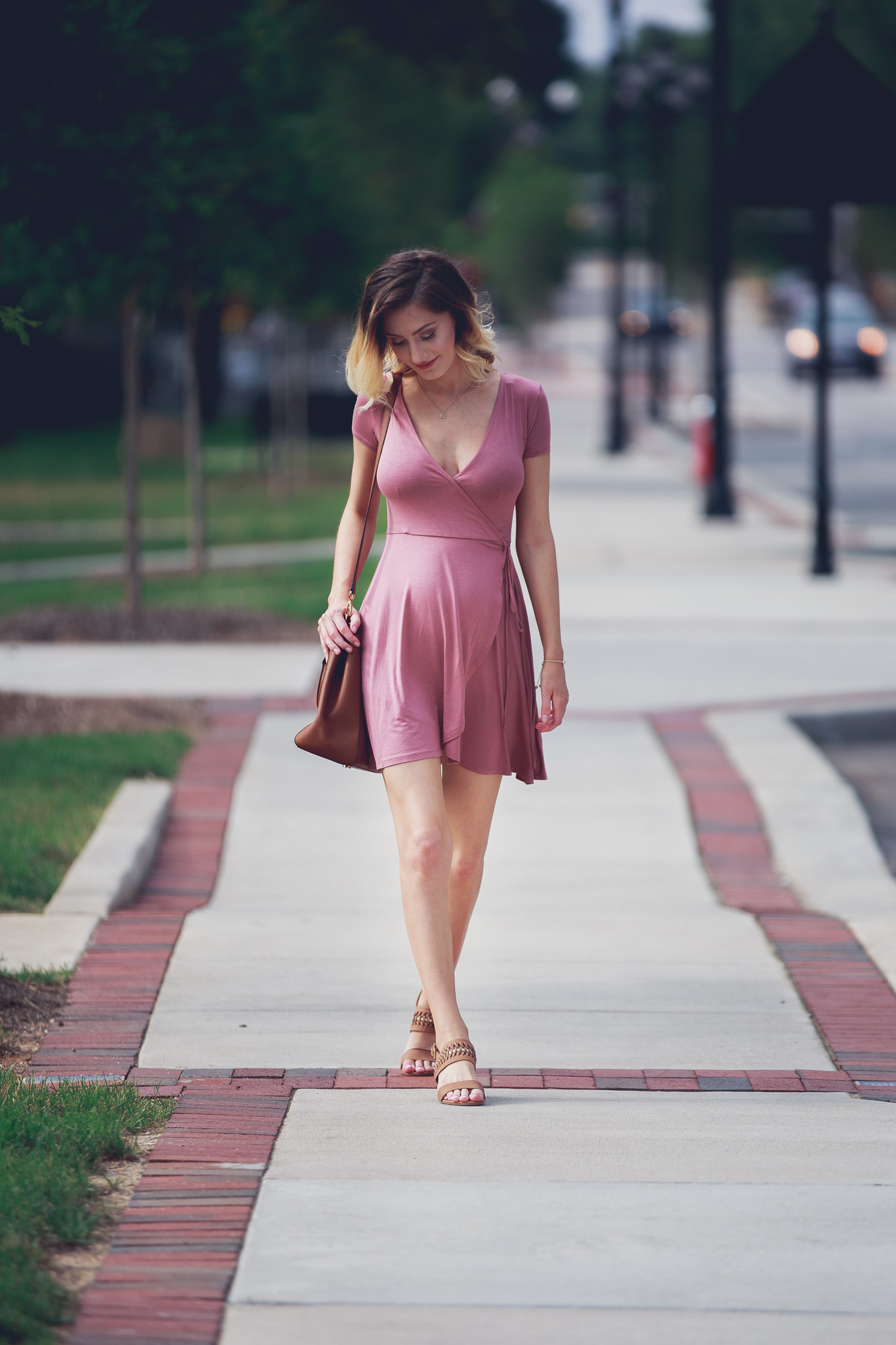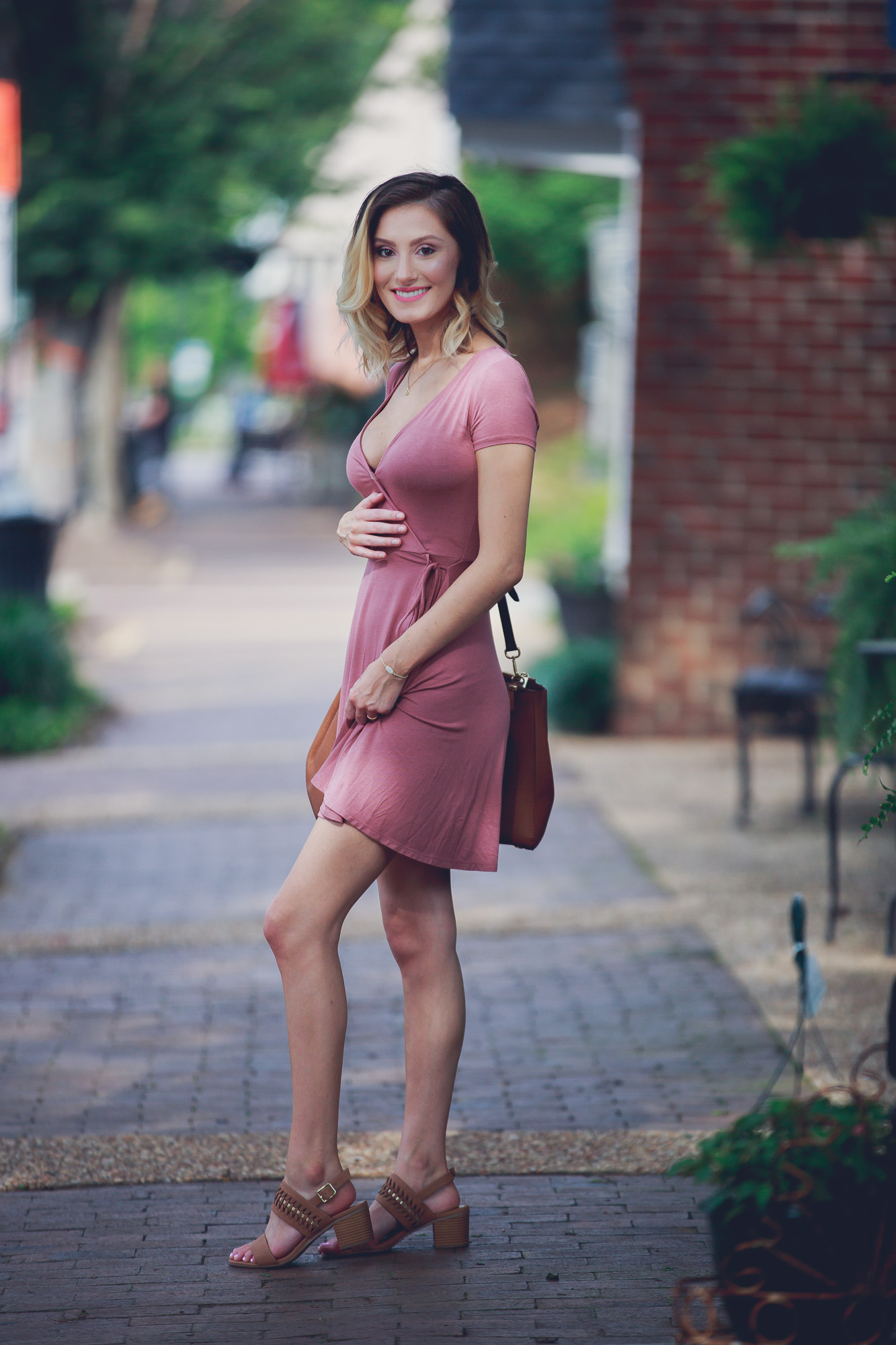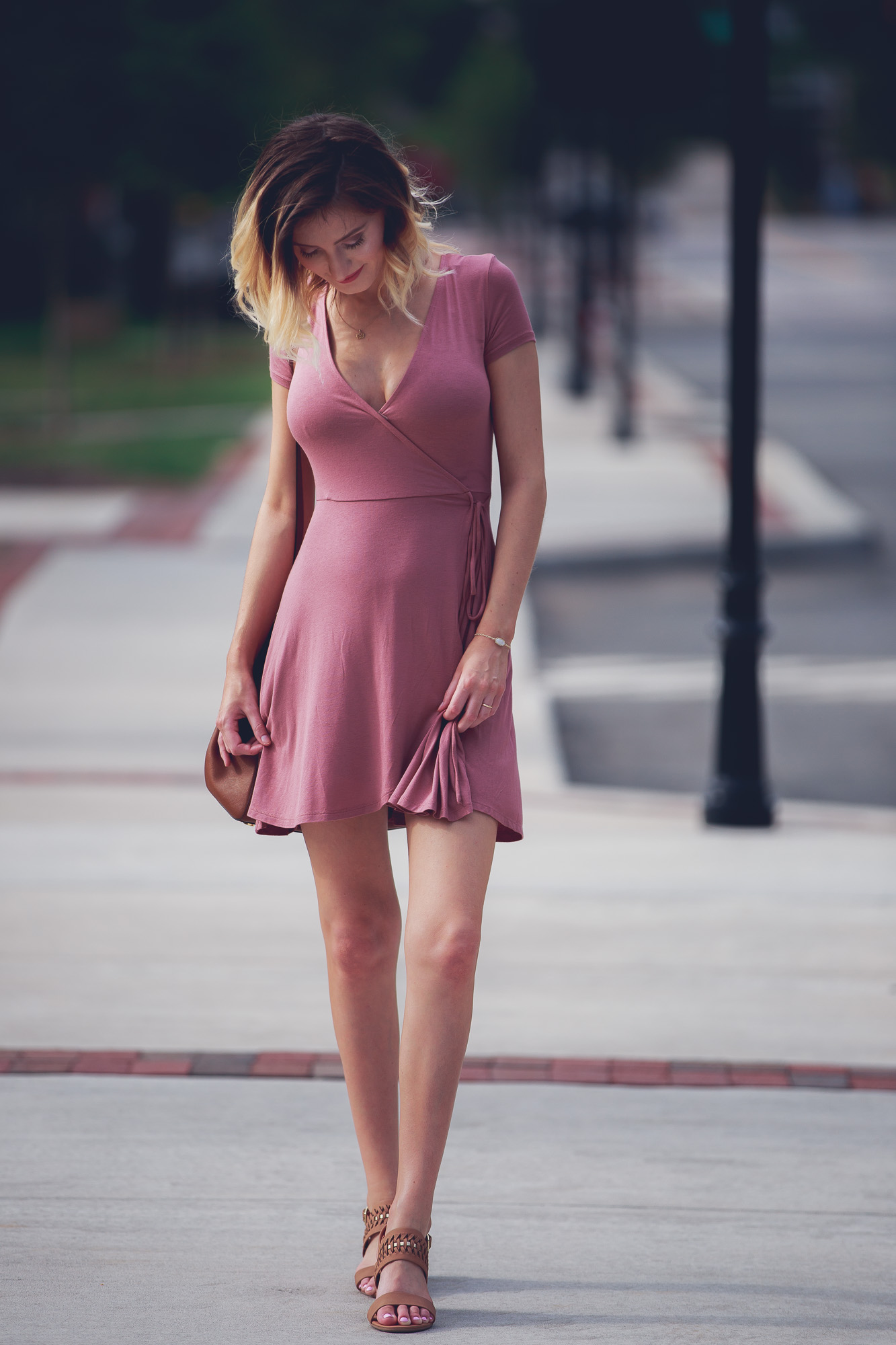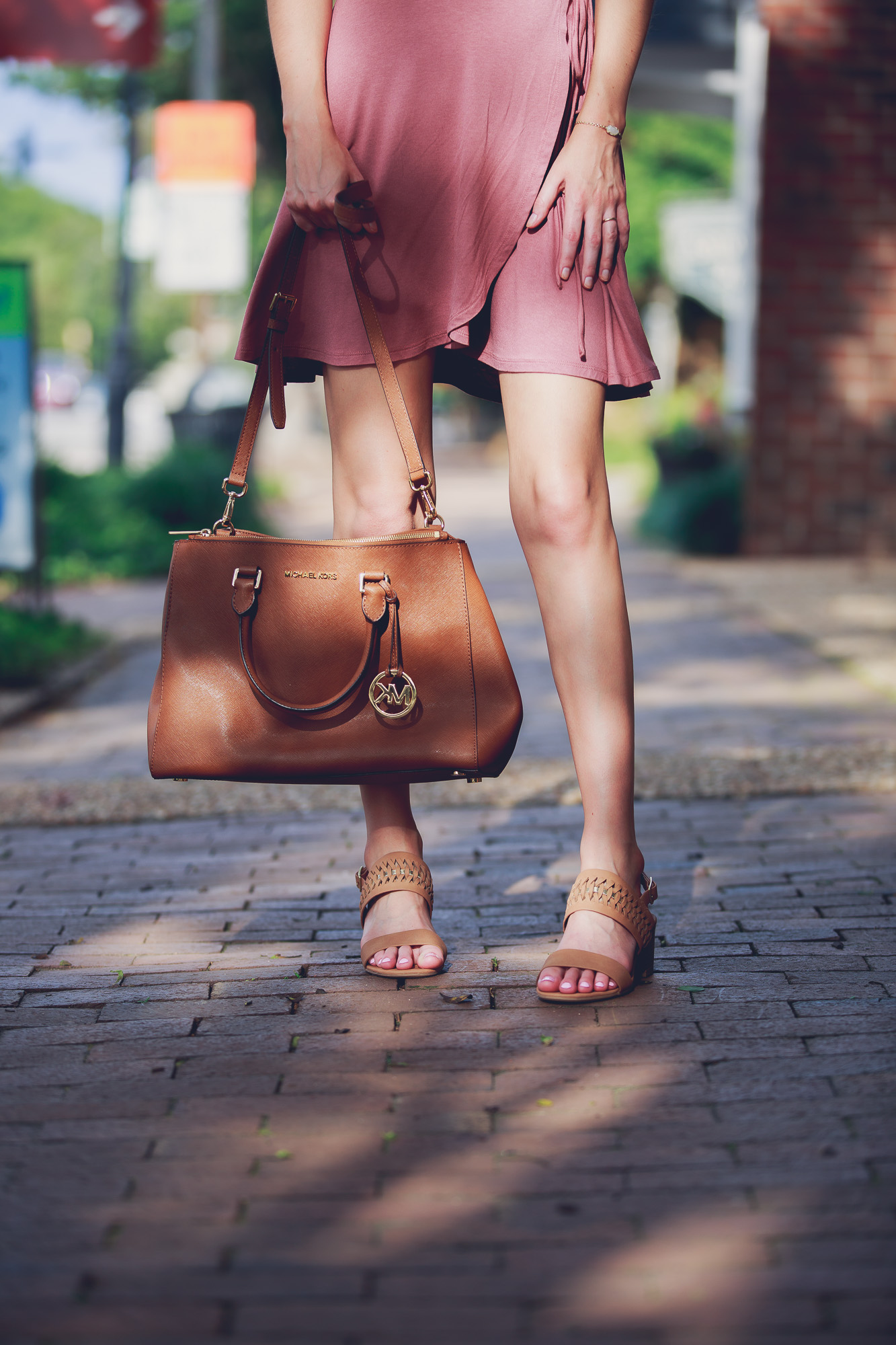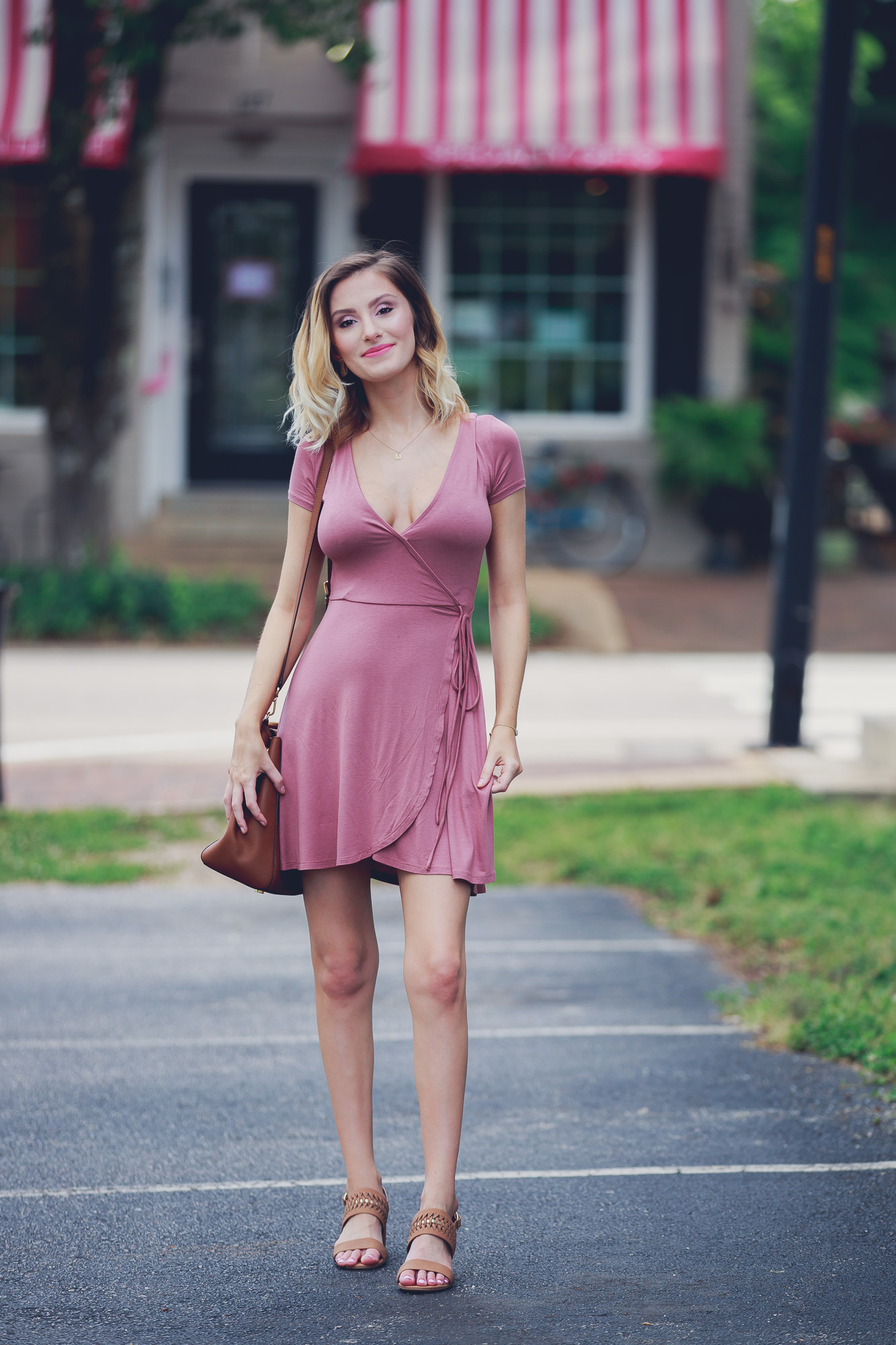 Hello everyone!  I hope that you all had a great Memorial Day Weekend!
I wore this outfit over the weekend and I felt pretty good in it except for one small thing (well not so small but I'll get into that later).  I had just used the St. Tropez tanning products the day before so I felt fabulously glowy and bronzed.  I know, I don't look that tan but for me, this is super tan!
I'm not quite sure if I should call this dress mauve or like a dusty rose/pink color but whatever color it is goes really well with my new tan and I really liked the color on me.  It also shows off my bump a bit from certain angles.  I also love these low heels a lot!  They are so comfortable but are quite low so they give you that little bump in height without being difficult to walk in.  Best part is they were only $16 at Ross.  Oh yeah!  Some people brag about how expensive their stuff is but I get super proud and have to tell everyone when I score something cute for insanely cheap haha!
Now to the obviously uncomfortable bit of the outfit… Boobs!
So my chest has basically doubled in size and this is an extremely low cut dress.  I had to use makeshift fashion tape to keep the front as closed as it is (I had to use the sticky stuff used for those wall hanging hooks since I didn't have any fashion tape or safety pins).  I got a lot of glares from people because of all that was going on in that region but for real, they're just boobs, and I'm pregnant so they're huge at the moment.  I can't help it #sorrynotsorry
I kept my accessories simple wearing a small gold necklace, my favorite Kendra Scott bracelet, and some pretty kick ass earrings I found for $6 at World Market.
Pregnancy Update:
I will be 19 weeks tomorrow so we are just about half way through with this pregnancy, (I'm hoping little one decides to come a week or two before their due date instead of just 3 days early like their brother).
We find out the sex of our baby on June 6th and have been so impatient to know.  I've already been planning our gender reveal party. (I just committed a pet peeve of mine by calling it a gender reveal- gender and sex are separate things so it's technically a "sex reveal party" but I think that wording could confuse some people)…
I have been feeling so crampy and the back pain has set in (probably because of these ginormous boobs)!  and I feel a bit crummy today…
Lots of baby movement!
I'm honestly not so sure what sex I want the baby to be anymore.  Deep down I have always wanted a little girl, but when I watch anything on tv or read the news (especially a disgustingly sexist article I read today) it makes me scared to bring a female into a world that still isn't fair for women.  It makes me hope that it's a boy so that my kids won't have to be directly affected by the biased and sexist world we still live in.  And this mamma will whoop some ass if they ever contribute to or display that kind of behavior toward women.
After just threatening my children (just calm ya selves)  I hope that you all enjoyed this post and don't forget to check out my Youtube channel and please please please send me video suggestions.  I'm the least creative person in my family so I need help!