We just found out the sex of baby Pagán/Linn and can't wait until the gender reveal party!  My mom has been harassing me to tell her but I have done a pretty good job of keeping her guessing and questioning herself just when she thinks she is certain what the baby is.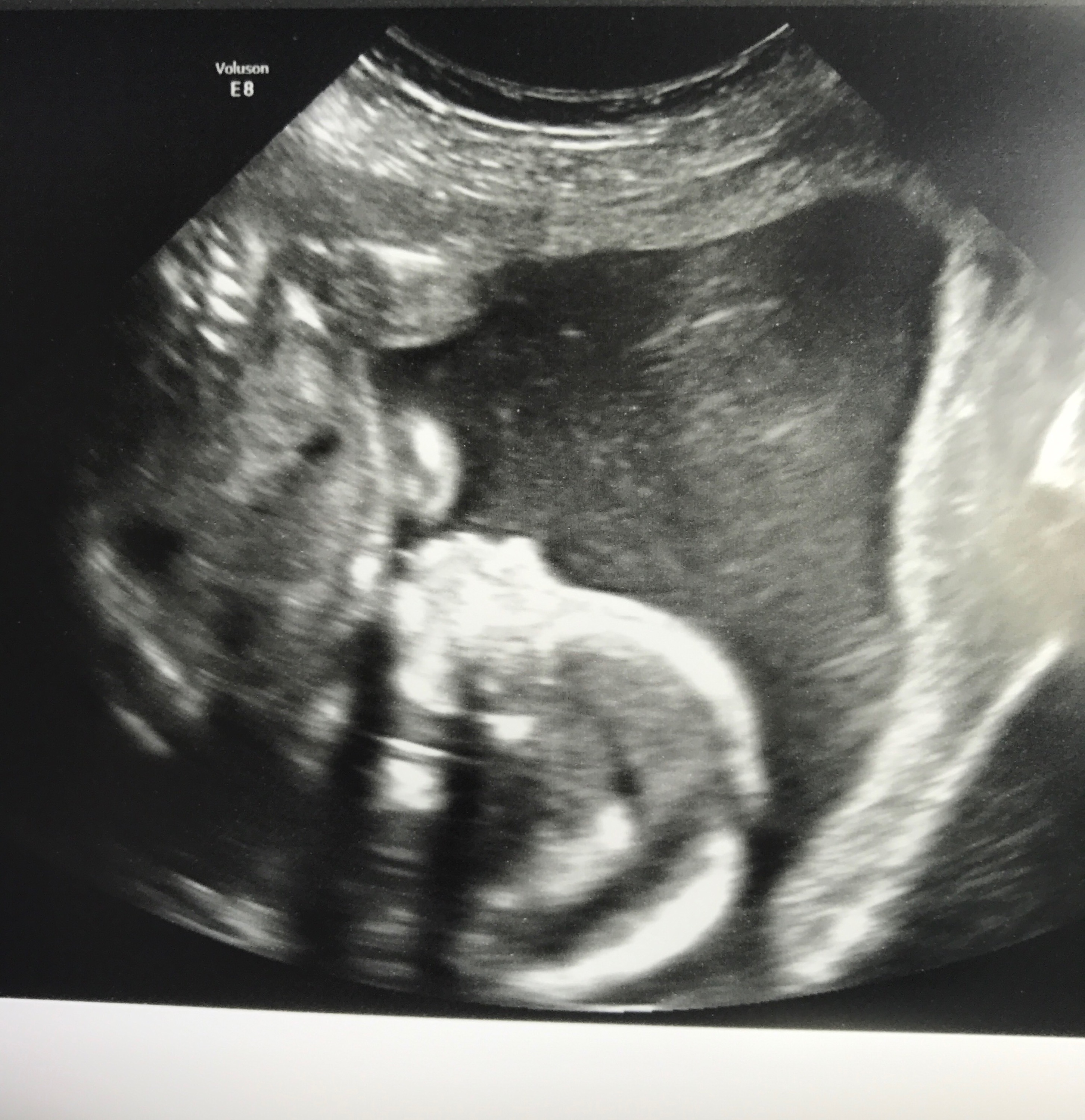 The lady who did our ultrasound scared the crap out of us with her unsettling silence throughout most of the anatomy scan.  She left the room afterwards to show everything to the doctor, (which is what they always do), but the amount of time she was gone and her silence throughout the scan had us in a bundle of nerves.  The husband and I almost freaked out when the doctor walked in to talk to us.  It turns out that everything is fine, baby's anatomy is all good, and it's environment is all good.  Their only concern was that baby is small and they want us to come back in 7 weeks for a growth scan.  This happened with Brady as well since my stomach and his ultrasound were all measuring 2 weeks behind his due date.  He was born 3 days before his due date and weighed 6 lbs. 2 oz. and is still a bit smaller than other kids his age.  I guess Joel and I just make tiny babies, (I was a normal size baby at 6 lbs. 7 oz. while Joel was monster baby at almost 11 lbs.)!
I have been waiting to buy to many things for the baby until I knew what the sex was and now that I do, I've been shopping quite a bit 😉
I can't wait to share the photos from our reveal party, (we found the cutest decorations at Target)!
Cravings: Zinburger turkey burger and Yolo Frozen Yogurt
Apetite:  Not a huge appetite.  Even though the nausea has subsided it is still very difficult for me to find something to eat that sounds appealing (unless it's one of the edible things listed above).  I still get nauseous pretty easily if I wait too long to eat.
Weight gain:  About 10 lbs (and I swear half of that must be in my boobs, my goodness they are getting YUGGEE)!  I also can't button my low rise pants anymore so I guess I've gained weight in my rear as well.  I definitely have a baby bump now but some days it's not as obvious as others and since I wear a lot of loose fitted clothing, most people can't really tell yet.  I'm basically walking boobs and ass at this point.
Mood lately:  Pretty good and happy (but oh so tired)! With my first pregnancy I was very self conscious about weight gain and drove myself crazy worrying about how big I looked, losing the baby weight, and stretch marks.  Surprisingly, I'm not too worried about those things this time.  I plan on breast feeding and hopefully going back to my vegan diet after I give birth and my appetite and food aversions are back to normal, so I think those things will help me lose weight pretty quickly.  Even though I can't wait to fit into my skinny jeans again, I'm also enjoying actually having curves for a few months.  As for stretch marks,  I didn't really get any when I was pregnant with Brayden, just a couple tiny ones that aren't really noticeable to others haha just to me.  I have been very rigorously using different oils day and night since the first trimester and I don't believe in the whole "eating for 2" stuff.  I just eat whatever sounds good to me and when I'm hungry.  You really only need about 300 extra calories during pregnancy.  By not gaining too much weight too quickly, that should help with minimizing the risk of stretch marks.  During the 1st trimester I used the Mamma Mio Tummy Oil at night and the Mamma Mio Tummy Rub Butter during the day.  I am not a big fan of the smell so I switched to just using organic coconut oil for a while.  Lately, I have been using Bio Oil at night and Reviva Labs Lotion during the day.  I love the smell of Bio Oil!