Why is leopard print often so intimidating when it comes to fashion?!  I used to refuse to wear anything with patterns for a plethora of reasons.  I thought patterns would make me look bigger or make me stand out too much! Obviously, I had body image issues and I didn't like myself so I avoided attracting any attention to myself.  These two reasons seem to be what I hear most often when I ask people why they don't like wearing leopard prints.  Most simply state, "I can't pull it off."  Some are afraid of overdoing or over accessorizing which is a valid concern haha!  Animal prints can be difficult to style as it can very easily look tacky paired with certain colors or textures.  So, for today's post, I'm sharing a few tips on how to style leopard print.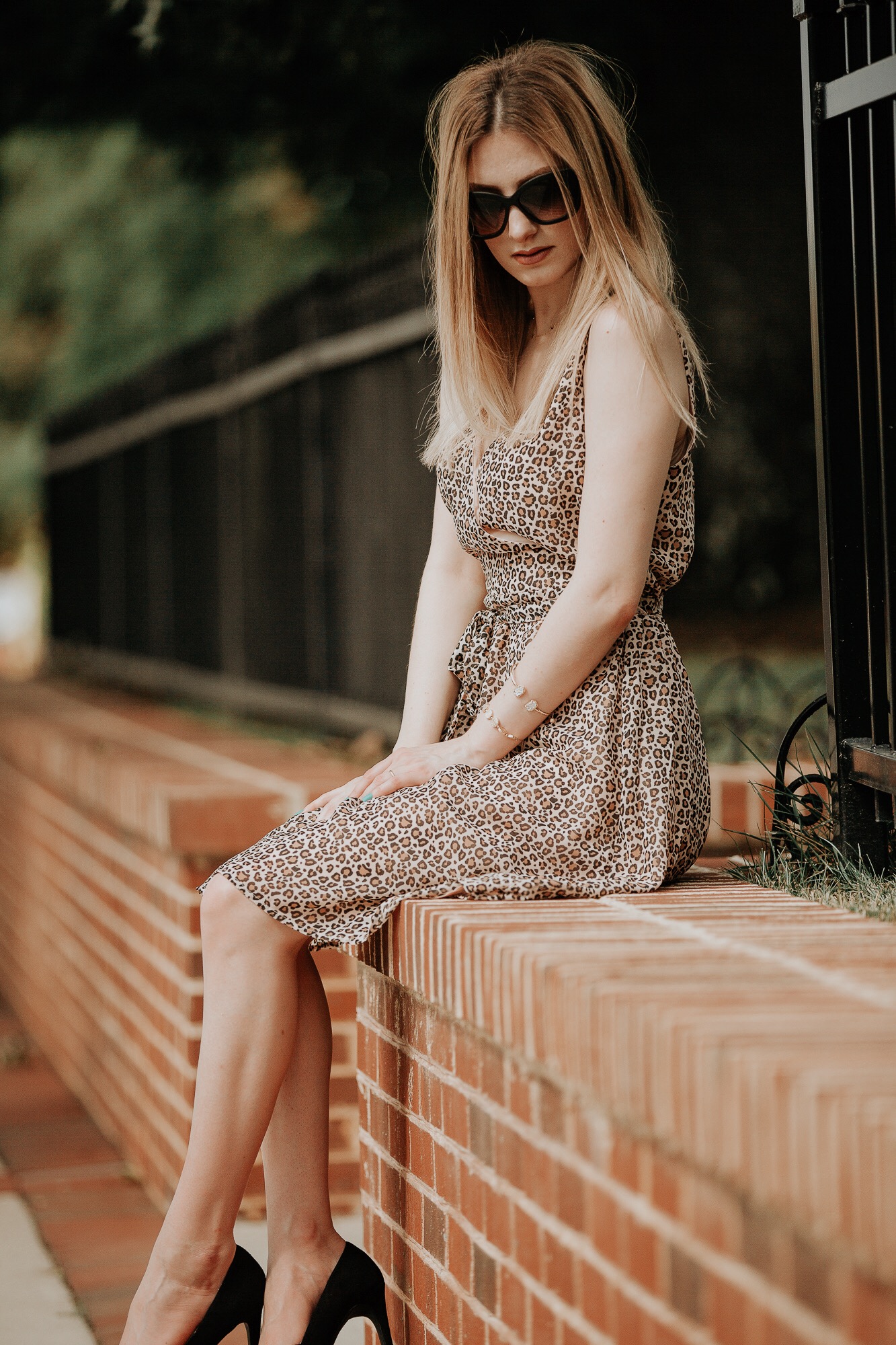 Keep It Neutral- Even though leopard print is comprised of neutral colors, the pattern is so bold on its own.  Adding too much color can cheapen a look, (you remember the lime green and leopard print underwear we used to get at Wal-Mart as teens? No, just me)?  A lot of color with such a bold pattern can also make the outfit very loud and draw a lot of attention but not in a good way haha! I styled this dress with a pair of simple black heels with very subtle studded details.  A bright colored shoe would have made this outfit very chaotic to look at.  A pop of leopard print such as a blouse or shoes look adorable with a pop of color, but when there is this much leopard print it's best to stay with neutral shades.
Don't Over Accessorize- Keep accessories to a minimum when wearing this amount of animal print!  Too much jewelry can make it go costumey.  I wore a dainty gold chain necklace and two small bracelets, my Kendra Scott earrings were also the perfect brown shade to go with leopard print!
Be Confident!- You are wearing the outfit, it is not wearing you.  Anyone can pull off patterns when styles well and knowing that you look amazing!  My husband actually tells me that, he says that to pull anything off you have to be confident.  You can pull off a clown wig if you own that ish!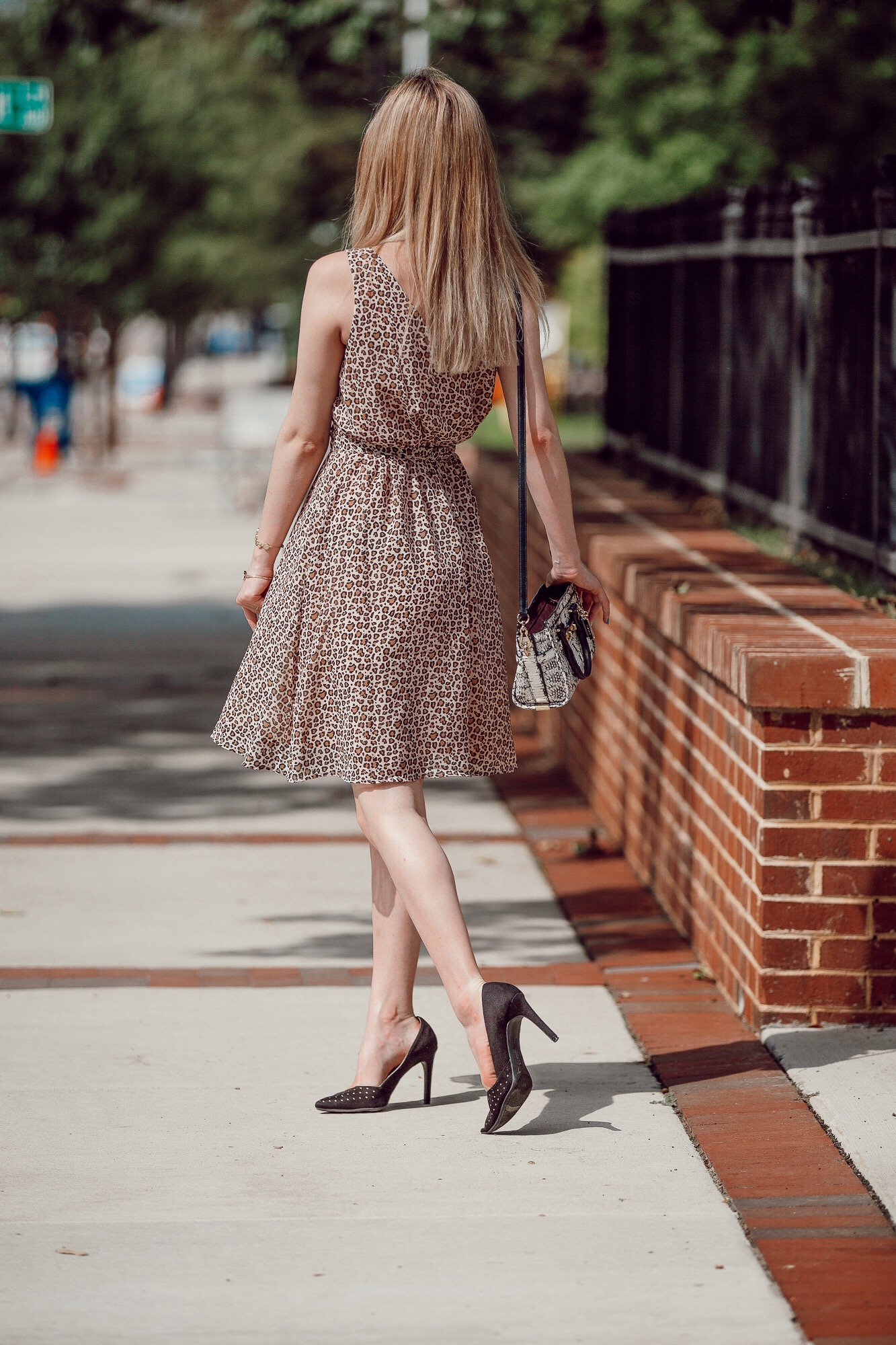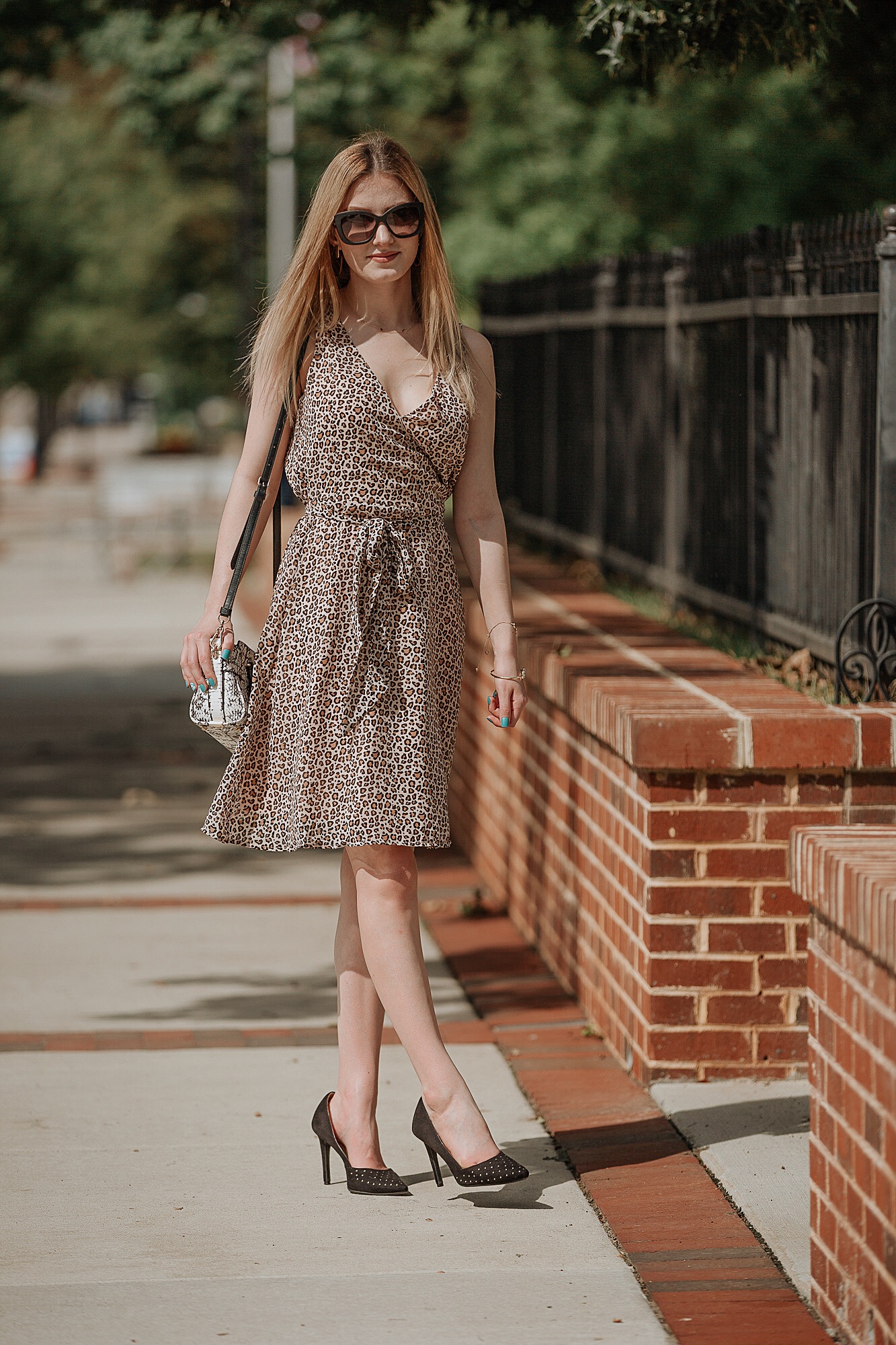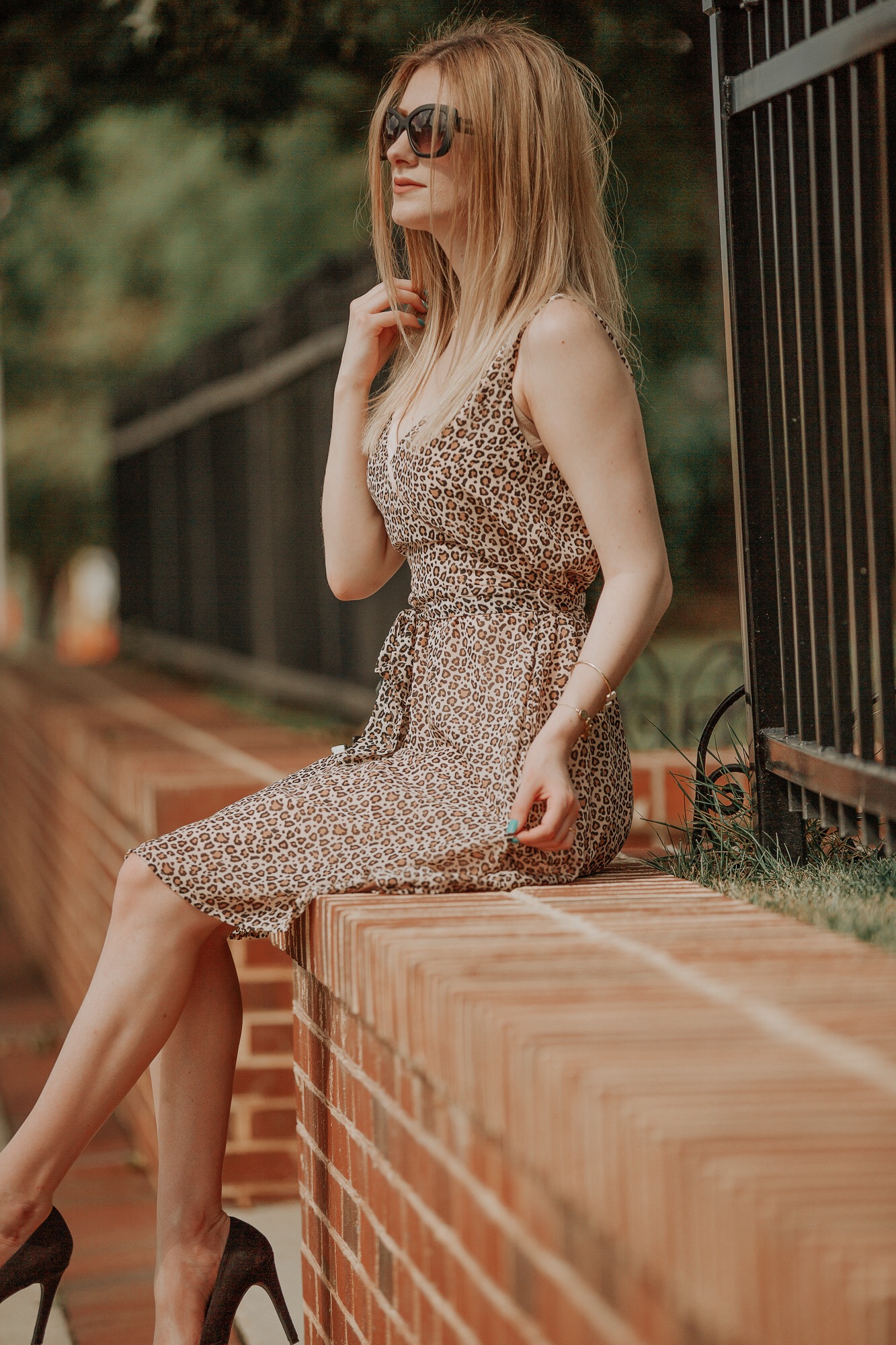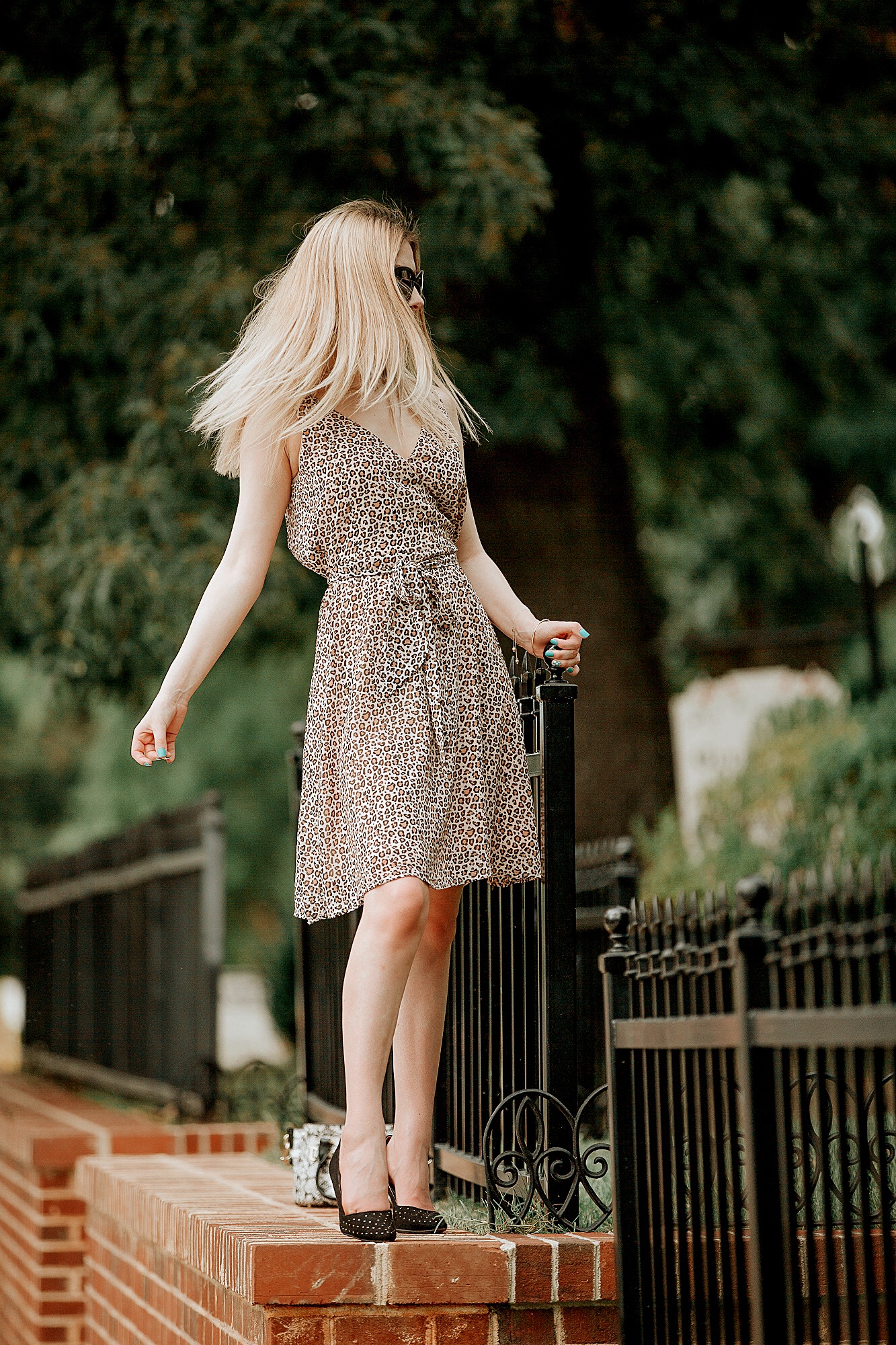 A great way to ease into wearing any pattern is to try small pieces of it!  A cute pair of flat or tank top layered under a cardigan can help you experiment with pops of prints!