Being pregnant is an exciting thing but when you love clothing it can be difficult. Your sizes will change over the course of nine months, maternity clothing sections are very limited, and who wants to spend a bunch of money on clothing you'll only wear for a few months?
I've always tried to save money on maternity clothes during pregnancy and I hate the idea of only wearing something for a couple of months. Here are a few tips that I always keep in mind when I'm shopping while pregnant.
Stick with maternity basics
Just because you're pregnant doesn't mean you have to buy only maternity clothes, (which can be pricey and you'll only wear for a few months). Instead, just buy the basics. I always get a couple of pairs of maternity jeans because well fitted flattering jeans are a good basic to have in your closet. I can't stand those belly bands that help you keep your pre-pregnancy pants up. Waaaaayyyy too uncomfortable.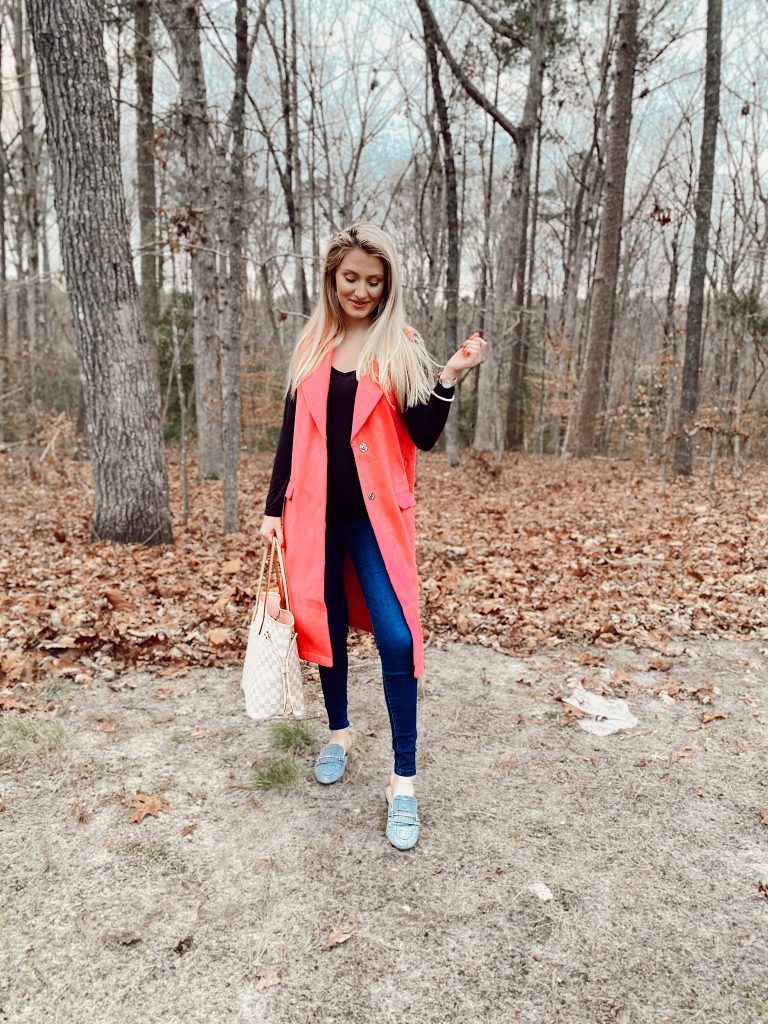 These maternity jeans from Target are so cute! I always had a difficult time finding maternity skinny jeans that were fitted all the way from thighs to calves and these were the first pair I've found that fit perfectly! I wore a basic black long-sleeve t-shirt from Uniqlo. It's non-maternity so I wear with when I'm not pregnant too! A great basic piece to have.
To add some fun and color I put on this neon pink vest coat from Shein, (non-maternity) and threw on some plaid Gucci alternatives from Target.
The vest coat is currently out of stock and the plaid flats are only available in a couple of sizes. I linked them but also linked similar pieces!

Oversized non-maternity clothes
Like I said, you don't have to buy just maternity clothes. Even when I'm not pregnant I prefer oversized tops and sweaters. This works out great because the tops are loose enough to fit over my belly. I very rarely buy maternity tops especially during winter when I can just wear my favorite oversized sweaters!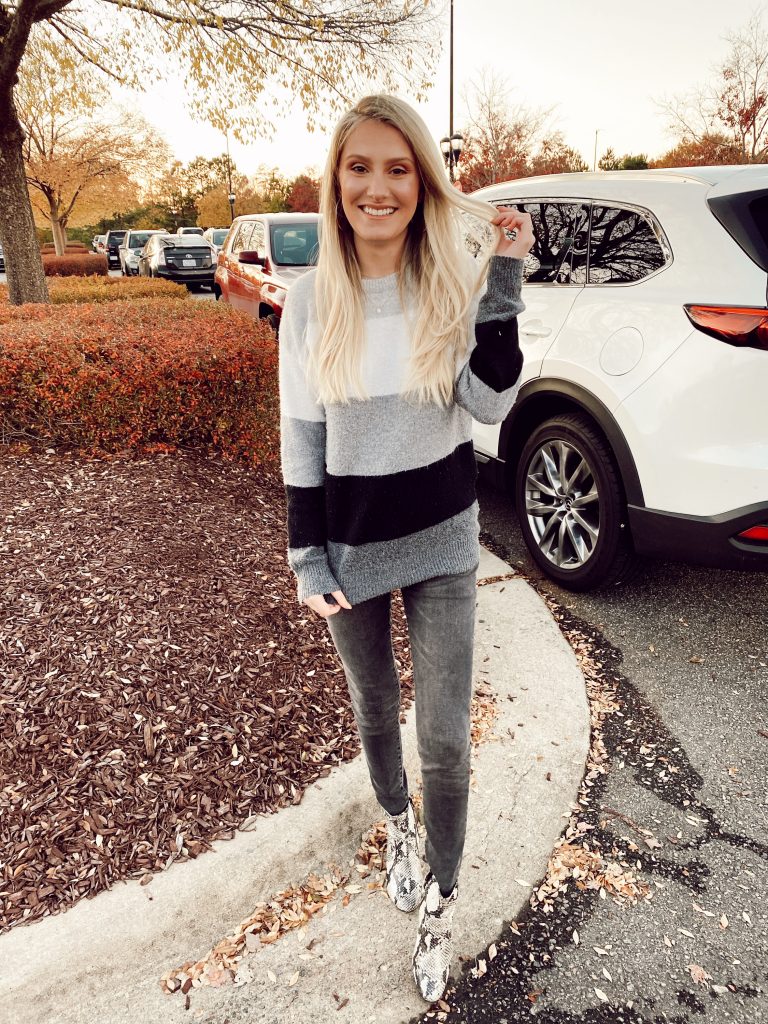 I was so surprised to find this sweater at Walmart (non-maternity). I love the colors and it goes so well with these snake print boots. These gray distressed jeans are of course Target maternity jeans I found on sale!

Add a belt
If you want to flaunt your cute bump more and give your oversized sweaters or dresses some shape add a belt right above your bump!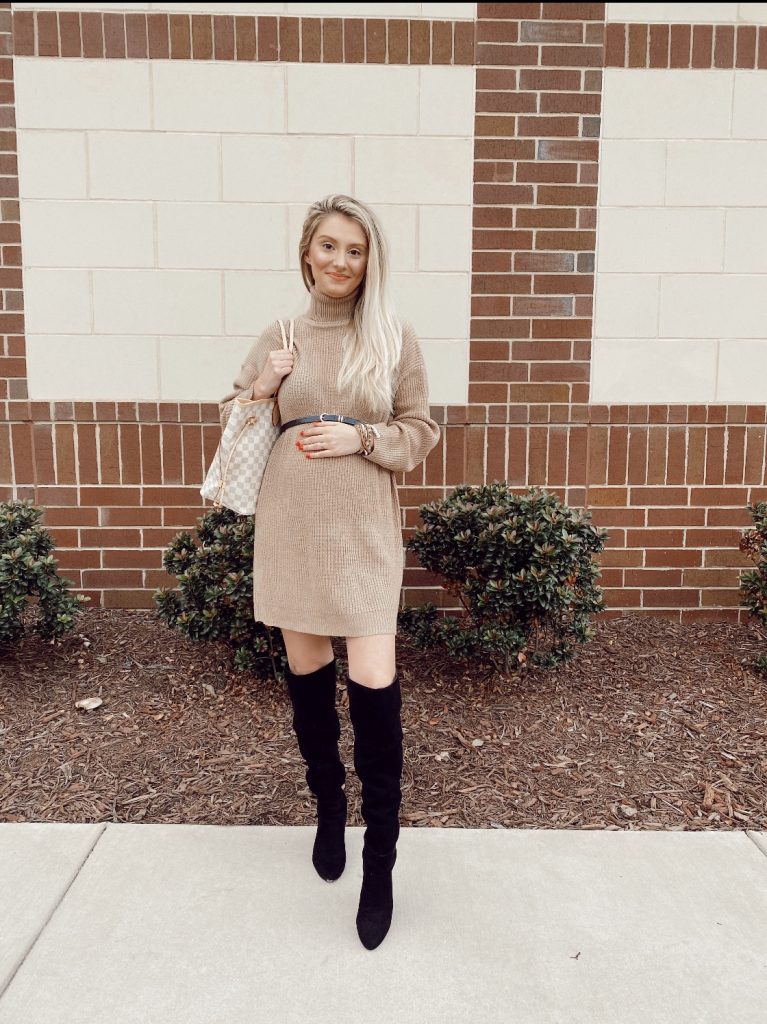 This sweater dress from Shein (non-maternity) is so cute with and without a bump. I plan on wearing it this exact way next winter when I'm not pregnant. Such a cute look for anyone!

Layer, layer, layer
One of the best parts about being pregnant during the winter (besides escaping the miserable summer heat) is that you can layer over your maternity basics. You just need a couple of maternity basics then you can buy all the layering pieces you want that you can also wear when you're not pregnant. It's a great way to make your outfits look fun and new without spending too much money.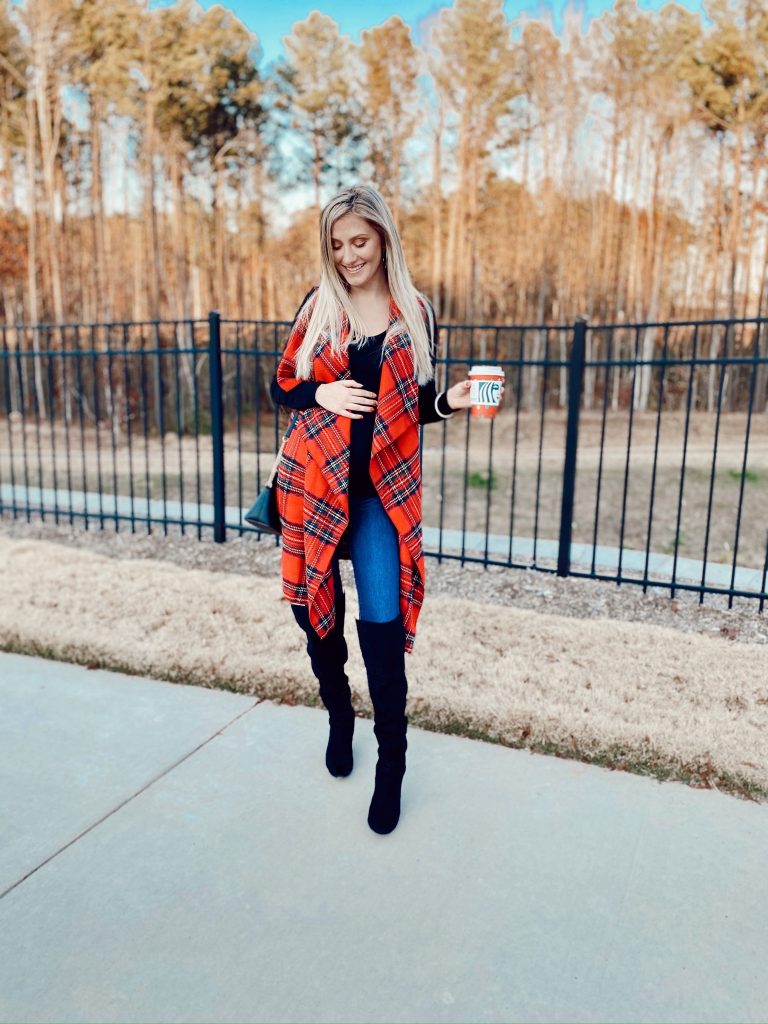 This look has the same exact basics as the first look I showed you. Same maternity jeans and top. I changed it up by wearing a bright plaid vest, boots, and switching bags.

Leggings
When all else fails and I feel uncomfortable or self-conscious in everything, (let's be real, body changes during pregnancy can make me pretty emotional) I throw on some comfy leggings and call it a day. You can elevate leggings a bit with a nice blouse or sweater and cute shoes.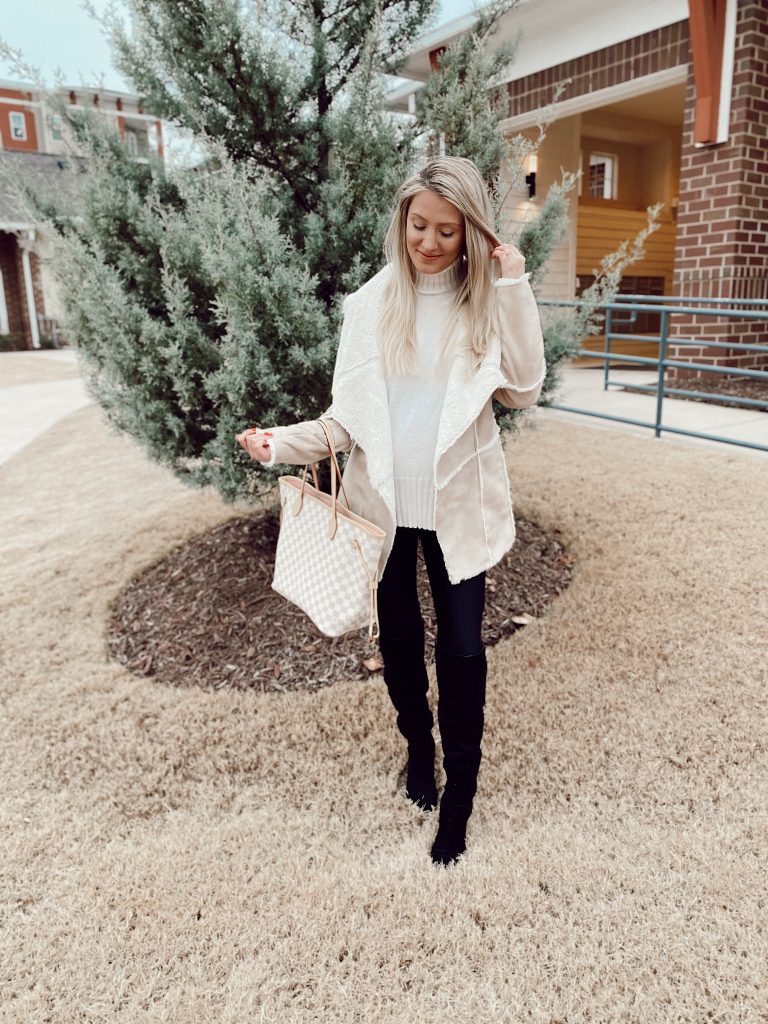 Leggings are so stretchy you don't really need to buy maternity leggings and can just wear some that you already have. I was feeling really uncomfortable this day so I threw on a sweater (non-maternity) and boots and makeup and instantly felt a bit better.

Maternity style in winter doesn't have to be difficult or expensive. Try mixing and matching pieces you already have with some maternity basics, layering, belting, etc. Pregnancy is an exciting, (and difficult) phase but have fun with it and experiment with your style and play in your closet to see what you can come up with!