When we're wearing coordinated outfits, it calls for a tea party photoshoot! Tea parties are one of my favorite things to do with the kids. It is fun, relatively easy, and the kids go crazy over it. They get so excited when I get the tea set out. Even my eight-year-old son gets really into it and wants to pour tea for all of us. Our favorite is green tea with honey! I found some cute inexpensive tea sets so that you can have tea parties with your kiddos too. Be sure to tag me in your tea party pictures on Instagram so that I can share them!
The little pink tea set we have is the Ballerina tea set from Little Sweetea. But this little pink tea set is similar!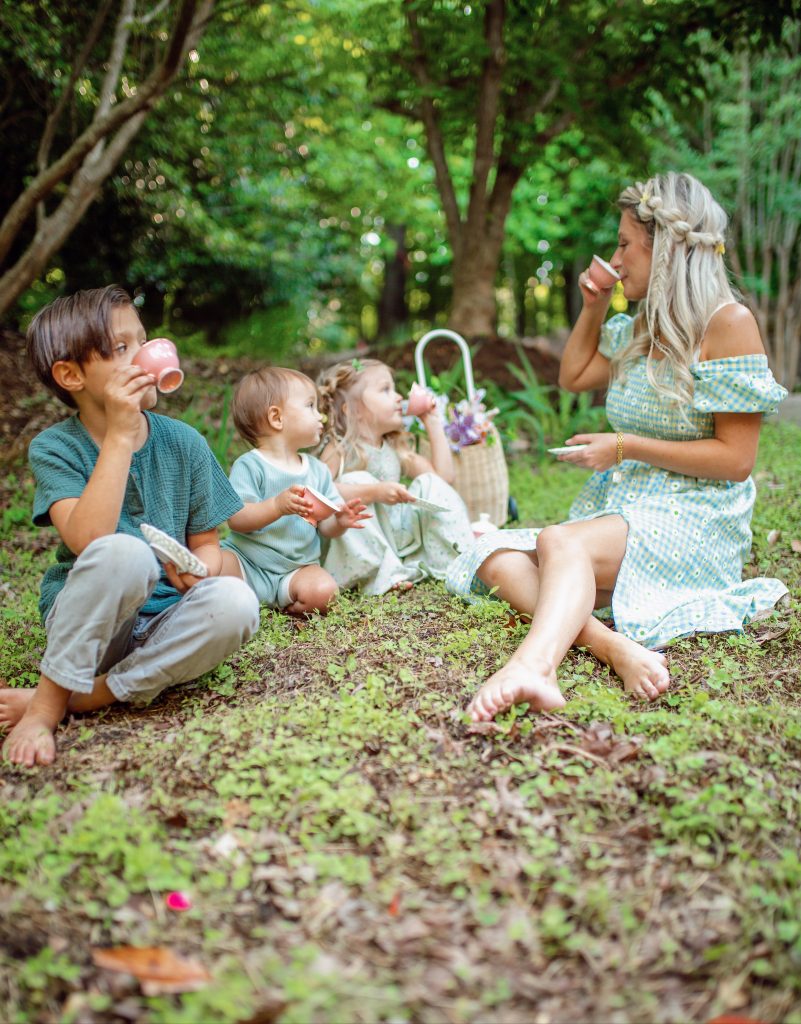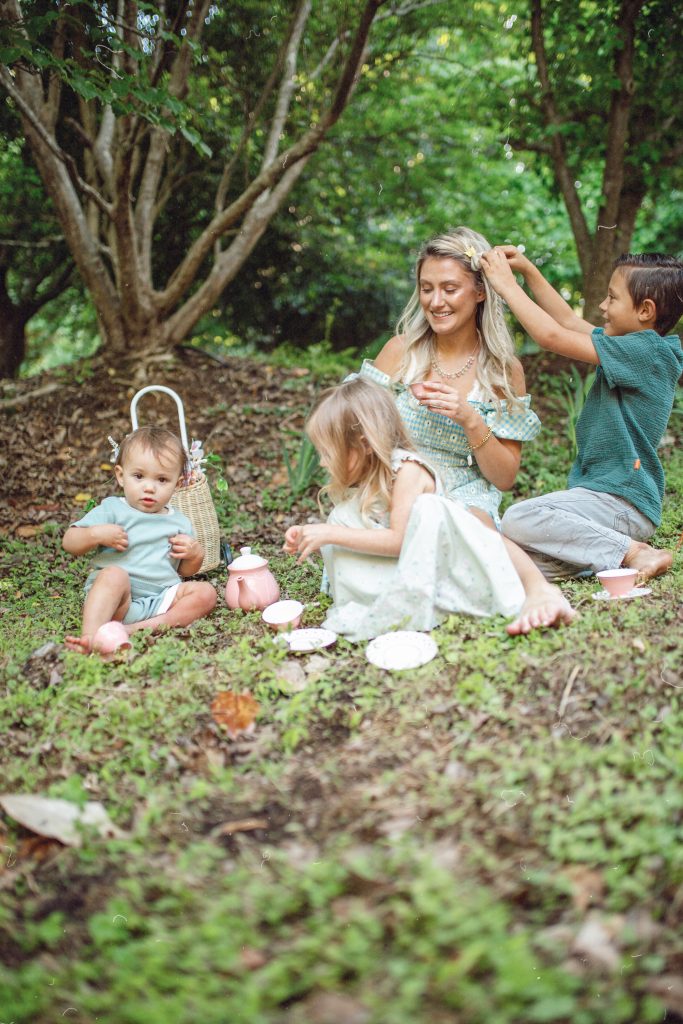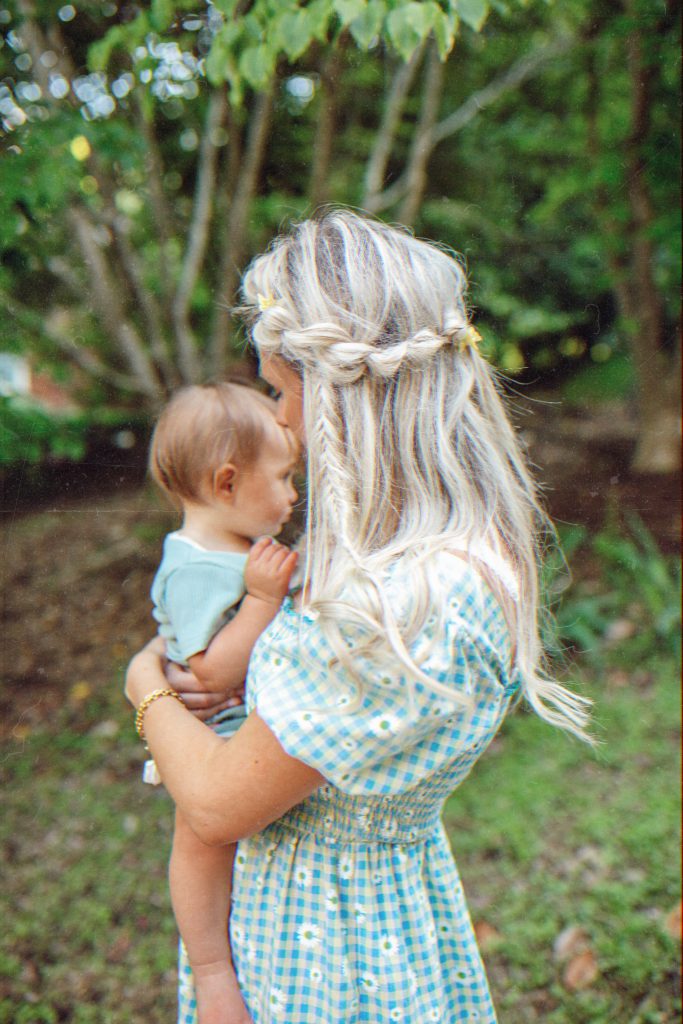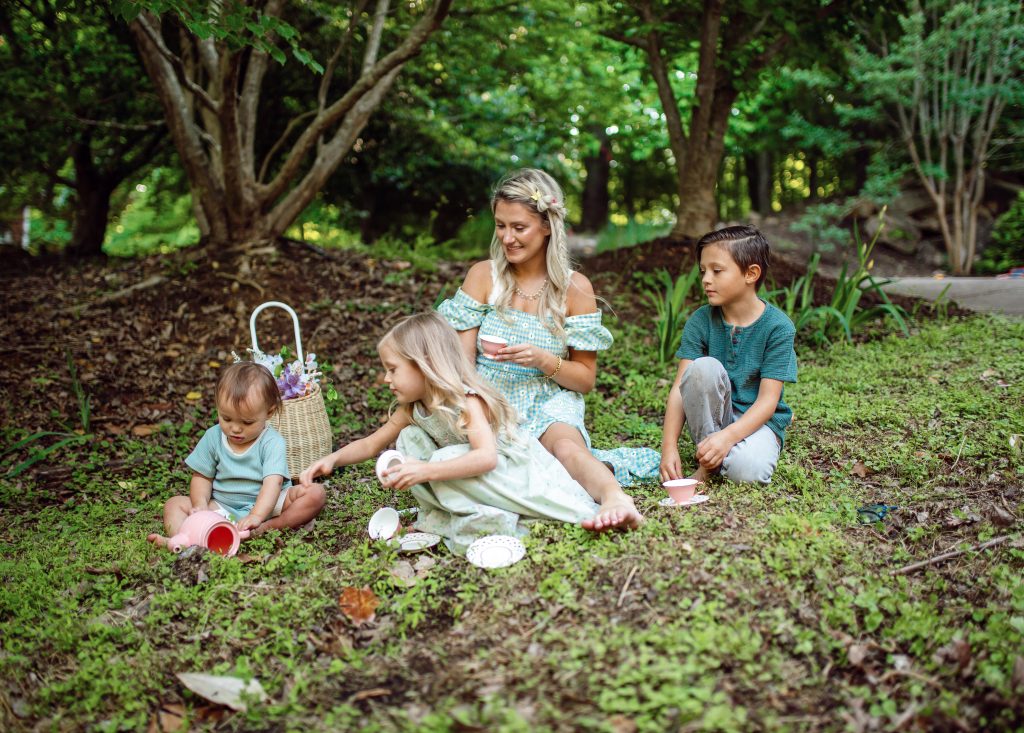 Outfit Details: My Gingham Dress (Similar) // Rosa's Outfit
Matching Green Family Outfits
I found this cute green and floral print dress on Missguided and love it! It's the perfect little tea party dress. I put the kids in cute green outfits too. Rosa's retro-inspired mint outfit set is one of my favorite outfits ever! I found it on Aliexpress, (you can watch my Aliexpress hauls here)! But you can also find it on Amazon. Brayden's linen-looking shirt is also from Aliexpress. I picked up Catalina's smocked dress at the Kids Every Wear Consignment Event. I always find the cutest smocked outfits there! I even scored her a Burberry coat for only $20!

If you had asked 18 year old Jessica how many kids she wanted, she would have thought you were crazy. She didn't even know if she wanted any kids and figured there was plenty of time for her to decide. Little did she know, motherhood was much closer than she ever thought. When I found out I was pregnant with Brayden I had just graduated high school, just turned 19, and just moved to North Carolina. My wedding was in two weeks. I got a job as a Walmart cashier and planned on working full time until I figured out what the heck I was going to do with my life. My mom was super strict and didn't let us participate in many activities so I moved out without any clue of what I liked or what I was good at.
I was confused and nervous about what I was going to do. I sat down and took a pregnancy test with the assumption it would be negative, I just wanted to be sure. I was speechless when I saw that positive line. I was also very excited. I had no idea when or even if I was going to have kids but when I realized I was it just felt right.
8 years later I have three of the most beautiful kiddos I've ever seen and I adore the differences in their personalities.
Brady is my easy-going thoughtful little buddy. He was the easiest baby and is now such a sweet little boy. He's the one who tries to cheer me up if he thinks I seem sad or upset.
Catalina is our spunky little diva who refuses to take less than what she wants. She can be difficult to parent but I love that she will not put up with anything that makes her unhappy and I think she will be amazing at standing up for herself.
Rosa is like the class clown of the family. She gives the goofiest smiles and always tries to make us laugh. She's not afraid to throw hands though if she's upset.
I just love their little personalities so much and feel so lucky to be their mom.