With the new wave of micro-trends, thanks to TikTok, I've found myself waiting to embrace certain fashion trends. Many trends have come and gone so quickly with the speed of the internet, if one were to try to remain on-trend at all times it would be a constant cycle of buying and purging. I often find myself waiting trends out to see if they will be long-term or just a micro-trend we all regret in a couple of years. I think it's best to wear what you like with the occasional trendy pieces thrown in.
Skinny jeans have been a closet staple for years but sometime last year people started shitting on them. I'm not sure where it started but everyone started abandoning their tight jeans for more relaxed loose cuts. I jumped on the flared pants with these adorable bell-bottoms from Amazon but waited out the mom jeans.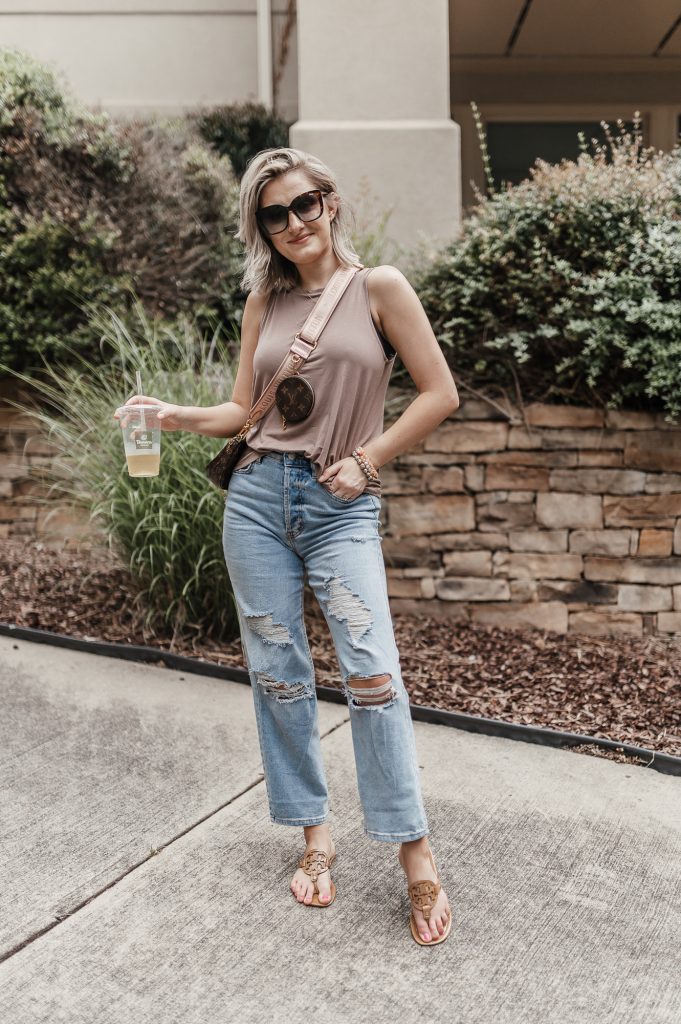 As I was perusing the jean section at Target I finally decided to try out some different jean cuts. Unfortunately, their dressing rooms are closed again, (Ah, it was nice having them open for like two weeks) so I had to take my best guess as to what sizes to get. I looked at their product pictures and decided to get a pair of straight-cut mom jeans. I ended up getting a perfect size and have been wearing them non-stop!
I wore them with this super cute A New Day tank (also from Target). It is the perfect summer to fall color and looks good on its own or layered under a jacket or cardigan! Online it says the color is 'tan' but I think it looks more like a mauve color and it is so pretty!
These jeans have the quintessential mom jeans features. High waisted, long back pockets, and relaxed fit. They are so comfortable and I love the casual vibe they have. These mom jeans combined with my new haircut make me feel like a mom from a 90's kid show and I kinda dig it.
I was shocked that these Wild Fable jeans were only $22! The light-medium wash is the perfect shade to transition from summer to fall and I love the distressed details. I also love that they are super high-rise mom jeans! Ya girl will never go back to the dark ages of low-rise jeans. These jeans come in sizes 00-26W. I would say they run pretty true to size. I got my regular size I usually get at Target and they fit great!

More Mom Jeans From Target