I'm always looking for new photoshoot inspiration every Halloween. I have always loved any kind of smoke bomb photoshoot and finally decided to give it a try! Fall is my favorite time of year so I wanted my first dramatic smoke bomb pictures to be a Halloween theme.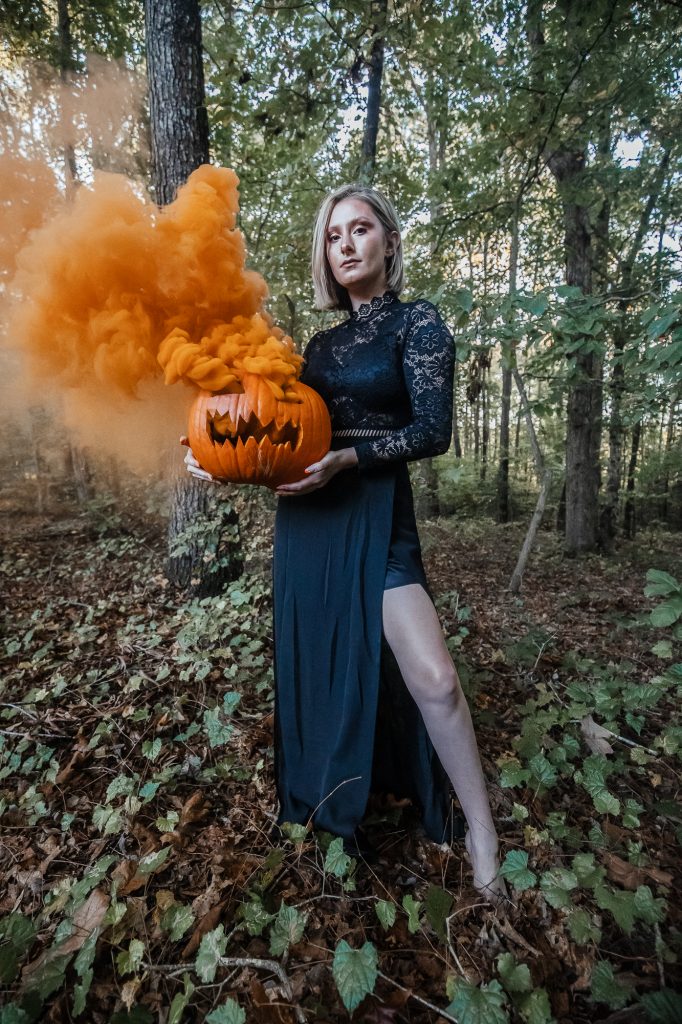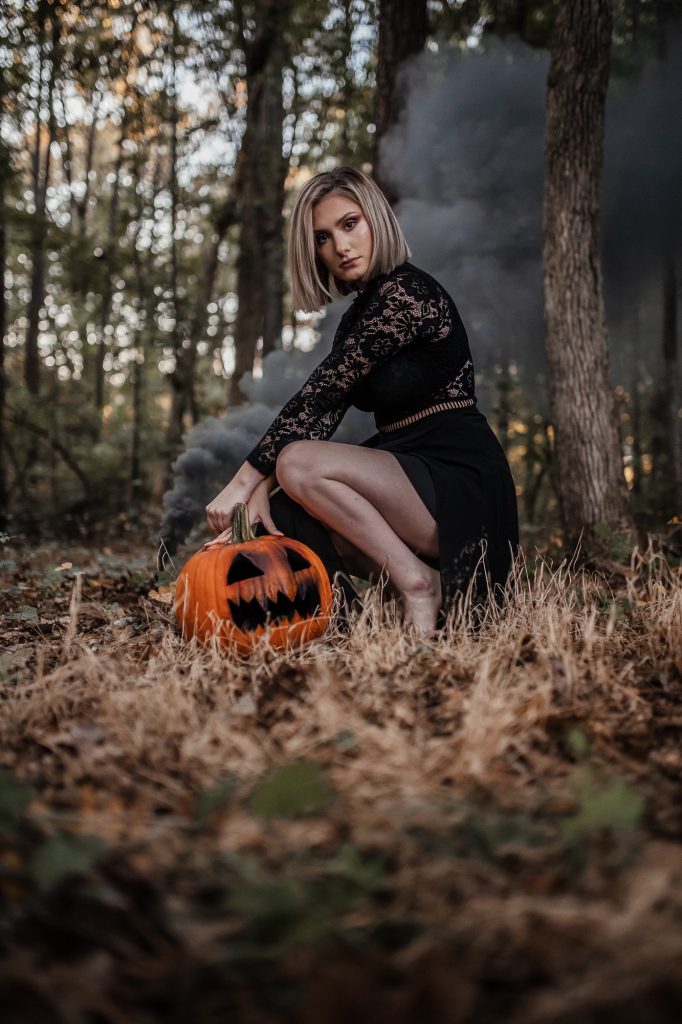 Smoke Bomb Photography
My husband took these photos for me. I don't know much about cameras, but we needed a slow shutter speed to capture the movement of the smoke, so he set his camera to manual mode and made all the adjustments he needed. Fortunately, I bought smaller, cheaper smoke bombs to practice and test our camera settings with before we lit the good ones. I highly recommend having extra smoke bombs and cheap ones to practice with. A few takes were required for us to get the camera settings right and get the hang of how the smoke moves and how the wind blows it. Be very mindful of the wind! So much smoke got blown in my face, and it burned my eyes so bad! Also, it was probably just a user error, but we had multiple mini-explosions from the heat in the smoke bombs reacting with the wet inside of the pumpkin. Make sure you aim the open parts of the pumpkin away from you!
These smoke bombs also give off a ton of smoke, so be sure you do it somewhere you are allowed to and maybe let your neighbors know what you're doing so they don't think something is on fire! We went to some woods behind my parent's house, so there was no one back there, and it was in the evening, so everyone was indoors.
The camera we used is a Canon 5D, and I purchased the smoke bombs from Smoke Effect. I got the Halloween Smoke Bombs 6 Pack for my main pictures and the Halloween Smoke Balls for practice.
Halloween Photoshoot Outfit
I wanted a dramatic black lace dress, and knowing I would only wear it for photoshoots, I didn't want to spend a lot of money. SHEIN to the rescue! I found this dramatic Split Thigh Sheer Black Lace Dress for $21! It does not come with the bra, but I just wore my regular black bra I always wear, and it looked so cool! Throw on a witch's hat, and you have a super chic Halloween costume.

Overall, I'm really happy with how the photos turned out. The colors are beautiful and ethereal. And it was so much fun! If you're thinking about doing a smoke bomb photoshoot, definitely go for it! Just be prepared and have fun!