Sometimes we don't have enough time to change up our outfits and take them from day to night.  It could be a spur of the moment date night (lucky you), or you simply do not have an opportunity to run home and change.  Fortunately, a few simple swaps in accessories can take a fun day time outfit and transform it into a fun and sexy night look.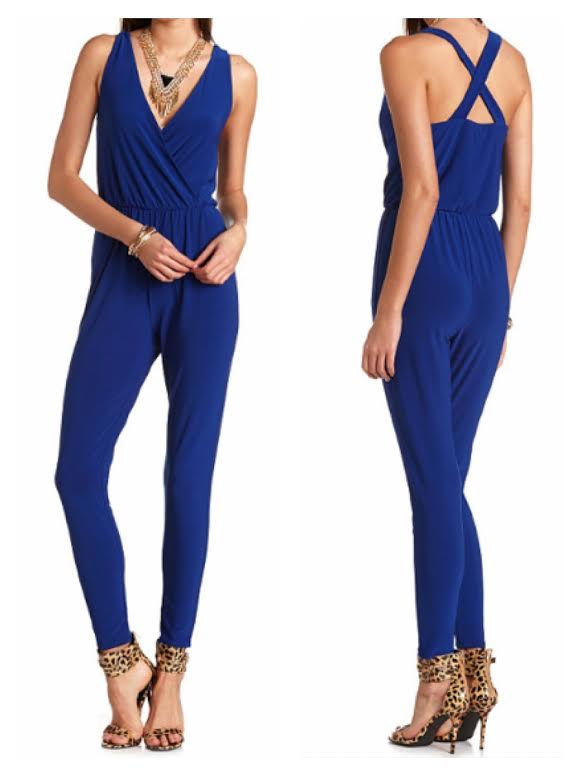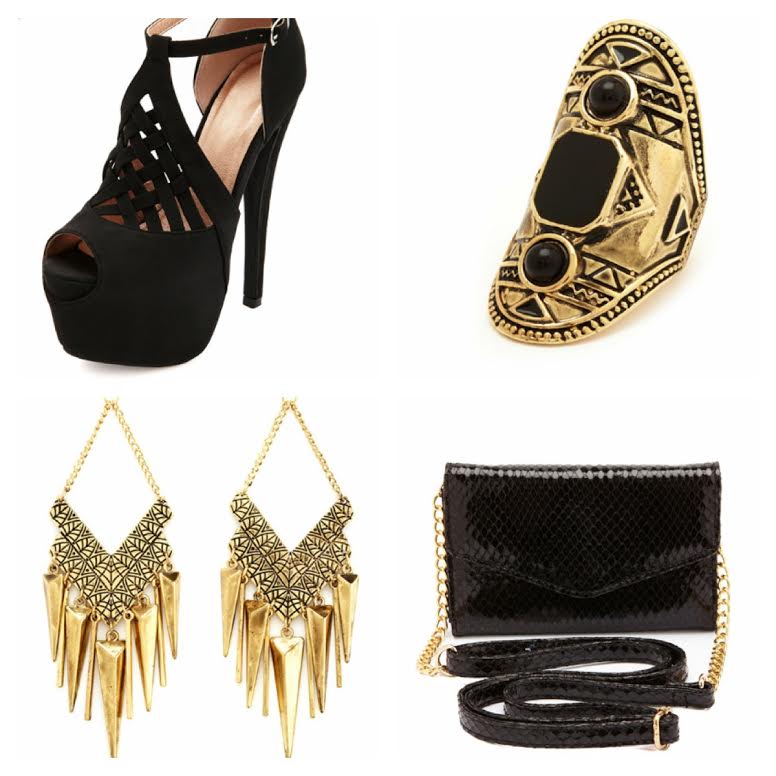 Jumpers are the perfect thing to wear if you plan on changing it up.  They are very versatile and work well for nearly any type of setting or event.  This Cross-Back Jumper has a wrap front bodice with an elastic waist and is tapered in the legs which makes it very slimming (and makes me love it even more)!
For the day look, pair it with some lighter, more fresh looking colors such as these Coral Cut-Out Wedges, (don't coral and blue look beautiful together)? And some smaller more understated jewelry like this Aztec Etched Necklace, and these simple yet gorgeous Rhinestone Studs. The ivory color of the Studded Cross Body Bag compliments the royal blue of the jumper.
To transform this outfit into a more formal look, try pairing it with more dramatic, dark, and bold accessories. These Lattice Cut-Out Heels are so beautiful, and look much more daring and dressy.  The Spiked Chandelier Earrings are perfect for expressing your bold style even in a less casual setting.  The Aztec Statement Ring is, just perfect in every way. Period.  I personally believe that smaller and more simple bags are best when getting dressed up, because you want people to notice how amazing you look, not how outrageous your purse is, that's why I chose this Python Cross Body Clutch for the perfect night look accessory.
Heres another quick day to night transformation,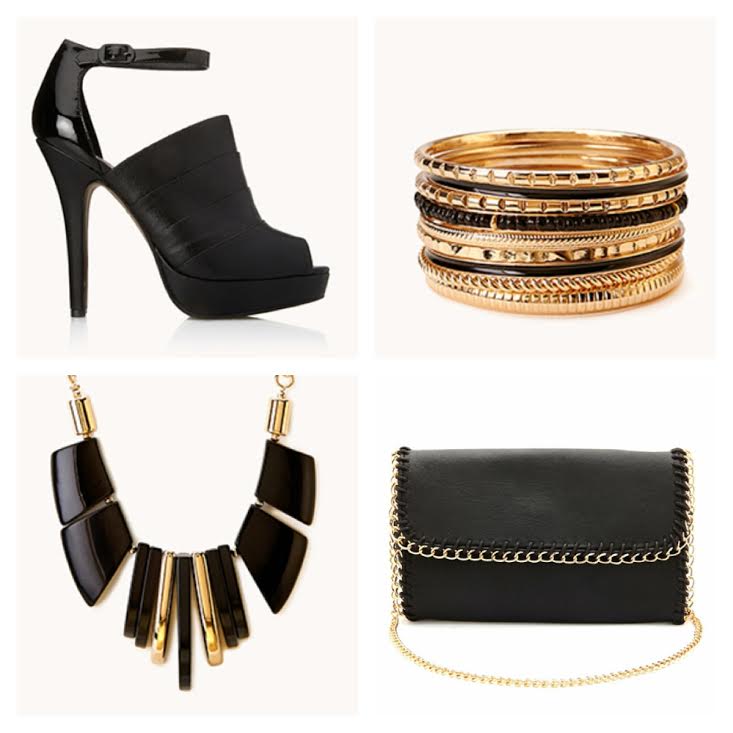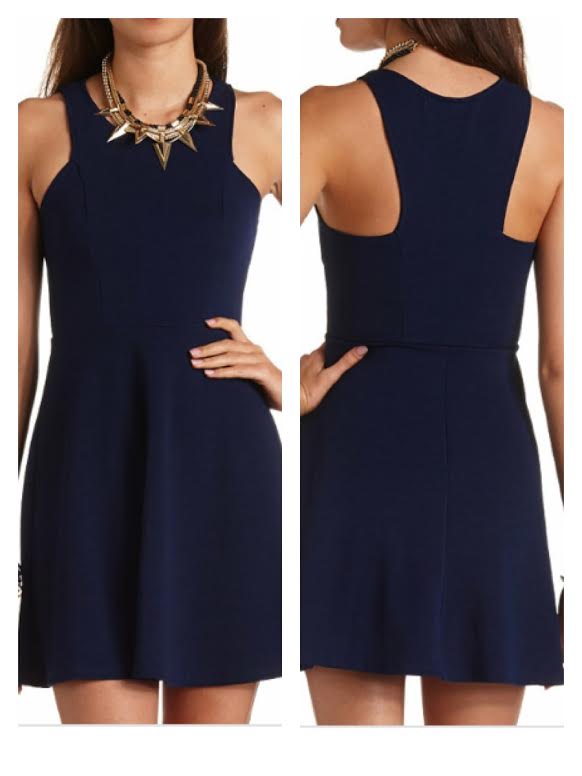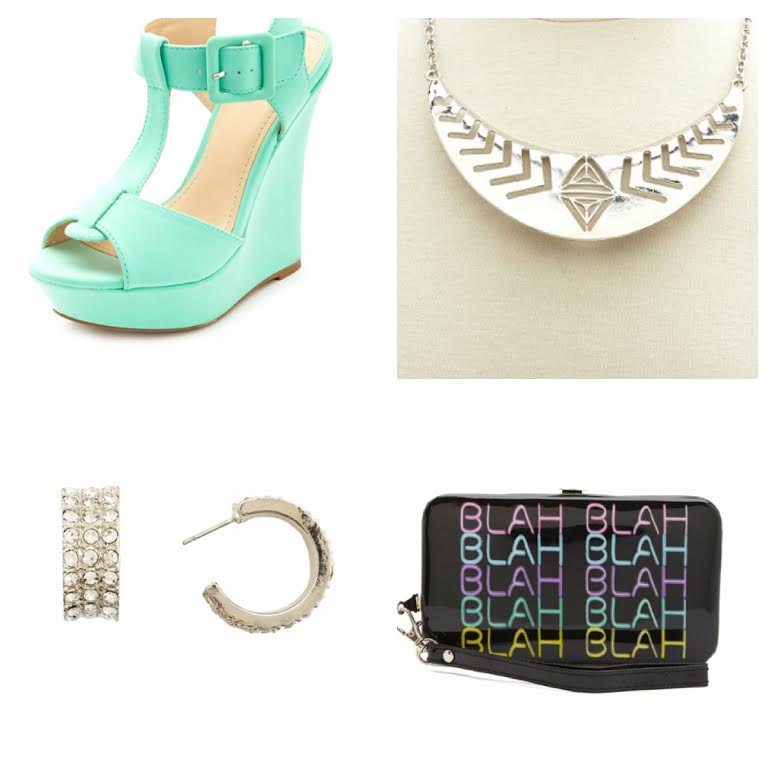 Starting with a simple yet beautiful Skater Dress.
For a fresh day look :: Peep Toe T-Strap Wedges, Aztec Cut- Out Necklace, Mini Hoops, Blah Blah Wristlet.
For the night look :: Paneled Peep-Toe Heels, Bangle Set, Chunky Bib Statement Necklace,  Chain Trimmed Faux Leather Clutch.
I don't know if I'm the only person who does this, but I always tend to have a pair of shoes and random accessories in my car (not on purpose) they just kind of end up there, so having a couple of dressy things in your car in case of an urgent need to spruce up, is a very simple solution (I apparently accidentally do it all the time 😉