I'm finally starting to get back into a workout routine, but since I don't have a fitness partner, I have to find inspiration and motivation on my own. Thank goodness for Polyvore and Pinterest!
First off, we need cute workout gear that makes us comfortable and look good while being gross and sweaty.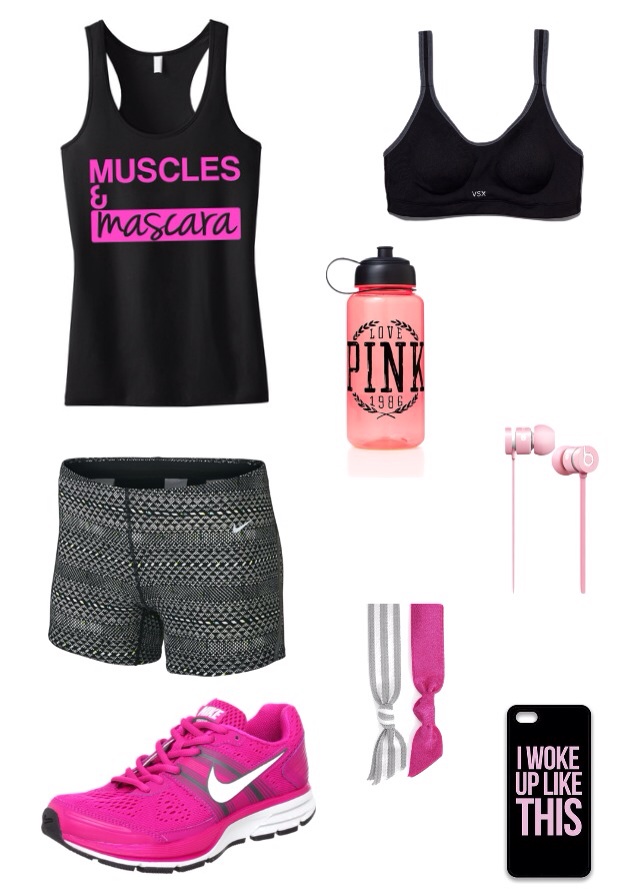 A cute coordinated outfit is a must, as well as a pair of good looking yet functional shoes. The type of sports bra worn depends upon the intensity of ones workout. I love Victoria's Secret sports bras because they have a very good selection for multiple levels of support and impact, (and they're flattering as well).
We also need a fun way to stay hydrated, so a fun water bottle with cute quotes and designs that show our personality somehow make water more tasty ;).
Earphones, because nothing is more awkward that being in the gym with tons of people and not having anything to look at/listen too, so you just stare at the time time clock on the treadmill and uncomfortably listen to each other's panting.
Next we need hair ties to keep us from looking like a frizzy mess.
And last but not least, your phone. (Gym selfies are a must. They just make us feel extra fit, and provide proof that we were actually there;). But seriously, taking pictures of your progress can be very motivating and keep you going.
Sports Bras
Pink Nikes
Water Bottles
Earphones
Hair Ties