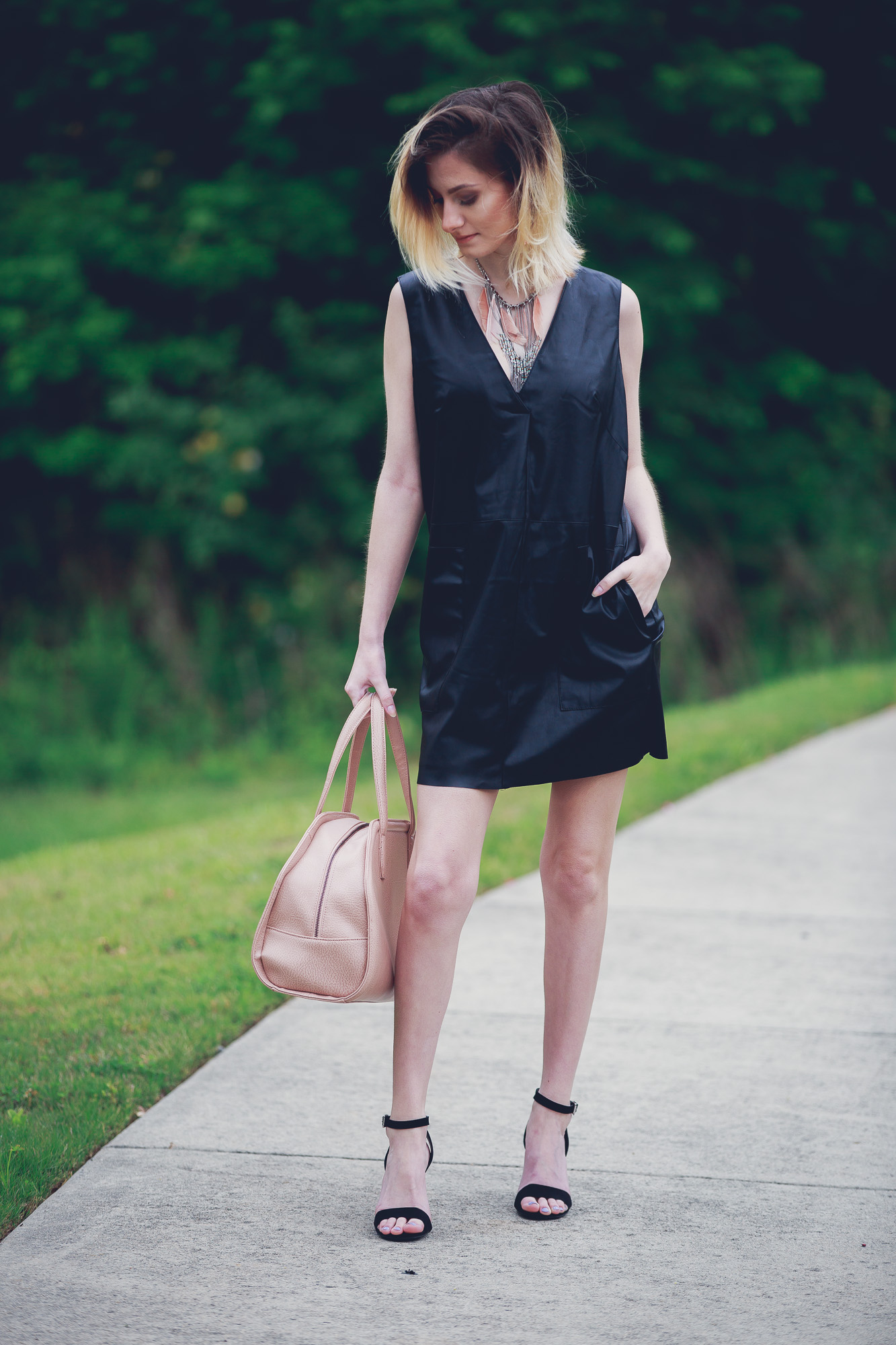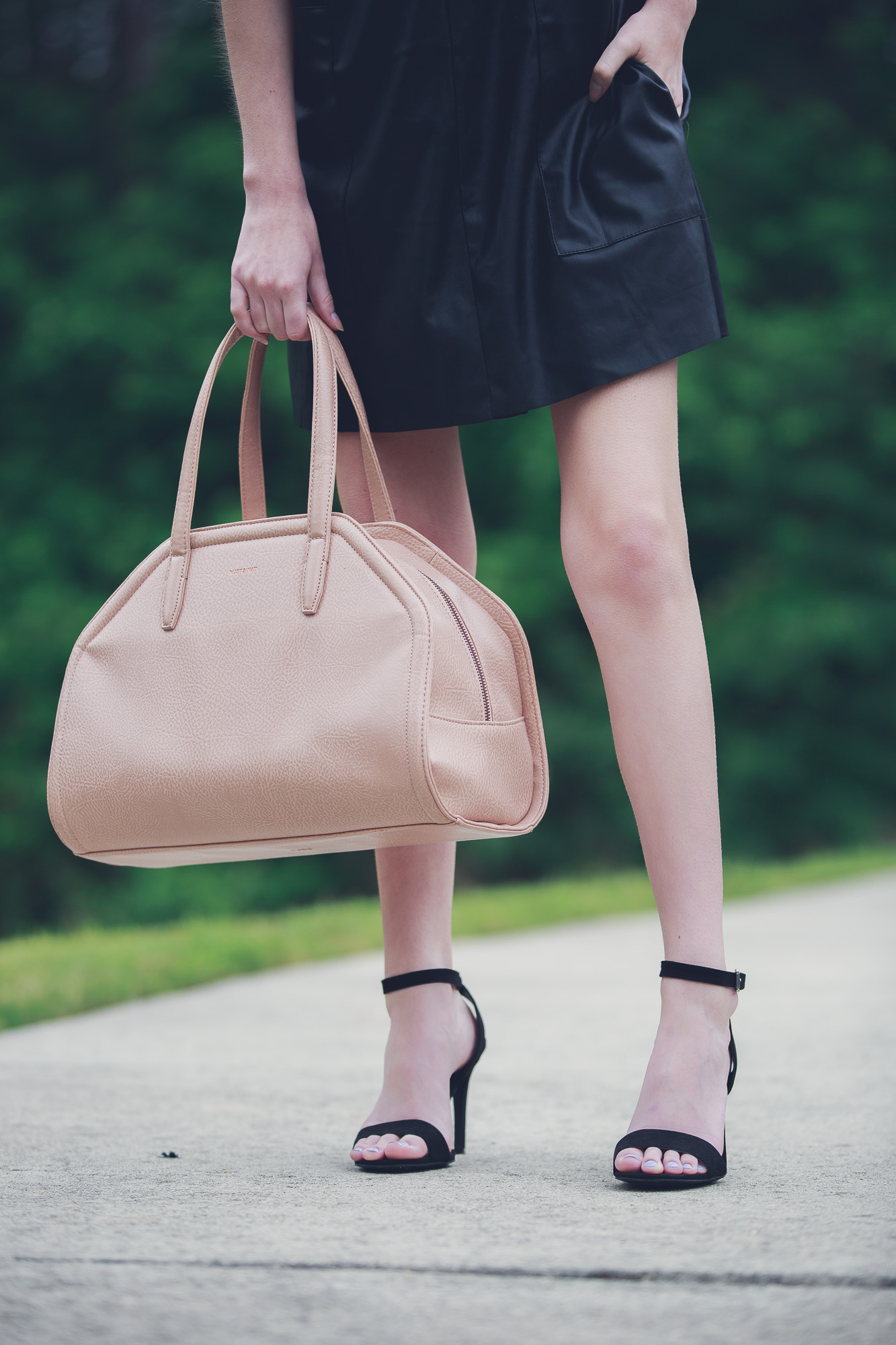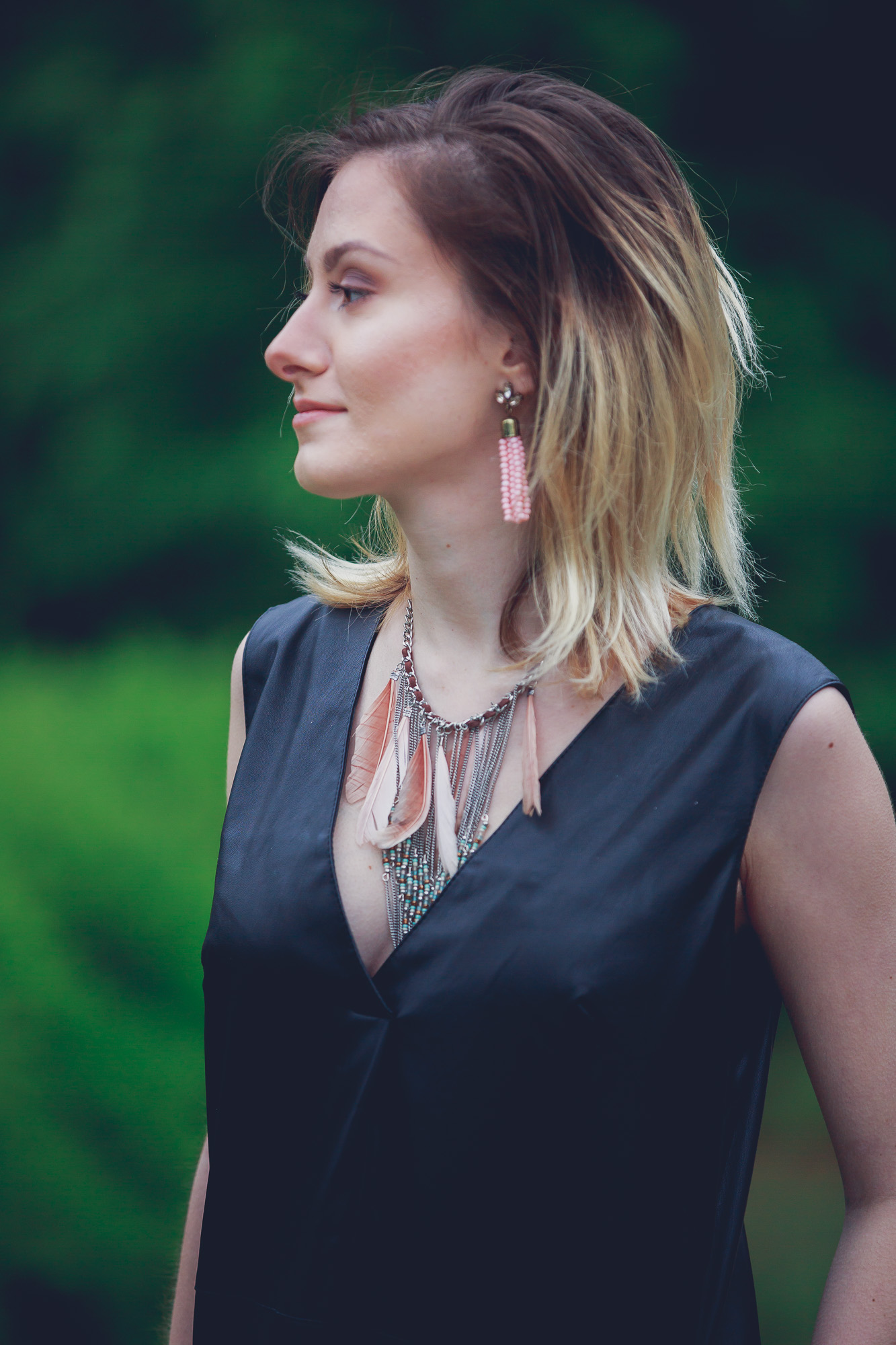 Hello everyone and welcome back to another post!  If you're new here, my name is Jessica and I'm glad that you stumbled across my small corner of the internet and hope you stick around!
Getting dressed lately has been a bit of a struggle.  I'm almost 17 weeks pregnant and some days I am showing quite a bit and other days not so much.  My current struggle at the moment is pants!  I can't button my regular pants any more but maternity pants are still way too big on me so I have been wearing a lot of dresses and skirts lately.
I purchased this faux leather dress online a few months ago while it was on sale for about $5. I wasn't sure about it at first but it was only $5 so I figured I'd give it a chance.  To my surprise, I actually like it because it is so interesting and it can very easily be dressed up or dressed down. This dress is the perfect twist to the classic little black dress!
I wore it with my favorite black heels from ASOS that are astonishingly comfortable for heels.  I also had to add some color to this otherwise dark outfit so I threw on a pink feathered statement necklace that I found at Target for 20% off.  It is super cute and feminine, I love the pale pink feathers and it has some silver chains with clear and pale blue beads on it.  I am obsessed with the colors in it.  I also found these Sugarfix by Baublebar earrings at Target and loved them so much I bought a blue pair as well.
5 Random things this week.
One of my favorite bloggers, Amber Fillerup, had a 10 random thoughts of the week section in one of her most recent blog posts and I thought it was really fun to read so I decided to do a short one!
I just started reading "Into the Water" by Paula Hawkins and love it, (I may or may not have gotten a bit scared reading it while I was by myself last night)…  The Girl on the Train is one of my all time favorite books so when I saw that her new book was available at Barnes and Noble, I snatched it up.
Morning sickness is virtually gone!  I still get queasy easily and am so tired all the time but am actually able to leave my house now.  One of my food aversions has been coffee, unfortunately, so I finally tried a really desserty coffee (that barely counts as coffee) today and was able to drink the whole thing very easily with no nausea and it's the first time I've felt fully awake in 3 months! I drank an iced caramel macchiato with coconut milk from Starbucks, and I already want another one…
I finally ordered a St. Tropez tanning kit so maybe I won't look so sickly pale next time you see me.
My current tv show obsessions are Madame Secretary and How to Get Away With Murder.  I started to rewatch seasons 1 and 2 of HTGAWM to catch up and remember what happened before I watch episodes I haven't seen but I'm having a hard time staying interested after Rebecca died, and then I accidentally saw spoilers that Wes dies and I just don't know if I could keep watching after that!
I hope that everyone had a great Mothers Day!