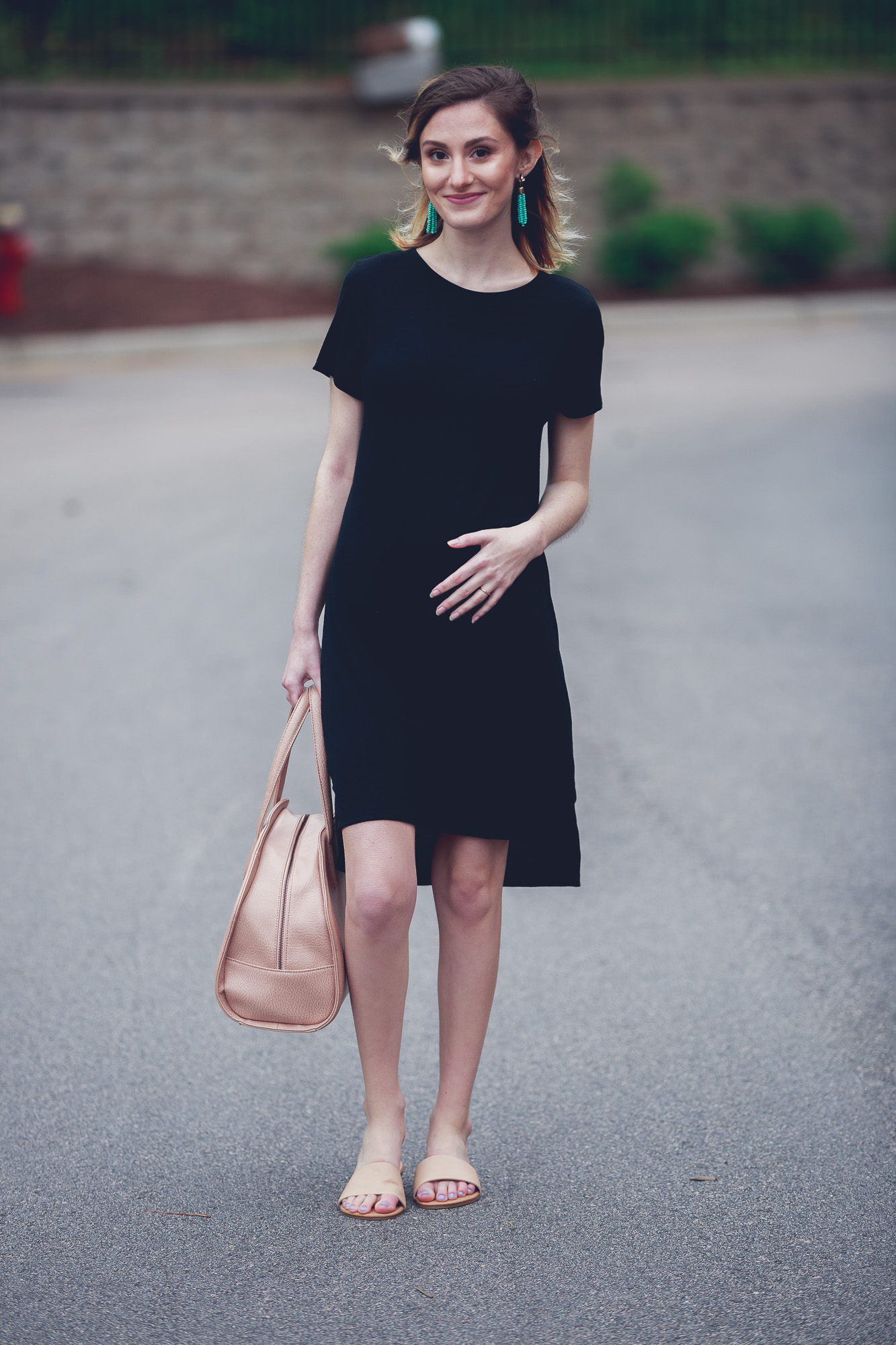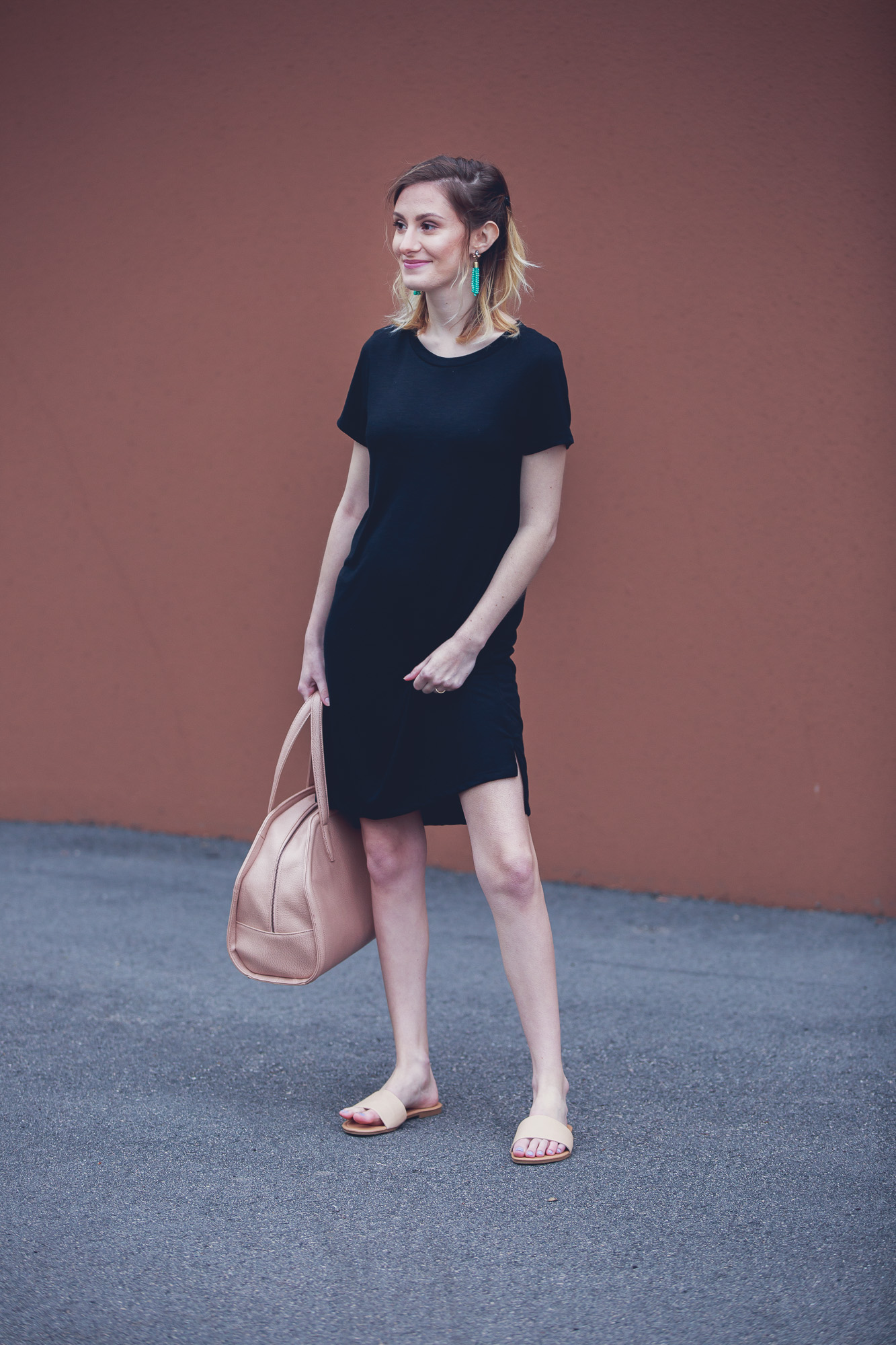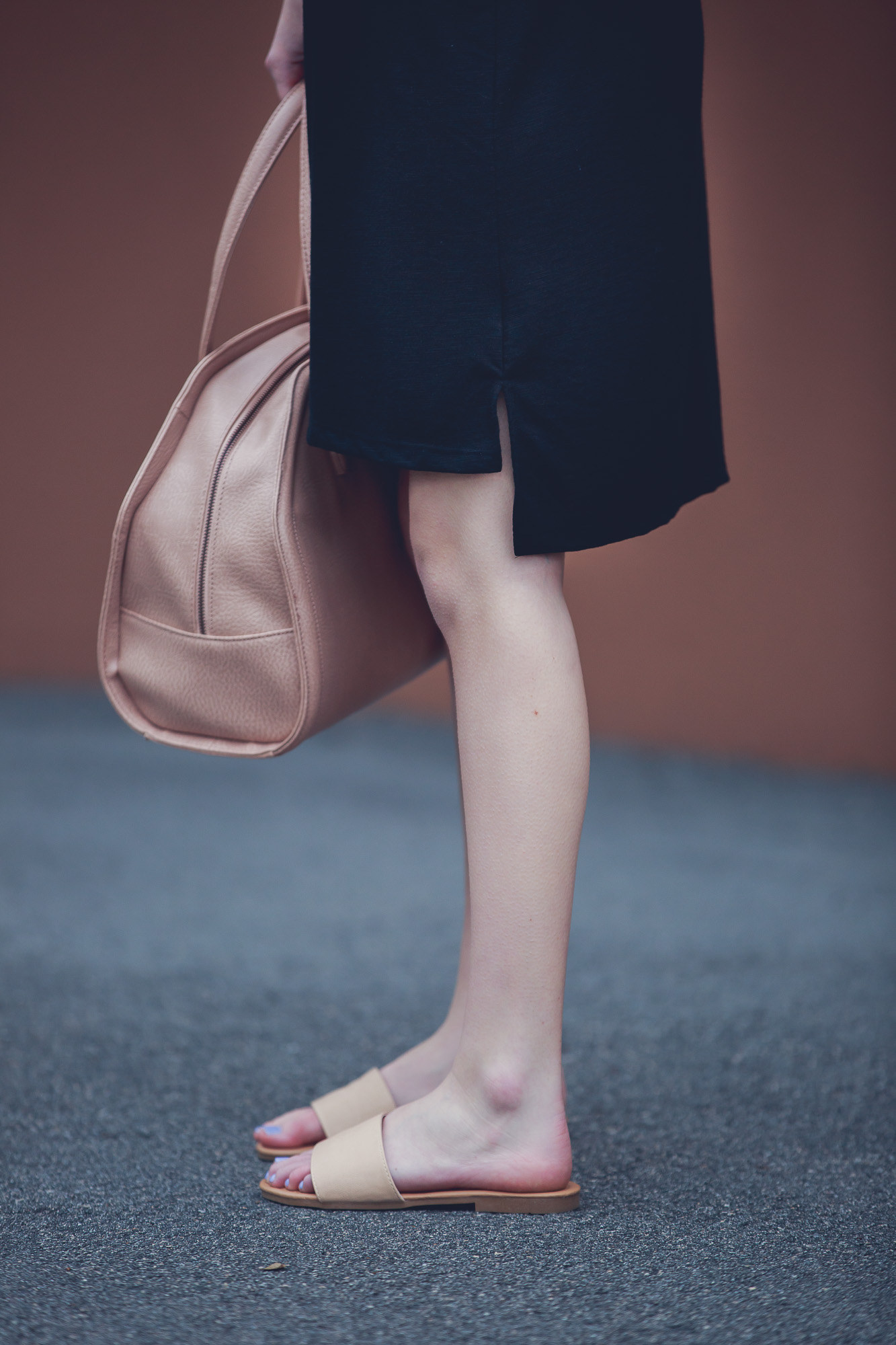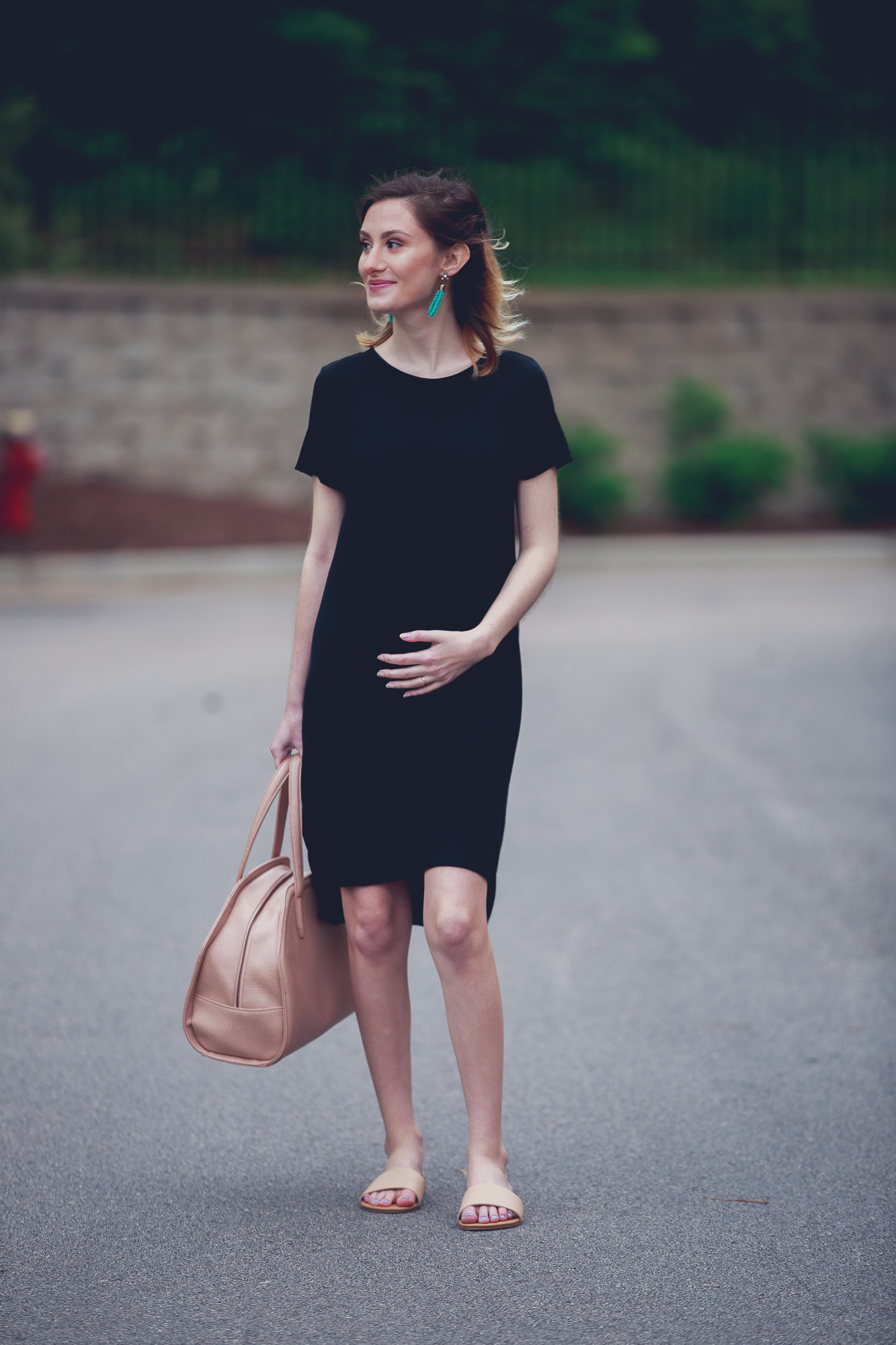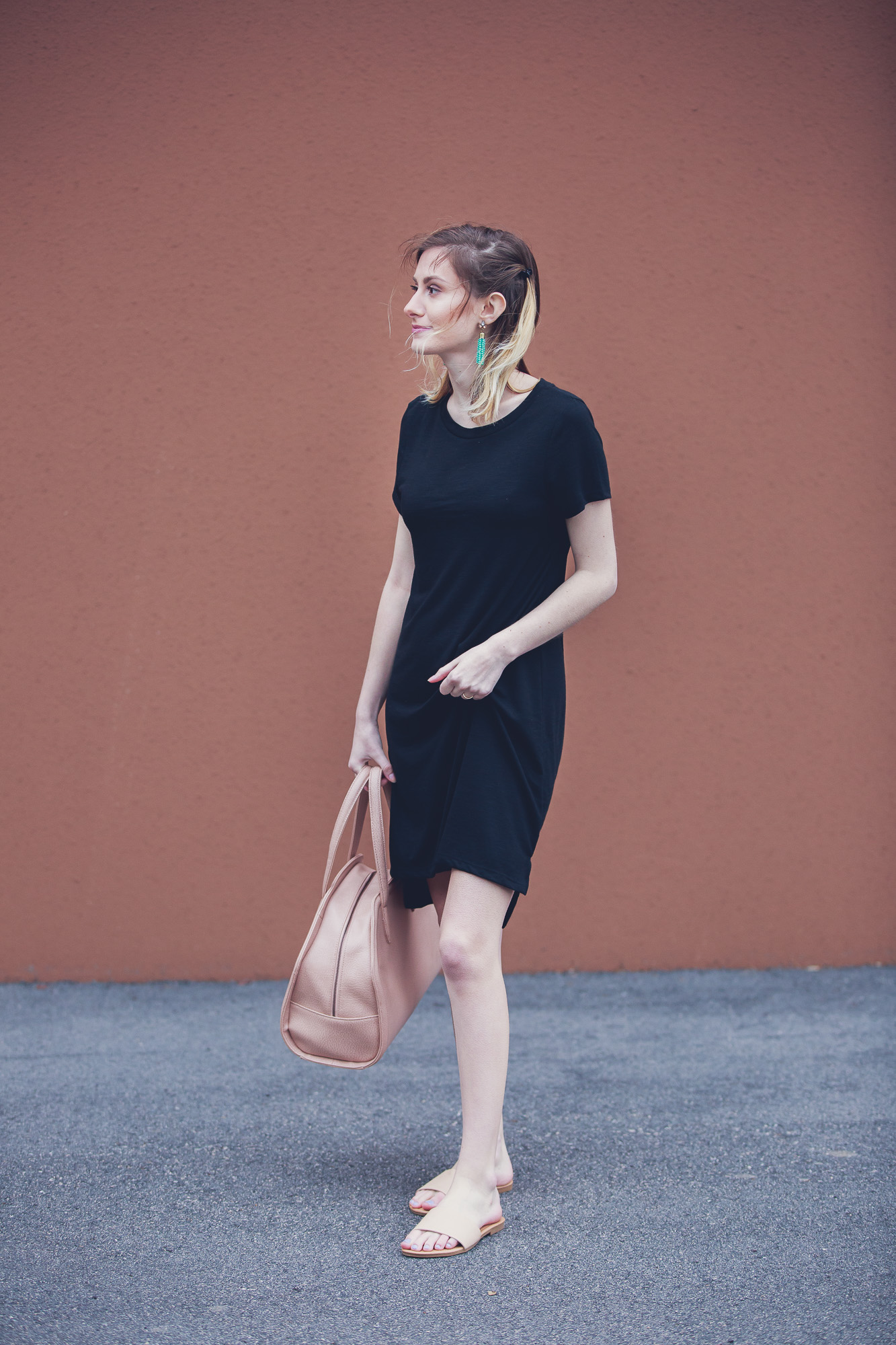 As I mentioned in a previous post, getting dressed lately is so difficult so I have been living in dresses.  With the breast growth and bellow growth, some days I feel huge and like everything is unflattering on me so I was surprised by how I felt in this t-shirt dress!  I put it on and remarked "I don't look like a baby whale in this!"  It was a good day.  This dress is so comfortable too, it feels almost like a nightgown, I could probably sleep in this thing.
I kept the outfit simple with some tan colored sandals and matching tan purse.  I wanted a small pop of color so wore these Baublebar earrings that I'm obsessed with, (I have a pink pair too)!
On this particular day, my bump was showing quite a lot!  I had just eaten a massive turkey burger so that made me look even more pregnant haha. (yes, you heard correctly, I ate a turkey burger).  After being vegan for over a year, I tried so hard to remain vegan throughout the pregnancy (and it is possible, many people do it), but for my personal circumstances it was not a very healthy option. I was already considered quite a bit underweight for my height and then I lost a little more weight and had a ravenous craving for some meat (it was the only thing I could really stomach).  I tried introducing just eggs into my diet but it just wasn't enough for me.  I still do not eat beef or pork, and only eat sea food, chicken, and turkey and while I try to avoid dairy, I still have some on occasion.  I know that this is something vegans are very aggressive about, but it just was not healthy for me or the baby and we were not able to get what we needed from a vegan diet.  I also know that people like to laugh at those of us who were vegan or vegetarian for a time and then are suddenly not anymore.  It was a difficult decision but I knew I needed to be more concerned about the baby's health and my health.  I will also be honest and say that I had a bit of a pride complex (as most vegans do). I never said it out loud but there is an arrogance that comes along with associating yourself with a specific group of people like it's an exclusive club and you all know so much more than people outside of it.  I realized that my reasoning was flawed and shallow and had to think about what was important, not what other people would say or think of me.
After that trip down honesty lane that I will probably get some not nice messages about, here's a bonus shot of me making a seductive face while also making people uncomfortable with the belly rub… New profile picture?