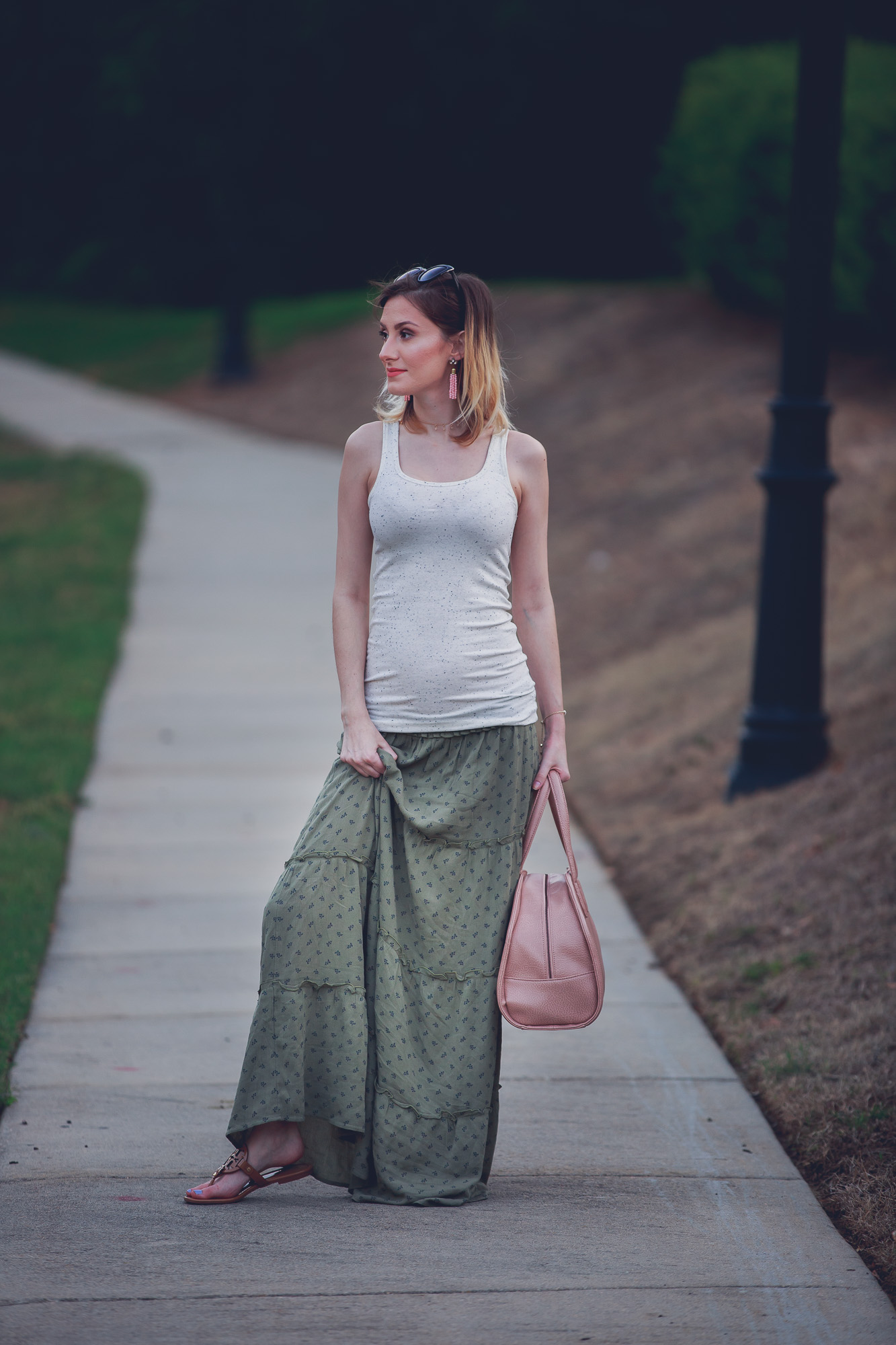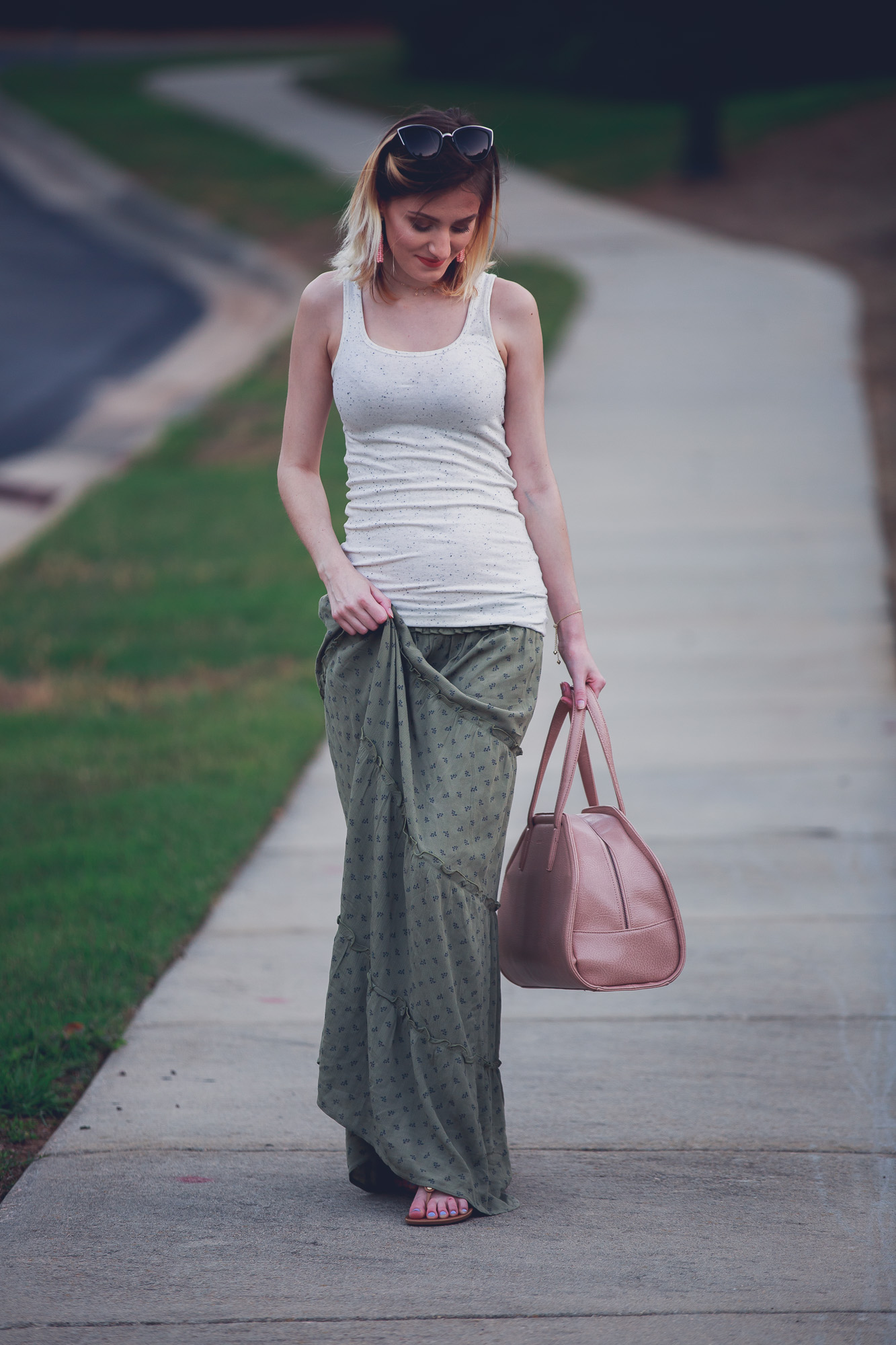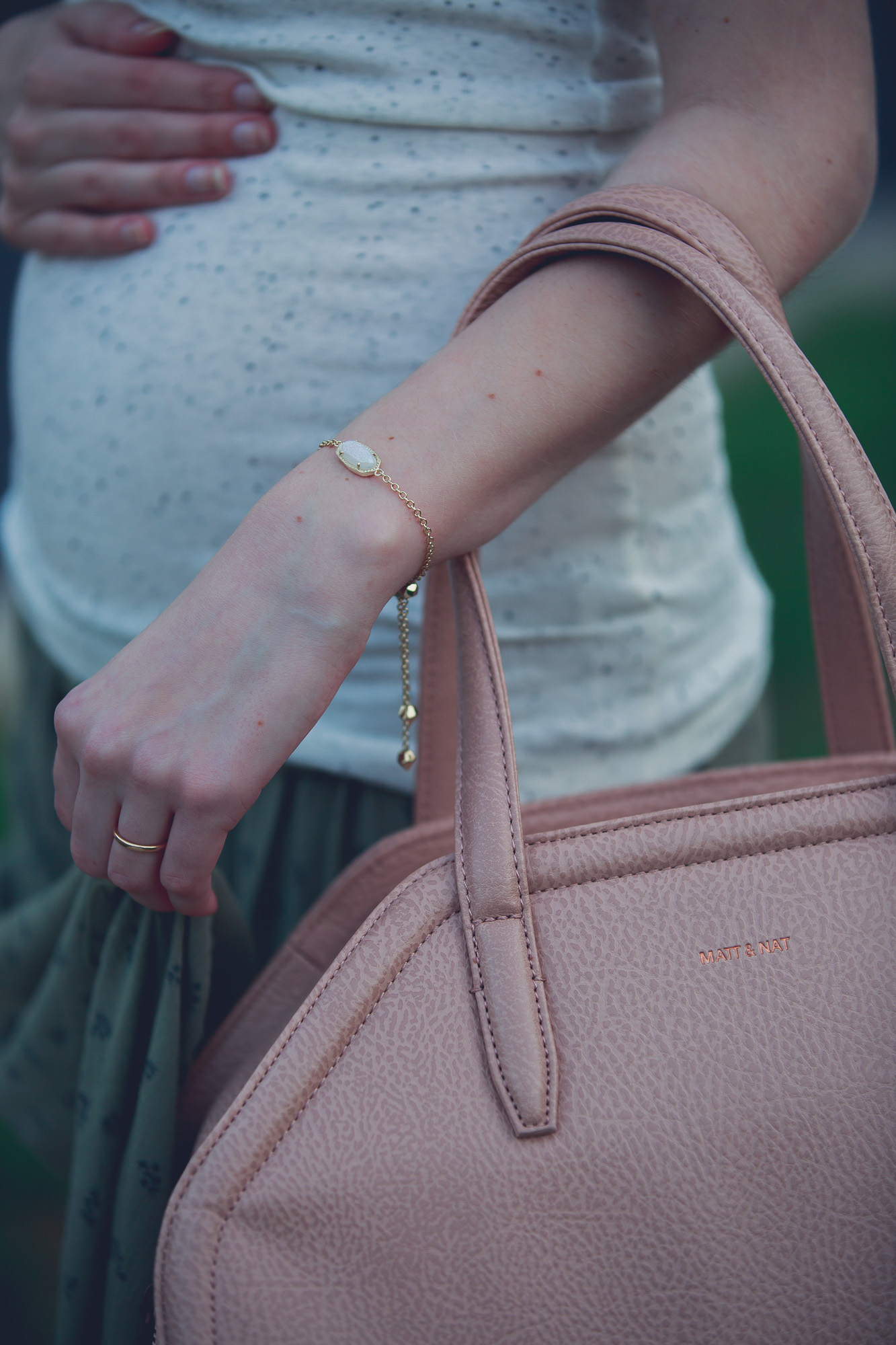 Hello everyone and welcome back to another outfit of the day post! I found my skirt, tank top, and earrings on sale at Target.  The skirt is so comfortable but is way too long for me to keep below my bump.  I kept stepping on it and almost tripping, but on the upside I did get to walk around holding it up like a princess, so that's something.  I wore it with a simple tan colored tank top and added a pop of color with these Baublebar earrings that I wore in a recent post and I 'm still obsessed with them.  I have been carrying this Matt and Nat bag with almost every outfit post lately.  I just love it's soft color so much.  For my shoes I wore my Tory Burch sandals that were a Mother's Day gift from the husband and I accessorized with a Kendra Scott bracelet that I bought for myself for Mother's Day 😉  I am not a big jewelry person but Kendra Scott is right up my alley.  It's dainty and simple but very interesting at the same time, and the store I went to was at the Southpoint Mall in Durham NC.  The girl who helped me was so nice and gave us a discount because the husbands birthday was during the month that I purchased the bracelet.
Now, another trip down Honesty lane:
I'll be honest, I'm not feeling the most comfortable in my skin at the moment and I definitely didn't on the day I wore this tight tank top.  I love this outfit, but the changes to my body from pregnancy sometimes makes me feel just plain crappy about myself.  I am that stage in pregnancy where I have enough of a bump that I don't have a nice flat slim stomach and waist line, but my bump isn't big enough to look obviously pregnant.  So I often feel like I'm left looking like a bloated squishy mess.  I almost didn't post these photos and here are some of the reasons why.
This isn't meant to be a pity party, there are just so many posts and people that talk about how beautiful we should look and feel when pregnant, and maybe that's the case for some people but not everyone. I can tell you, I never felt beautiful with my first pregnancy and I have never ever had the pregnancy "glow." I have just had pregnancy acne with my first and now with this pregnancy and my acne is something I am very sensitive about because I've struggled with it since I was 13!  I have taken Acutane twice and finally got my skin to a decent level of control but that has all gone out the window after getting pregnant.  I felt guilty for not liking my body or feeling attractive when I was pregnant with my first because everyone and every parenting magazine and website told me that I should feel beautiful but that was the farthest thing from what I felt.
I was not at all prepared for my first son, I was 19 and it wasn't planned so the changes to my body were terrifying and emotional for me.  I constantly freaked myself out until I was crying over my acne and fear of stretch marks and fear of not being able to lose the baby weight.  This pregnancy is a little less stressful for me because I'm a little older now, less financially strained, it was planned, I lost the weight pretty quickly with the first, and even though I'm not the most confident person I am comfortable enough with myself to realize that even if I do get a couple of stretch marks it won't make me "ugly" or "unattractive."  I have seen some super hot fit ladies with stretch marks and the stretch marks don't stand out anymore than a freckle would.
Even though I'm not as self conscious this time around, I do have days where I am very insecure.  My breasts have grown multiple sizes, which is something most people would be happy with but I honestly feel more comfortable with a smaller chest.  I went up to a 32DDD when I breast fed my son and it is next to impossible to find a cute bra in that size!  And I was asked if they were real…  It physically hurt and made it difficult to find flattering tops and dresses.  So I 100% prefer having smaller boobs and the growth of them is one of my biggest insecurities during pregnancy.  Bigger boobs also accentuates arm pit fat which is no fun.  I basically feel super squishy and bloated. I had intense all day morning sickness for 3 months and did not leave my bed except for class once a week.  My muscles have not been worked in such a long time that I don't feel toned at all and the hormonal bloating doesn't help at all.
I just wanted to share some of my insecurities during pregnancy because I felt like I was a massive selfish b*tch with my first for not enjoying my body during pregnancy and even though I am much more secure this time, it's not like that every day and I don't want anyone else feeling guilty for being insecure with their body during pregnancy.  It's ok to not enjoy all of the growing, bloating, weight gain, and stretching out.