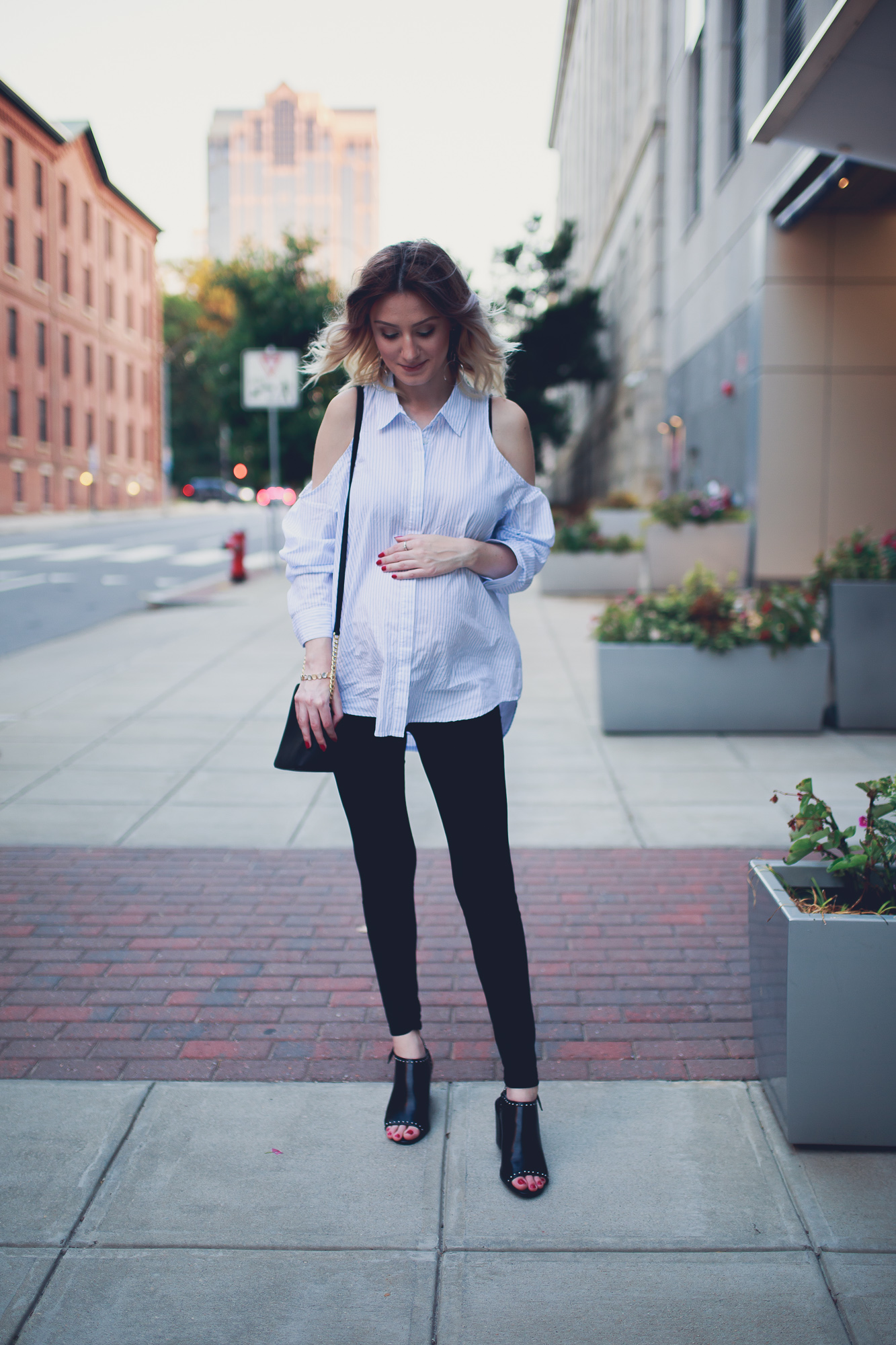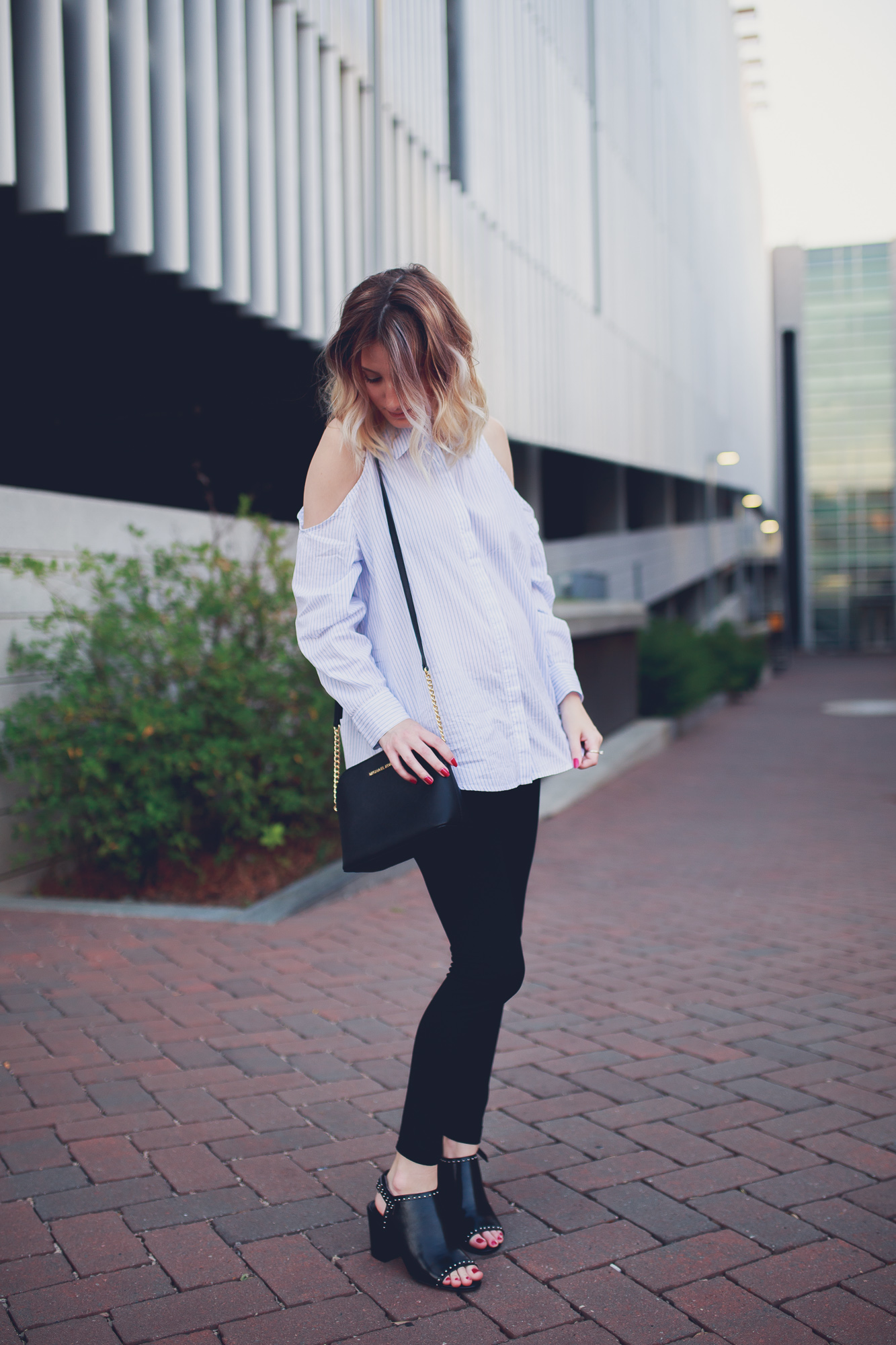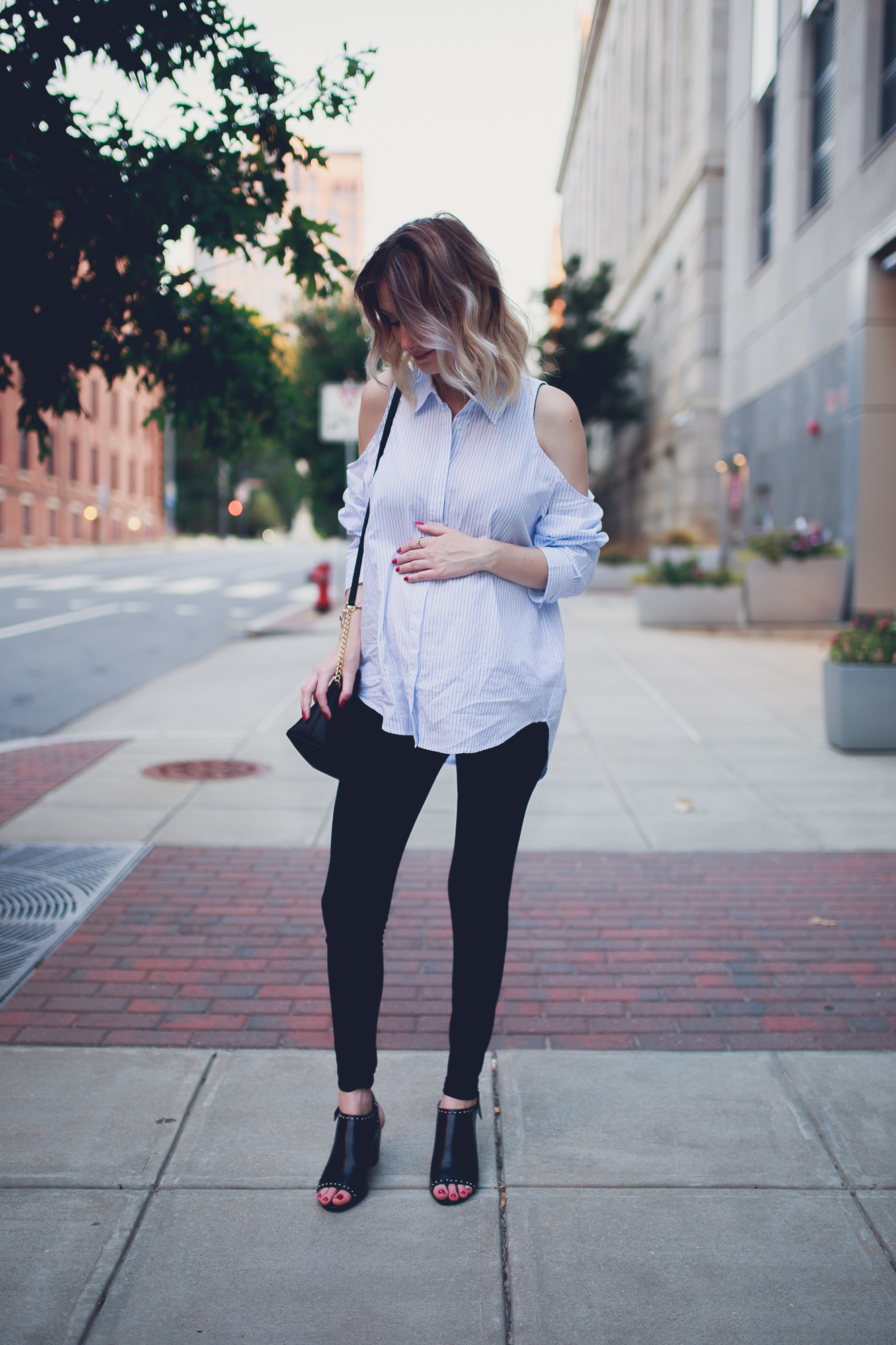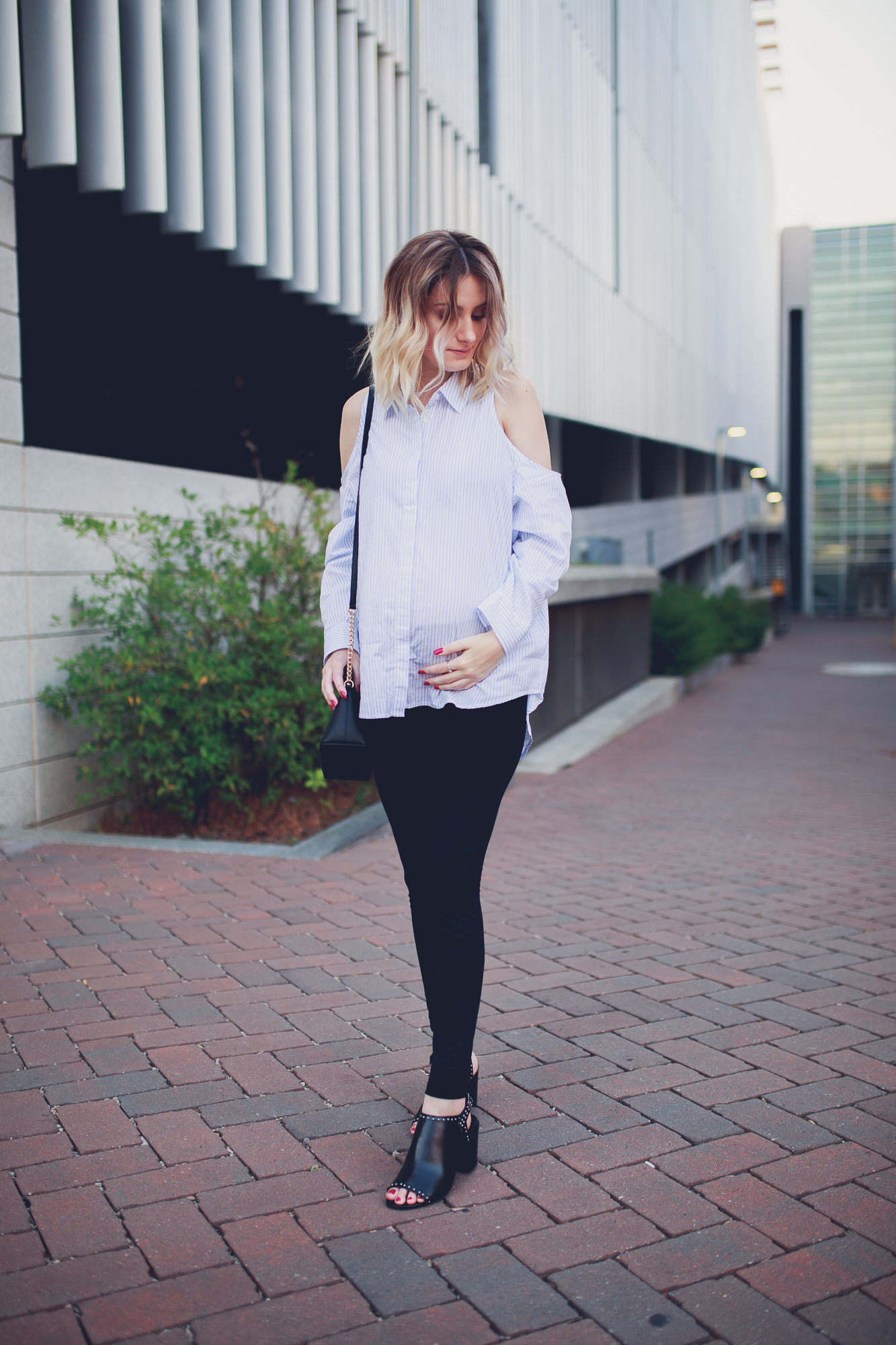 Hey guys, its been a couple of weeks since I last posted.  The third trimester is no joke, I have never been so exhausted in my life!  So I had to take a bit of break last week and spent a lot of time sleeping.  It's hard to believe that Catalina will be here in no more than 8 weeks (hopefully I don't go over, but I don't really expect to since it's my second baby and I went into labor on my own with the first) so let's pray things are as smooth and easy as the first time!
I am loving this cold-shoulder pinstripe top from Forever21 so much!  It's pretty comfortable and is long enough to cover my belly.  It also gives me some sassy vibes, so I really dig it.  I just paired it with some simple black leggings and silver studded black shoes. (These shoes are awful!  I only wore them for about 20 minutes to take these photos and they tore my feet up.  I linked a different pair that look similar so that no one goes through the pain I did lol).  The nail polish I'm wearing is the new Essie Gel Couture  in the color Sit Me In The Front Row.  This nail polish formula is currently my favorite!  It is much more simple to do than gel nails and comes off with regular nail polish remover, but it lasts sooo much longer than regular nail polish.


The husband and I along with Brayden went to downtown Raleigh to take these pictures and at first I didn't like them at all!  I almost didn't use them in a post.  I forgot about them for a couple of weeks but when I went back to look through pics I realized that I kinda liked them.  I can be a bit of a perfectionist (some might even say a diva) when it comes to how my blog pics turn out.  I always see every flaw in myself, especially now that I'm pregnant and have some extra cushion everywhere.  Since the things that make me insecure are so front and center when I see the picture I assume that is all anyone else is going to see and therefore they will hate the picture.  My husband always tells me that I see things that nobody else sees and am too hard on myself so it's something I've been trying to work on.
I used to always have this "reward/punishment" mentality in my head.  I would tell myself that if I did well on (blank), or if I ate healthy for a certain amount of time, if I get (blank) amount of views on my blog, or (blank) number of followers by a certain time- then I will reward myself.  When things don't turn out how I planned-and they often don't- I get so mad at myself.  Not just disappointment but legit no tonkin myself and saying horrible things about myself.  I did this up until last semester when I struggled with severe morning sickness and couldn't get out of bed, which lead to me failing my first class, I was so down on myself that I literally didn't think I deserved anything and was constantly insulting myself (disguising it with humor).  I have made a point to no longer "punish or reward" myself.  Even when I've failed at something, I'll still let myself buy the purse I wanted or whatever, to break that self deprecating attitude.  I read something online once that said to imagine that you and your body are two separate people that are friends, would you insult your friends the way that you insult yourself? and would you be friends that talked to you the way that you talk to yourself?
You are your longest relationship.  You're stuck with you lol so you might as well enjoy it and be nice to yourself!
I hope that you all enjoyed this post, let me know in the comments what you do to practice self love!
P.S. Don't forget to subscribe to my email list and follow me on Instagram!
Most Recent Posts: