I'm so happy to be partnering with Welly Merck for this blog post!  All opinions are still mine of course 😉  I got your back guys and wouldn't share something with you that I didn't like myself.  My favorite thing about this Welly Merck watch is how its is effortlessly chic and casual because I can wear it with so many outfits.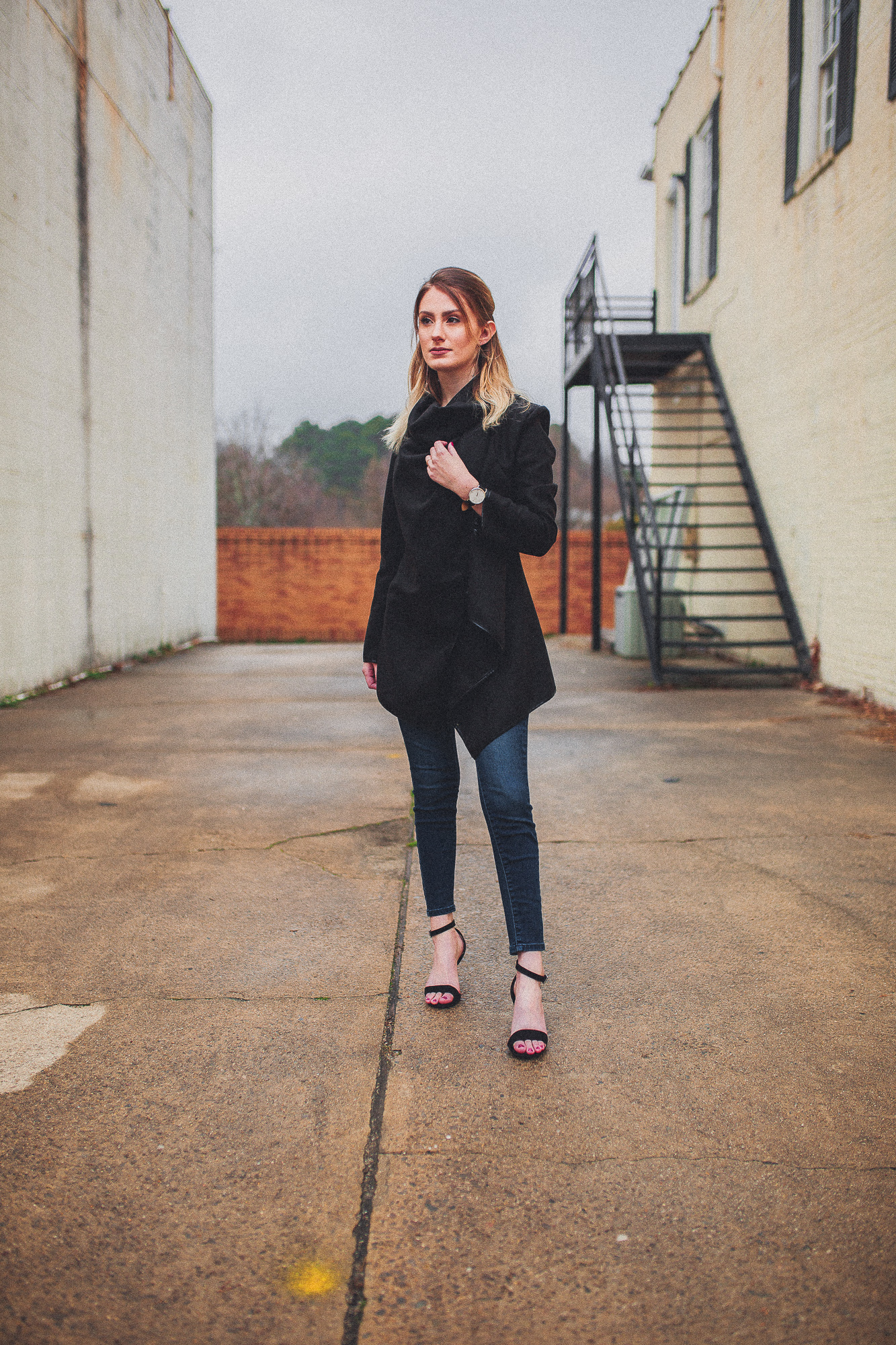 I decided to keep my look simple and chic like the watch.  I love how this coat drapes and the shape of it, but it is insanely itchy!  SO I would not recommend wearing just a tank top under it.  Joel got this jacket for me a couple of years ago and I have no idea where but I think I found the exact same one.  It's not the greatest quality but it's insanely inexpensive and pretty dang cute!  I wore these simple dark denim jeans that I bought at Target.  I really like them a lot!  They fit perfectly and have some stretch to them.  They're also high-rise which is the only kind of style pants I will wear, ain't nobody got time to deal with the muffin top low-rise pants can cause.  Then I just threw on my black strappy heels to dress it up a bit.
I love the simple elegant white face of this watch and the black leather strap went with my outfit perfectly.  I have a hard time finding things that fit my wrists well since they're on the smaller side so I was so happy that this watch band had enough holes in the strap for me to tighten enough and not slide up and down my arm.
Another huge reason that I was excited to partner with Welly Merck is their story.  The brand was started by a couple who dealt with difficult circumstances but ultimately persevered to create successful watch company.  They based their design off of their live approach of perseverance with durability and simplicity.  I'm wearing the Classic Roma S | 36 mm. They also offer customization.
They were so awesome and provided me a discount code to give to you guys! "LYNN15"  My bad for not giving them the correct spelling of my name #oops.