Rompers and jumpsuits are the trends of the season and I could not be more excited about it!  I'm also a huge fan of maxi dresses during the summer, so this romper-maxi dress hybrid is the garment of my dreams.  I felt so glamorous in this romper-dress and Joel told me it was obvious that I felt good.  I have been called shallow many times for having an interest in fashion and makeup but there is nothing shallow about doing what makes you feel good.  Every single one of us has things that make us feel our best.  It could be something we wear, or the grades we get, or the job we have.  I think we can all agree that when we like the way we look, we tend to be in a better mood.  It's amazing to see the look on a person's face right after they get their hair done or get their makeup done.  You can just tell when someone feels love for themselves and it radiates off of them.  It is amazing to see, and it's something that we all deserve to feel.  So if that dress makes you feel like the queen you are, wear it! If that lipstick color or a full face of makeup makes you feel beautiful and confident then do it.  Don't let anyone tell you that what makes you feel good is "shallow."
Ok, enough with my self-love rant, more about the outfit!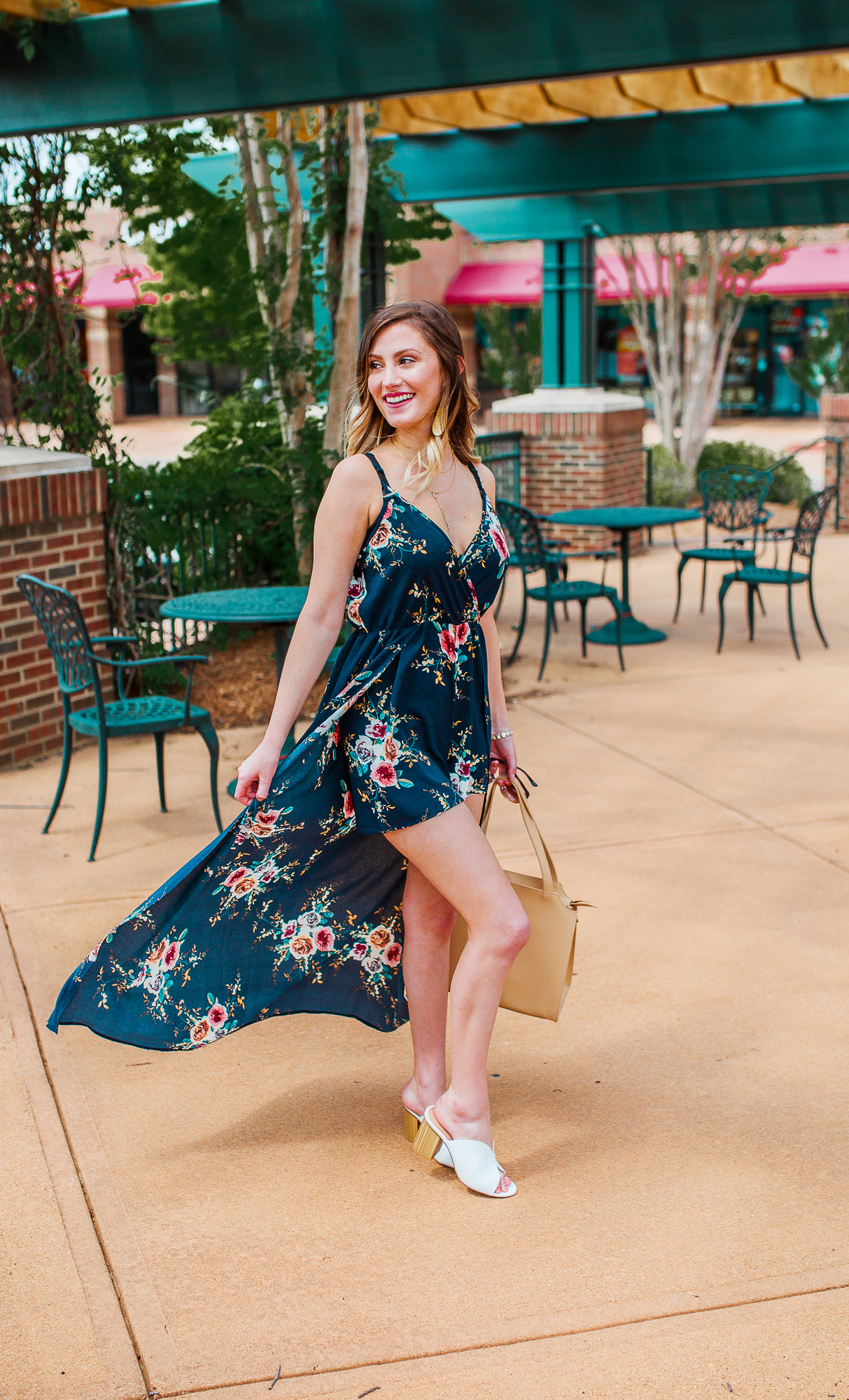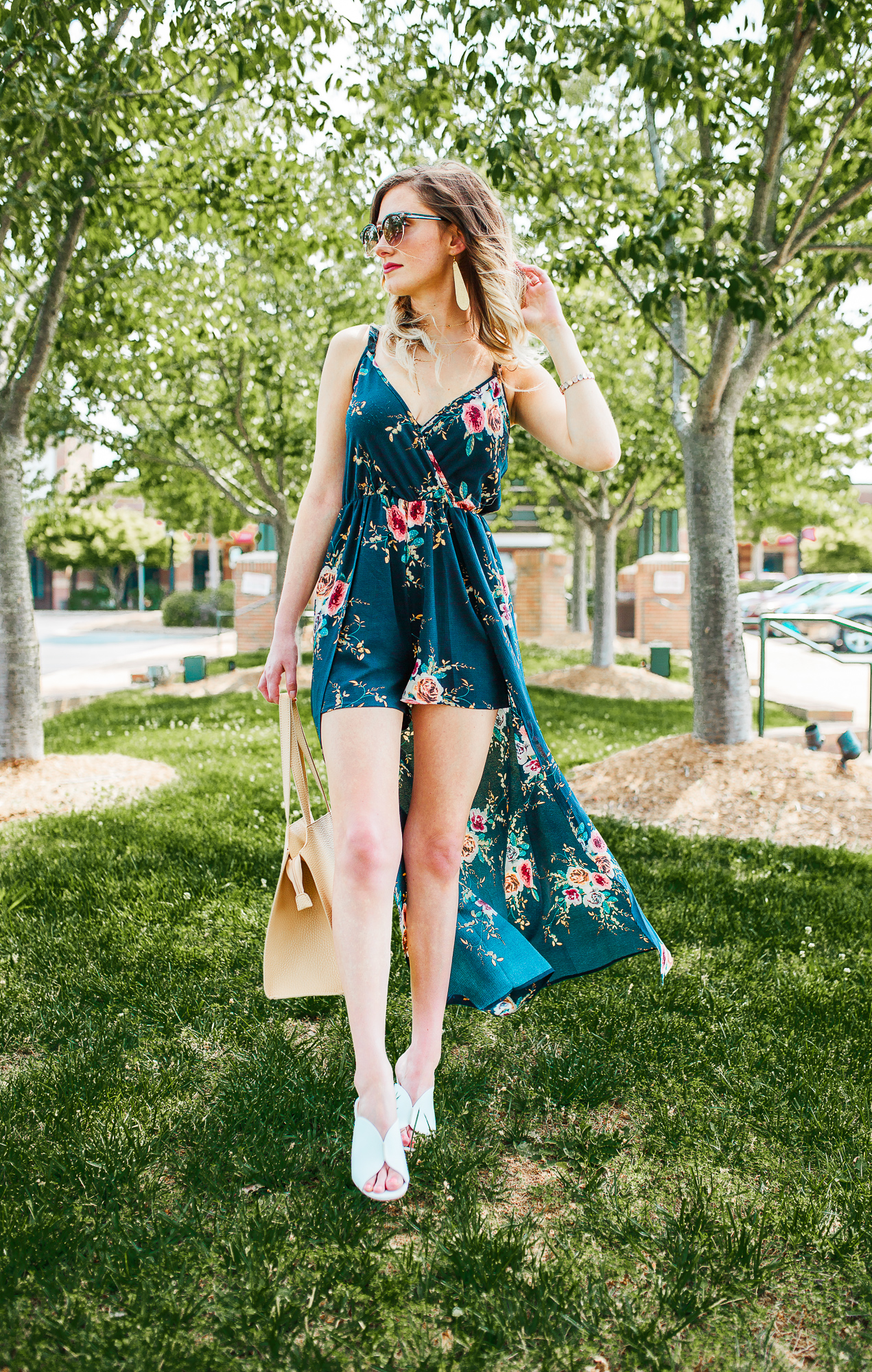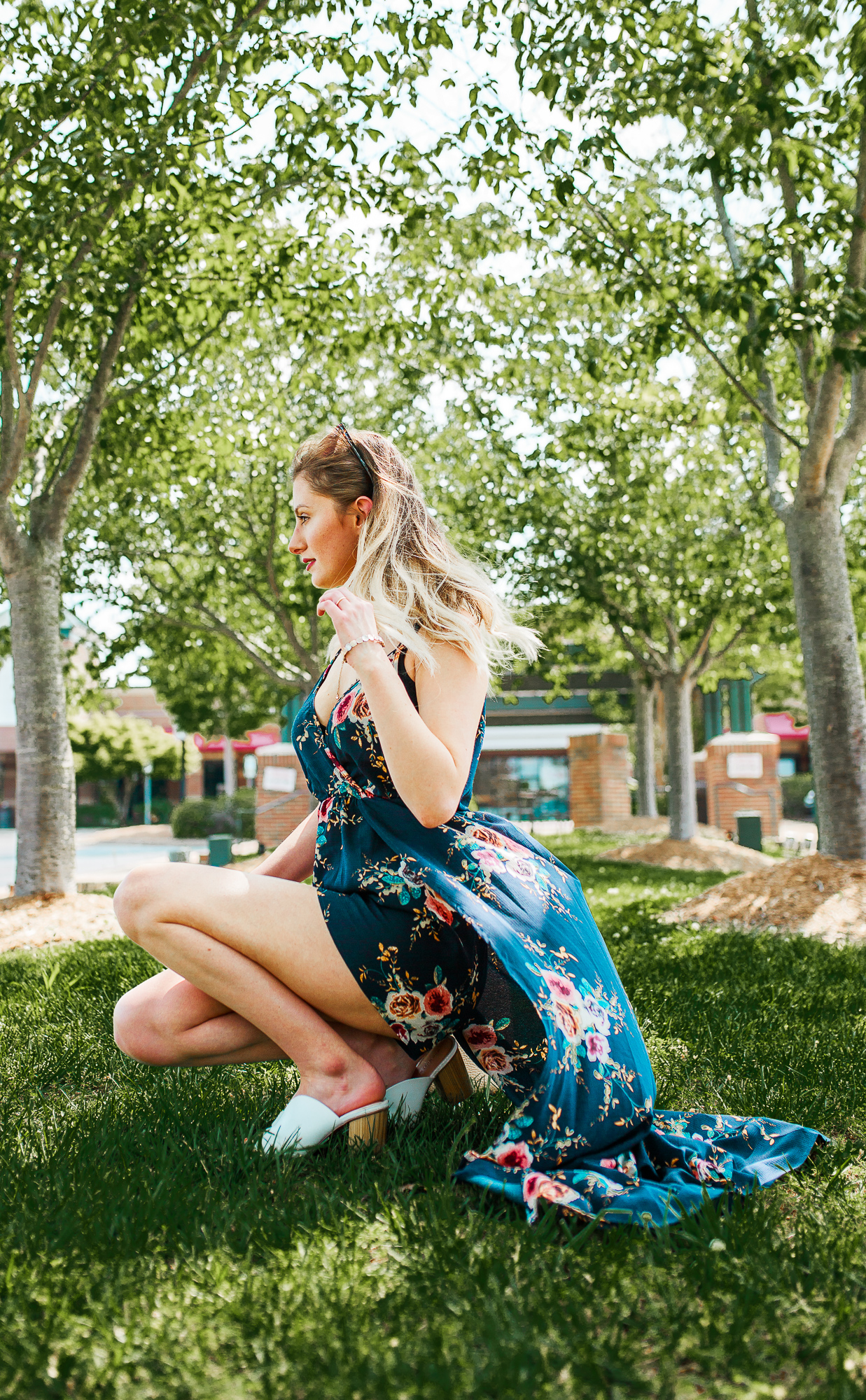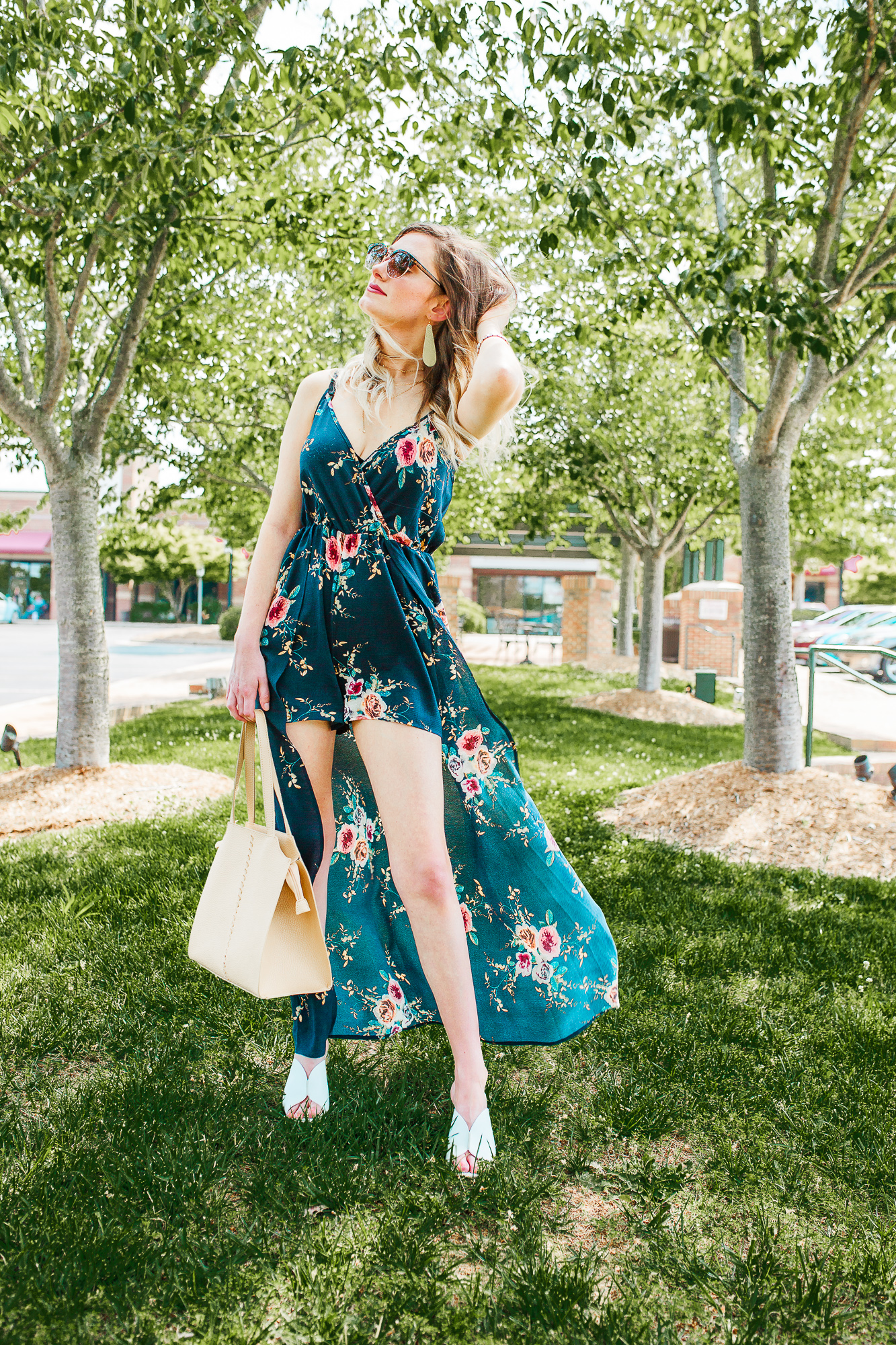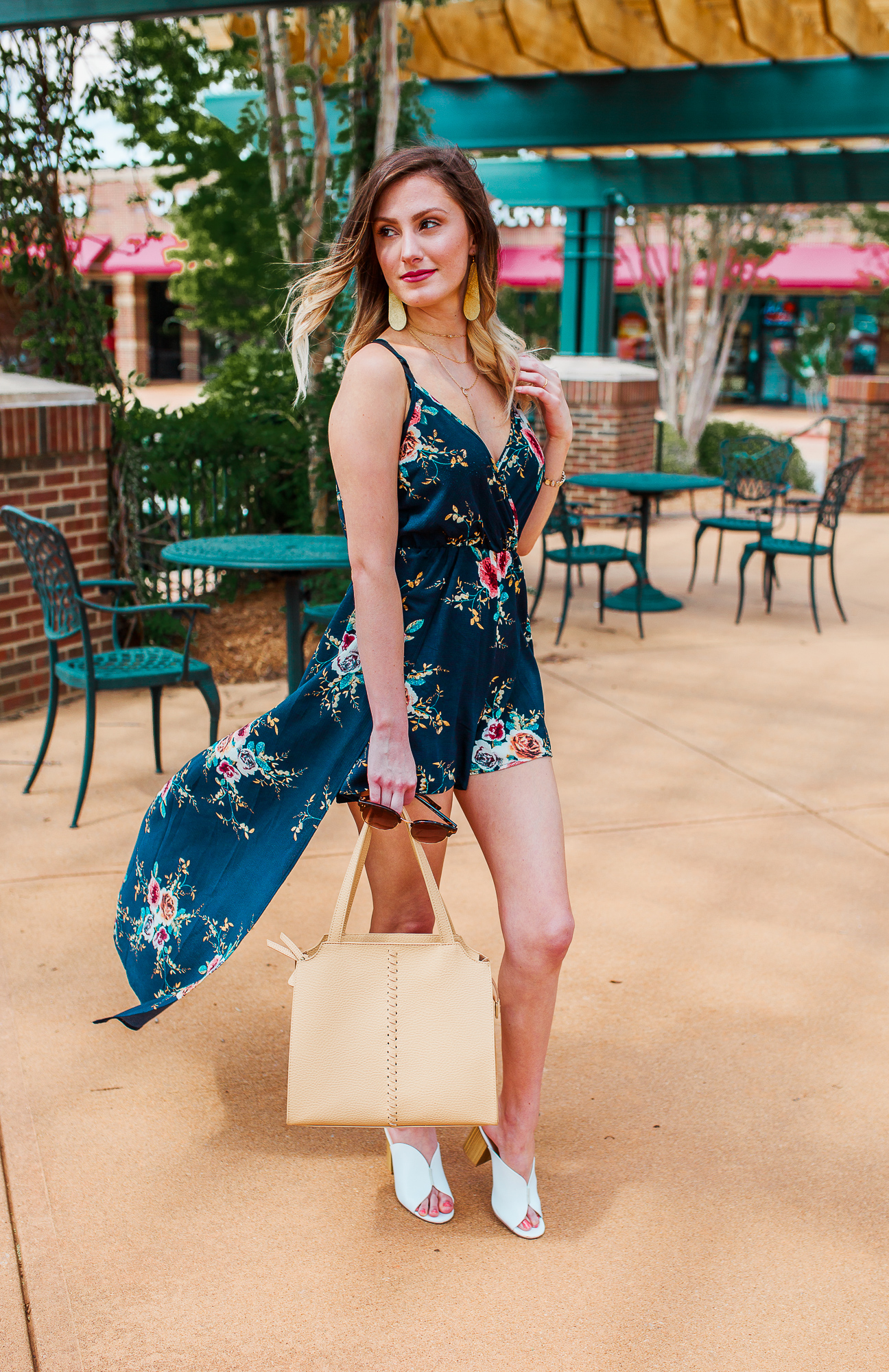 The train of this romper is quite long and instantly strutting around like a princess as it drags behind me. (Brayden asked me today if it was a princess dress and of course, I said YES)!  Since I have two children to manage, I couldn't risk tripping over the train so I through on a pair of heels. These chunky heeled mules only cost me $38!  They have also attracted so many compliments! One question everyone always asks me is, "but are they comfortable?"  The first time I wore them resulted in a couple of blisters.  Ever since then I have been able to wear them for hours and not have any discomfort.  I even carry my 7 months old around for hours in them!  I think one of the reasons they are so comfortable is the chunky heel.  Thick heels and wedges provide more support than thinner heels.  Mules are also another one of the hottest trends this season so I highly recommend these.  They're from the brand Who What Wear which is available at Target and they also come in black!
I accessorized with this tan bag by Universal Thread from Target and a layered choker necklace from Sugarfix by Baublebar.
I was sent a bunch of the prettiest leather statement earrings from RSA Studios and the gold teardrop pair went perfectly with this outfit!