Graphic tees are a must-have in everyone's closet! They are insanely versatile so they can be dressed up or down as well as fit in with literally any style of clothing. You can wear graphic t-shirts by themselves when the weather is hot or you can layer over them with cardigans, sweaters, or jackets. You can also layer long sleeves underneath graphic tees. Here are cute graphic tees you need as a wardrobe essential to give you countless looks! (Although, I'll most likely be wearing them with my Spanx faux leather leggings every day)!
I particularly love this Country Roads shirt and just ordered it since, ya know, I'm from West Virginia. Country roads, take me home. To the place, I belong. West Virginia, mountain mama. Take me home.

More Home State Inspired Tees

I picked this Def Leppard tee up during a recent Target run and have been wearing it non-stop! I love the graphics on it, the colors, the lived-in feel. It feels like a comfy t-shirt you've had forever! So comfortable. It also reminds me of when I was a kid. My dad was a huge Def Leppard fan so my parents would play their albums super loud and my sister and I had so much fun dancing on the coffee table. Simpler times man.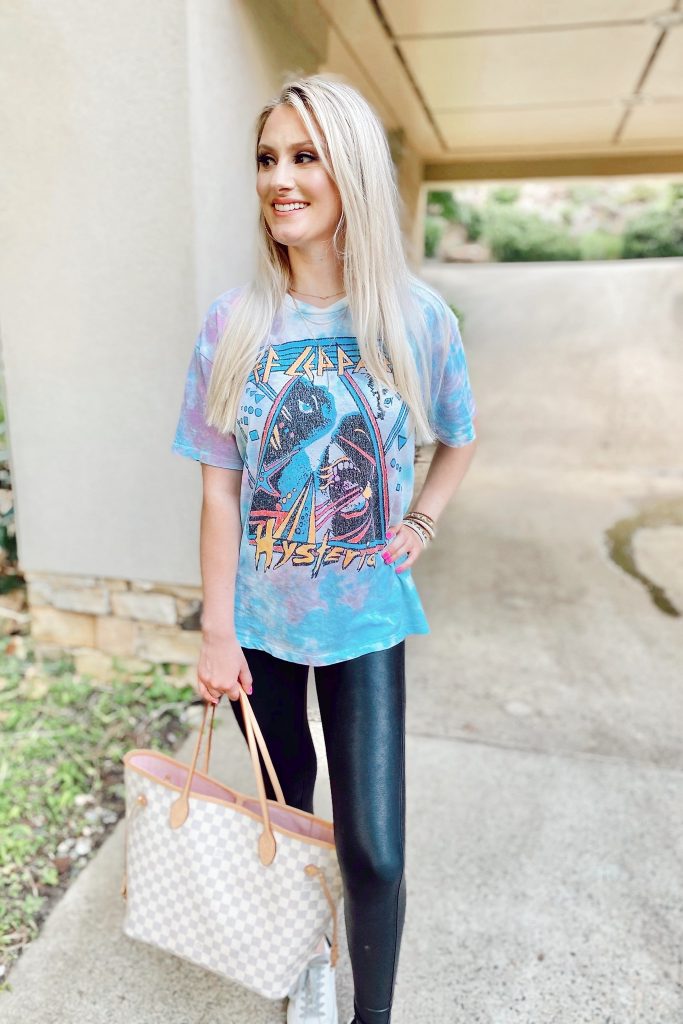 More Nostalgic Tees

I am in love with this graphic tee in the mauve color! It's technically a shirt dress but I've only seen it worn as an oversized t-shirt with pants. I love the combination of space and floral elements.

More Cosmic & Floral Graphic Tees

Free People and UO t-shirts are a bit pricy so a great place to get graphic tees is Shein. I order from Shein a lot since it is so affordable. It's a great way to keep up with trends without breaking the bank. However, the graphic tee trend is pretty much timeless so I don't think we need to worry about it going away any time soon!

I ordered a lip graphic tee from Shein that I LOVE but after we moved I haven't been able to find it 🙁
More Graphic Tees Under $20

Etsy is another great place to find fun graphic band tees!

More Band Tees from Etsy

---
More Graphic Tees | Click Images To Shop!