If you're reading this post you are probably contemplating purchasing a Louis Vuitton Neverfull bag. Or you are wondering what the hype is about and why every basic bitch on Instagram carries one. (That wasn't meant to be mean, I am one of those basic bitches and I use 'bitch' affectionately)!
I've been blogging for off and on for almost 4 years, granted, there have been a lot of hiccups in my blogging journey such as two pregnancies that knocked me out for months. I have considered myself a "serious" blogger for about one year though since I started making more consistent money with it. Every fashion blogger around me was carrying a Neverfull and we were all doing the Neverfull giveaway on Instagram, (now the trend is Peloton giveaways). I wanted a Louis Vuitton Neverfull so bad! It felt like a fashion blogger's right of passage. Don't judge me!
The husband surprised me with one for Christmas last year so I have been carrying it for a year now and figured I'd share my thoughts on this iconic bag and whether or not I think it is worth it.
First of all, it is amazing quality. Obviously you would expect that from a $1200+ bag! I love that it is available in three different sizes to suit your preference. While I love the oversized look of the Louis Vuitton Neverfull, I didn't want to carry around something the size of a weekender bag so I opted for the MM which is the medium size. It is still big enough to never be full (hehe), but it is manageable for me to carry around with kids. I personally feel that MM is a perfect size.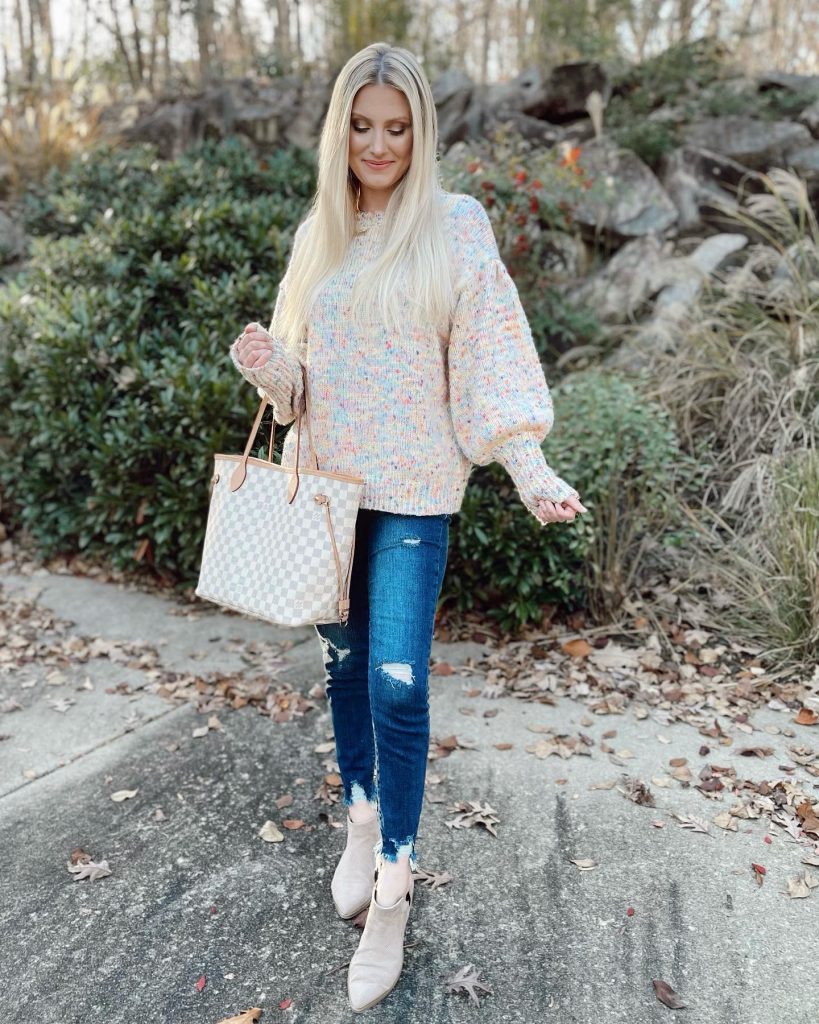 Even though the handles are thin they still feel supported and are not showing any signs of wear and tear even though I have occasionally loaded that baby up till it weighs a ton.
And let's be realm it's hella cute! I got the Damier Azur Canvas print with the Rose Ballerine interior and it is so pretty! Perfect for spring and summer. I think the brown Monogram canvas and Damier Ebene looks great for fall and winter! (hint, hint @Joel Pagán)
Here's a quick pros and cons chart for ya!
Louis Vuitton Neverfull
Pros:
Hella Cute
Classic (So many people love it and carry it)
Looks good with everything
Spacious
Available in 3 sizes
Good quality
Cons:
So many People carry it (so if you're looking for something unique, this ain't it).
I wish it had a longer shoulder strap to attach so I could carry it as a crossbody bag.
In conclusion, I personally think that bag is worth it. It's a closet staple for anyone who likes bags and fashion so I'm glad I got it! It's my first higher-end designer bag and as I said, it's a staple. Of course, ya girl wants more designer bags but I don't think my future collection would feel complete without this OG. So my advice, get the bag yo!
Here are some places to buy secondhand designer bags if you want to save a little coin!