What the hell is the hype about these $100+ leggings?! I asked myself the same questions for a couple of years. I saw tons of fashion bloggers wearing them and I thought they were adorable, but couldn't justify dropping that amount on leggings.
I finally took the plunge and purchased one pair of the Spanx faux leather leggings. I waited until they were on sale during Black Friday to save some money my first time trying them out.
I had one pair for a year and I have to tell you, I LOVED them! They became part of my everyday outfits, (I washed them of course ;)). I wore them so much that the faux leather finish started wearing off the knees. So this past Black Friday I ordered a few more pairs, including the Spanx faux leather moto leggings.
I get a few questions about them so thought I'd answer them here!
Are Spanx faux leather leggings see through?
No, not at all!
How much do Spanx faux leather leggings cost?
Regular Prices:
Faux Leather Leggings / $98
Faux Leather Moto Leggings / $110
Faux Leather Quilted Leggings / $110
Faux Patent Leather Leggings / $110

Do they run true to size?
Their site does show on the product page that they run small and many people say they do. I ordered both my regular size and a size up. While both sizes work for me and I kept them and wear all of them, I prefer my regular size because I like to feel really pulled in haha but a size up is comfortable and not too big on me. They do offer FREE returns so you don't have to worry about being stuck with the wrong size!
What size do you wear?
I prefer my leggings in the small petite size, but like I said above, a medium petite works for me too. I'm 5'5 but my legs are a little on the short size so I get the petite length and it is perfect for me.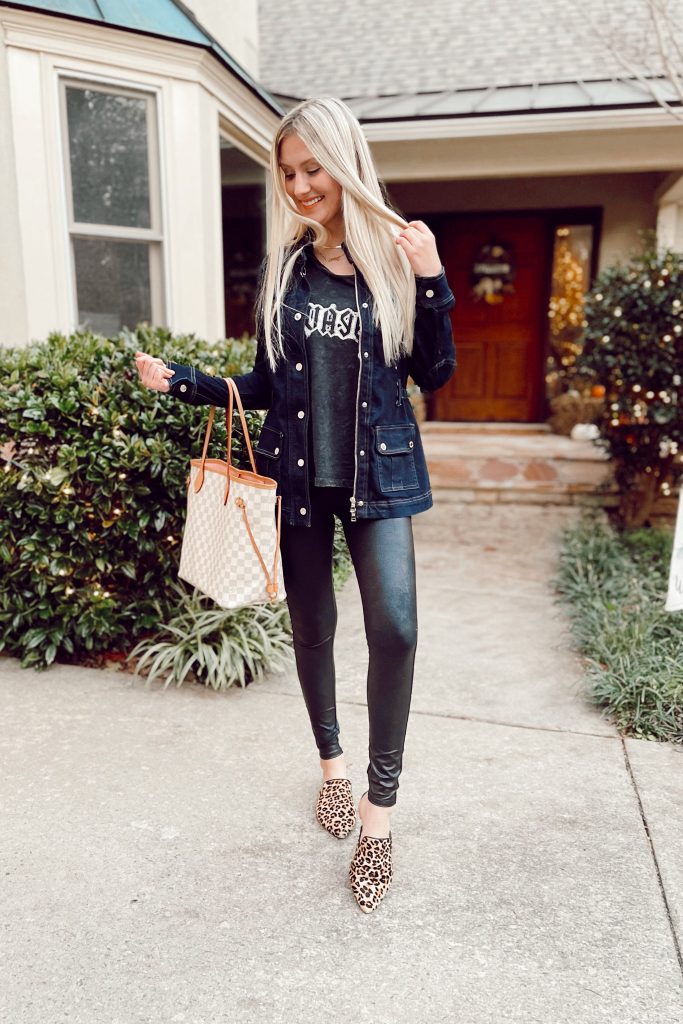 Do spanx faux leather leggings stretch?
A little bit. They are leggings so there is some good stretch that make them comfortable but since they're faux leather they're a little tougher and less stretchy than regular leggings. Spanx started as a shapewear brand and the leggings def give that vibe. I'd say the faux leather leggings are a legging/shapewear hybrid.
Do spanx faux leather leggings make noise?
The faux leather leggings do not make any weird noises. I don't know about the parent leather leggings though. They look like they might be a little squeaky but I'm not sure.
Are Spanx faux leather leggings warm?
They're warmer than regular leggings but they're not fleece lined are anything. I wear them almost everyday during winter but would wear something warmer if I was spending hours outside.
Are Spanx faux leather leggings worth the price?
I 100% believe they are worth the hype and price but recommend waiting for their sales!