I was never into jewelry. For a while, I didn't even wear my engagement ring just a simple wedding band. Last year I kept getting ads for jewelry and it sucked me in! I have been really into jewelry lately and hinting at Joel to update my engagement ring 😉 I've gotten really into accessorizing and came across some adorable cocktail rings on Instagram.
Morganite has become one of my favorite stones but is way more expensive than I expected, so I looked around for some faux morganite rings. I found this pink faux morganite ring on Amazon for $23 and LOVE it! It is 5-carat cubic zirconia but sparkles like crazy! I've gotten so many compliments on it. It is also sterling silver so it won't turn your finger green!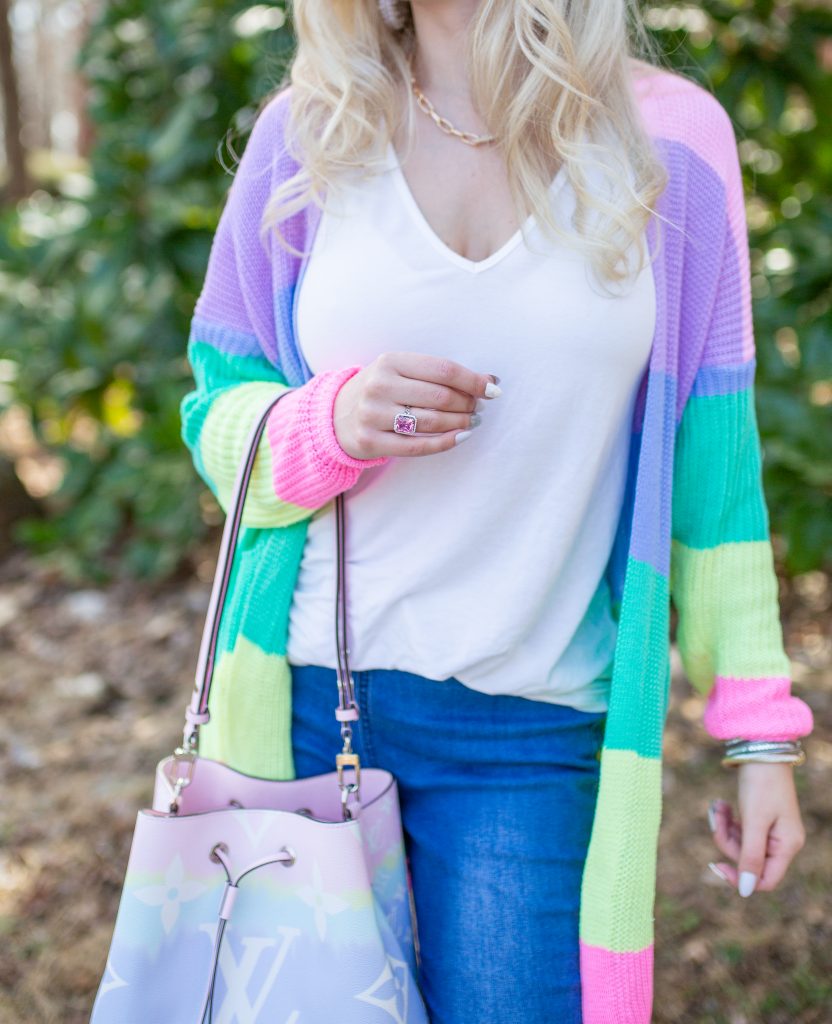 Outfit Details: Spring Cardigan // Simulated Morganite Ring // Jeans
Pink Cocktail Rings

Blue Cocktail Rings
The pink cocktail rings are my favorite, but these light blue aquamarine cocktail rings come in very close! The light blues and pinks (and this purple cocktail ring) are perfect accessories for spring and summer. I love this giant faux aquamarine cocktail ring that is currently in my cart!

Yellow, Orange, & Red Rings
I'm also loving the yellow citrine and canary yellow rings. This 6CT canary yellow square cushion cut cubic zirconia can have a customized engraving put on the inside of the band!

If you want fall and winter cocktail rings then Amazon has some darker gemstone rings as well!

Sterling Silver Cocktail Rings
If you are allergic or don't want to worry about potential green fingers then here are the cocktail rings made of sterling silver!

Outfit Details