I just celebrated my 28th birthday yesterday on June 17th. It's the first year as an adult that I wasn't embarrassed to make a big deal about my birthday. I always felt like as an adult I shouldn't talk about my birthday, be excited, or expect other people to be. You know deep down I wanted to be excited and everyone makes a big deal about me but I didn't think it was "mature" and people would think I was weird for being an adult who was excited about my birthday.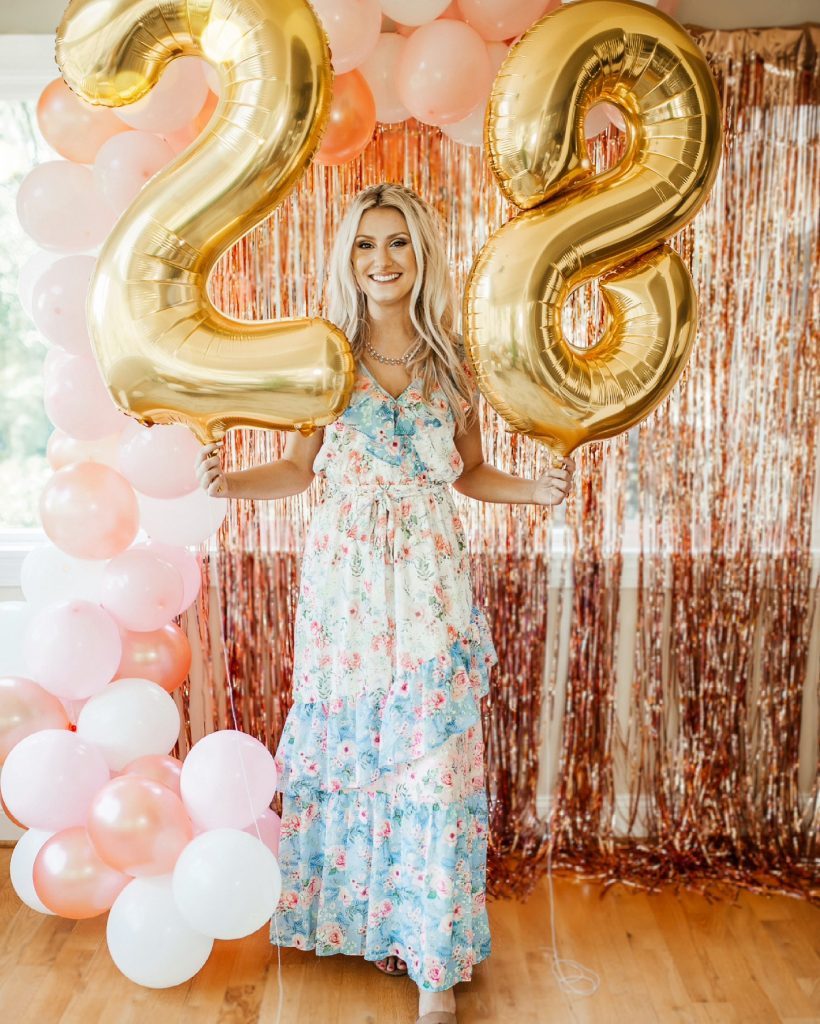 Outfit Details: Ruffle Maxi Dress // Necklace // Earrings // Heels
This year felt so much freer. I didn't care if people thought I was weird for making a big deal out of my 28th birthday. You bet your ass I made myself a balloon garland and sparkling streamer wall. Joel took some pictures of me and I took some of myself. For the first time, I wasn't ashamed to celebrate myself. I love getting dressed up and taking pictures so that's exactly what I did!
We took some pictures in the most beautiful Copper Bloom dress that I wore to the Greenbrier a couple of weeks ago. I changed into something more comfortable ride around in Joel's convertible which is one of my favorite things to do. Joel ordered me an adorable green and white polka dot halter top dress from Amazon. It's something I never would have ordered for myself but I am in love with it!
Outfit Details: Green White Polka Dot Dress // Quay Sunglasses // Heart Necklace // Heels // Bag
Joel and I hung out with the kids all morning then my mom came over to watch them while we went out for a bit. We grabbed some lunch at La Farm Bakery. I got the Croque madame and it delicious! Then we headed to The Streets At Southpoint Mall where we got some Starbucks. My go-to drink has been an iced matcha green tea latte with coconut milk.
We headed to Mineralogy to find some crystals. My sister-in-law has collected crystals and geodes for years and I never understood why she liked them so much until she took me to Mineralogy. I totally get the hype now! They had zodiac tumble sets so since it was my birthday I thought it was fun to grab the Gemini collection. It comes with crazy lace agate, howlite, and serpentine which are a combination of stones known to aid the Gemini spirit. Joel also took me to the Kendra Scott store and bought me this pretty Ari Heart Gold Pendant Necklace In Dichroic Glass. I love the color shift it has! Since it's clear it kind of takes on the color of whatever I am wearing to it always matches.
After that, we went to Crate & Barrel for a margarita shaker and Wegmans to pick up some food and ingredients to make margaritas from scratch. Joel has never made alcoholic drinks but he did such a good job! The pineapple margaritas he made were so good. Then we came home and ordered food from my current fave restaurant, Uncle Julio's. Joel made his delicious margaritas and we played my favorite game, Cards Against Humanity.
Okay, now onto the 28 random things I've learned or loved these past 28 years and things I want to do in the next 28 years!
This quote changed my life! "You don't have to be pretty. You don't owe prettiness to anyone. Not your boyfriend/spouse/partner, not to your co-workers, especially not random men on the street. You don't owe it to your mother, you don't owe it to your children, you don't owe it to civilization in general. Prettiness is not a rent you pay for occupying a space called "female."
I've learned that my mom did her best. I went through a period of resentfulness towards my mom when I was in my early twenties. Now I understand that she was dealing with her own childhood trauma while trying to raise me and my sister. She didn't intentionally hurt us and I have seen myself make the same mistakes I judged her for.
I learned that I am still a person outside of motherhood. My kids are my everything and the best parts of me but I still need time to just be me and do things I enjoy and THATS OKAY! I felt guilty for so long because I didn't want to be a stay-at-home mom but I felt like I had to be. My psychiatrist has helped me so much to realize that the way we parent in isolation now is not how we evolved to live. Humans used to live in a village setting where everyone worked as a unit. She reminds me that our ancestors had help from extended families and people in their communities. Now we don't live that way and there is so much more pressure on moms to do everything. She encouraged me to not be so hard on myself and to invest in childcare and give myself a break.
I've learned to trust my husband. I never had a good example of what a loyal male partner looked like. Everyone woman in my life had been hurt, abandoned, or cheated on by their husbands/boyfriends. I grew up thinking that's just the way it was. I was so paranoid and insecure when Joel and I were dating. I always assumed he was going to cheat or was looking at other women etc. I don't know exactly what happened but I feel so much more secure in our relationship now. I think an improvement in my self-confidence has really helped!
I've been discovering my passions. I didn't really get the chance to explore interests and activities as a kid. I moved out of my parents' house not knowing who I was or what I liked. It took me a while to discover my interests but I feel like I finally get to try new things and find things I like.
I've gotten to start multiple businesses which I'm so grateful for.
I've also failed at multiple businesses but learned so much!
I learned that amazing things are possible! I grew up in a single-wide trailer set up in my grandparents' backyard. Joel and I moved to NC with no money and found out we were having a baby. We struggled for years but after a lot of hard work and difficult decisions I've gotten to do things I couldn't even dream about as a kid. These past few years have shown me how much can change in just a couple of years and that amazing things can and do happen for me.
I always said I wanted to get married at 25 years old and have my first kid at 28. I'm so glad my life went in a different direction and I had my three babies before turning 28! Life is full of surprises!
I want to write a book someday. I have no idea what about I just know I want to write a book haha
I want to grow my businesses to a point that I can hire an all-women team to help women gain work experience to further their careers.
I've learned to worry less about what others think. I realized that people aren't paying as much attention to me as I think they are. They aren't going to notice the little things I notice and am self-conscious about. If they do notice, they're being weirdos paying too much attention to me haha
I realized this list is harder to make than I anticipated.
I want to start a charity foundation someday.
I want to design or create something. Right now I work with manufacturers to get clothes for Copper Bloom but I want to be more involved in the design process or create original designs for clothing or jewelry.
I'd love to produce a documentary someday. I think it would be about primates.
Speaking of primates, I want to go back to school and finish my bachelor's in anthropology and then eventually my PhD. Not any time soon but someday, maybe after the kids are older.
I want to raise my kids to be confident in who they are and what they love. I want them to be so sure of themselves they never doubt their abilities or who they are.
I want my kids to feel safe and like they can tell me anything and everything without fear of judgment.
I want to learn more about investing. Joel and I talk about investing a lot and he handles all of it right now but I'd like to learn more so I can participate and actually understand what he's talking about lol
I want to create beautiful content that makes people happy.
I want to travel the world. The top places I want to visit are France, (Paris but also rural areas that are so beautiful), Rwanda, New Zealand, Sweden, Tibet, and Singapore. Joel has to go to Singapore for work multiple times a year so hopefully, I will get to check it off my list soon!
I want to learn more about yoga. I LOVE yoga and used to do it every day. I got pretty good but fitness hasn't been one of my priorities in a few years so it's been forever since I've practiced.
I want to buy an oceanfront house in Florida. We've been talking about moving to Florida in a few years so we'll see!
I maybe want to have one more baby. Maybe. A big maybe. I keep going back and forth haha
I want to get a boob job! I've but waiting to see if we want another baby. I want a mommy makeover once I know we're done.
I want to worry less.
I want to live everyday to the fullest.