Joel and I are very much DIY-ers. We prefer saving money when we can so we very rarely hire anyone to do anything. Joel literally just teaches himself how to do anything so that he doesn't have to hire someone. While I'm not installing dishwashers or replacing flooring like Joel teaches himself, I do DIY all of our celebrations. I research Pinterest and put together all of the kids' parties and have been making my own balloon garlands.
I made my first balloon garland for Catalina's Frozen Birthday Party and have been using the leftover supplies to make other balloon garlands. They can be time-consuming but they are so much easier than I thought! It also costs under $50 to make your own, (that's if you need to buy a pump). If you already have an electric pump it will be even cheaper. I had a pump so I only had to buy balloons and a balloon strip. I spent about $16 on balloons and $6 on the balloon strip so my garland only cost me about $22 to make.
I just hang mine with thumbtacks and string which you probably already have lying around so you really only need to buy 3 products to make your own balloon garland. A balloon strip, balloons, and an electric balloon pump.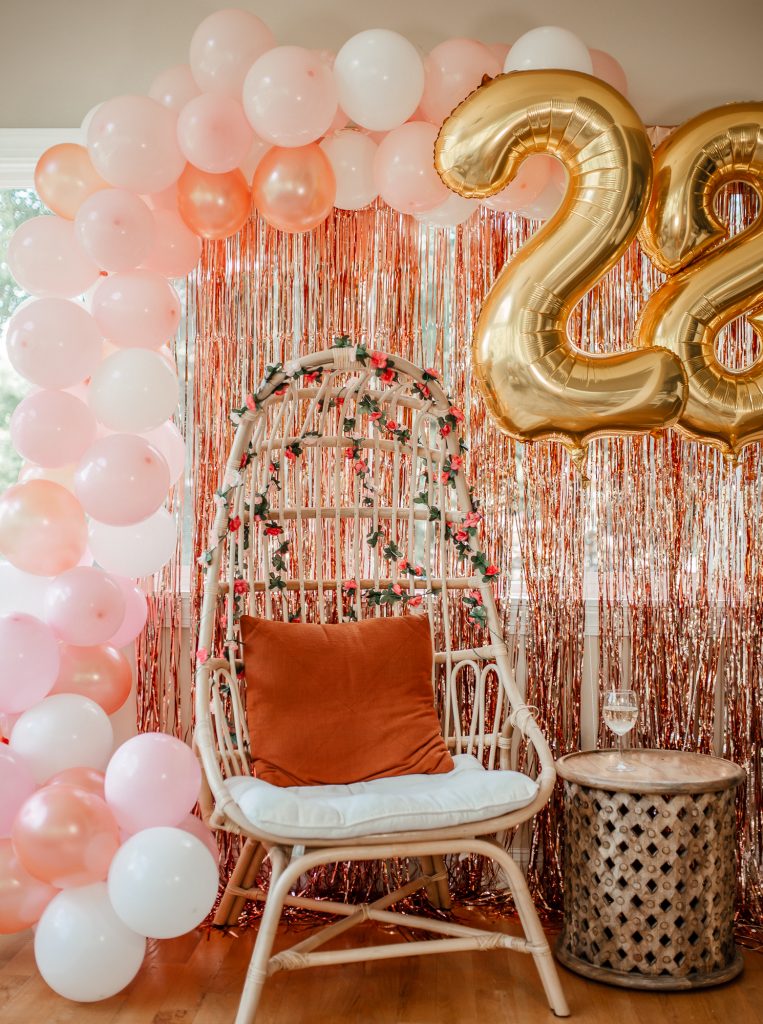 Supplies Needed:
Thumbtacks, nails, or command hooks, (to hang balloon garland from).
String, (to hang your garland).
Electric Balloon Pump, (you definitely need an electric pump. You won't be able to blow up this amount of balloons with your mouth and a hand pump will take too long and be exhausting).
Step 1:
First, you'll need to blow up a bunch of balloons. I got my balloons at Target. They came in a pack of 12 for $2 and I think I used about 8 packs. To be safe I'd say about 100 balloons. This pack of 100 is only $10 on Amazon!
Step 2:
Next, you'll use the balloon strip which is super easy to use! There are two holes and you pull the balloon knots into the large hole and then slide it to the small hole to make the balloons more fixed. This balloon arch kit also comes with glue dot stickers so that you can attach smaller balloons or decorations onto your garland.
Step 3:
Time to hang it up! Like I said, I have just used thumbtacks I already had but you can use command hooks which are much easier and sturdier. I tie the strings onto two sections of my balloon garland and hang it up.
This one I made is super simple but you can spice it up by adding faux plants or tiny balloons to add more details. I hung rose gold fringe backgrounds first then hung the balloon garland over it to add some dimension to it.