We just spend a beautiful day at The Greenbrier Resort in White Sulphur Springs in West Virginia. I always forget just how stunning the resort is and am always blown away each time we go. It was rainy the day we were there but still gorgeous nonetheless.
We only went for the day since my in-laws live pretty close to it but Joel and I have been planning to go away for the weekend once I feel comfortable leaving the baby with someone overnight. Even just a day walking around The Greenbrier is still so fun! Catalina and her cousins got their makeup done at Studio G and we picked up some of our favorite truffles at The Candy Maker. I also had to stop at the Dorthy Draper Home store and found the cutest book of Old French Fairytales and a set of Dorothy Draper pajamas.
Okay now onto what you're actually here for, what to wear to The Greenbrier in summer! We wanted to dress up a bit since The Greenbrier is so nice and Catalina wanted to wear a princess dress to get her makeup done. I wore my favorite dress I've ever tried on! Maxi dresses are my jam during the summer and this floral print maxi dress is the best I've ever worn.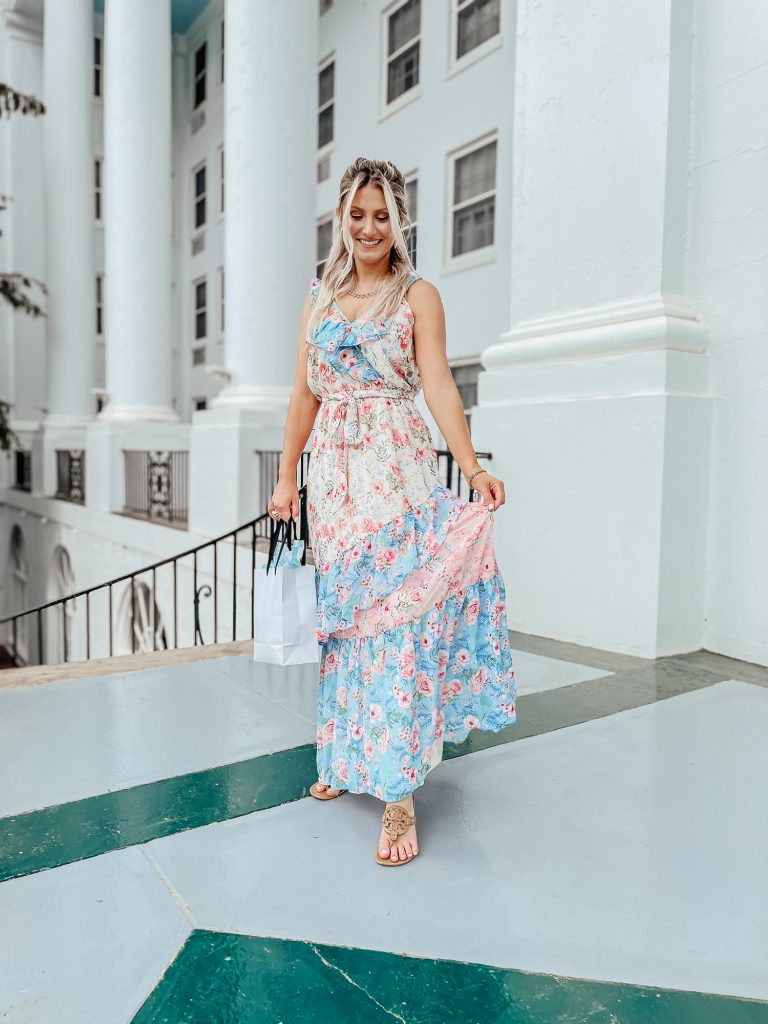 I just love the pale pinks and blues, the ruffles, the floral print, gah every little detail of this dress tugs at my heart. It is so sweet and gives me major Love Shack Fancy vibes. The surplice neckline is so flattering with a pretty necklace, (I wore the Groovy Blooms necklace also from Copper Bloom), and it has a button that kept my chest covered but was easy to unclasp to breastfeed.
I got so many compliments while walking around in this dress! Everyone loved it and asked about it so you're sure to stand out in this dreamy dress. My earrings were also a hit! These beaded pink butterfly earrings are so beautifully detailed and only $20. I basically wore all Copper Bloom except for my Tory Burch Miller sandals.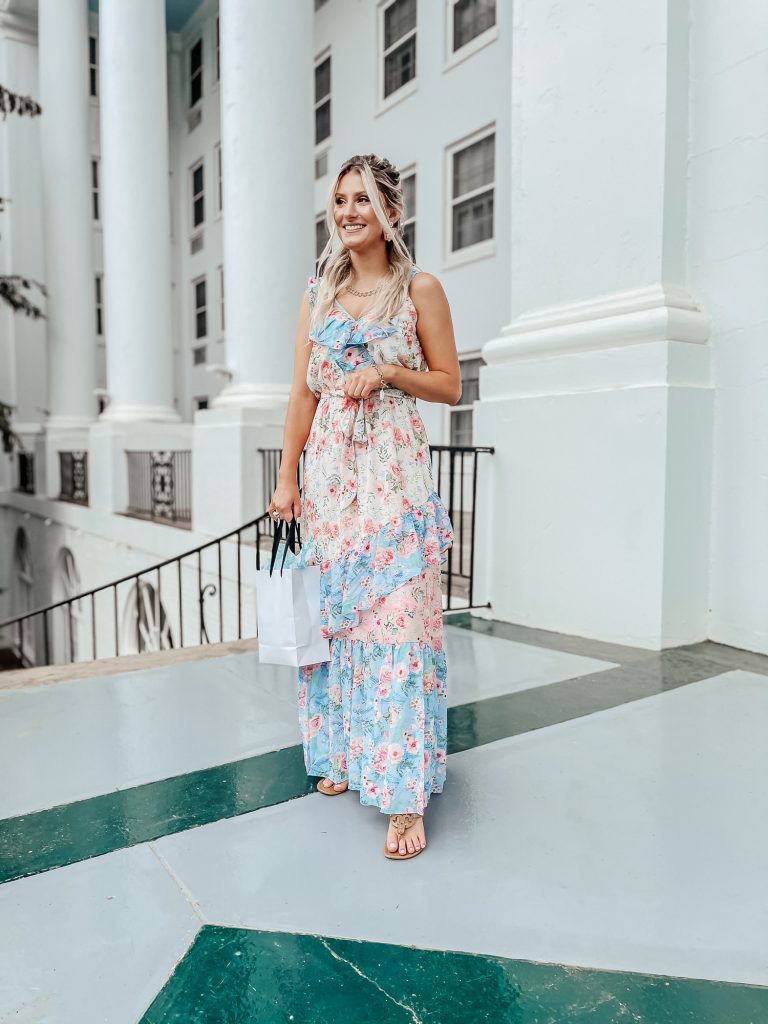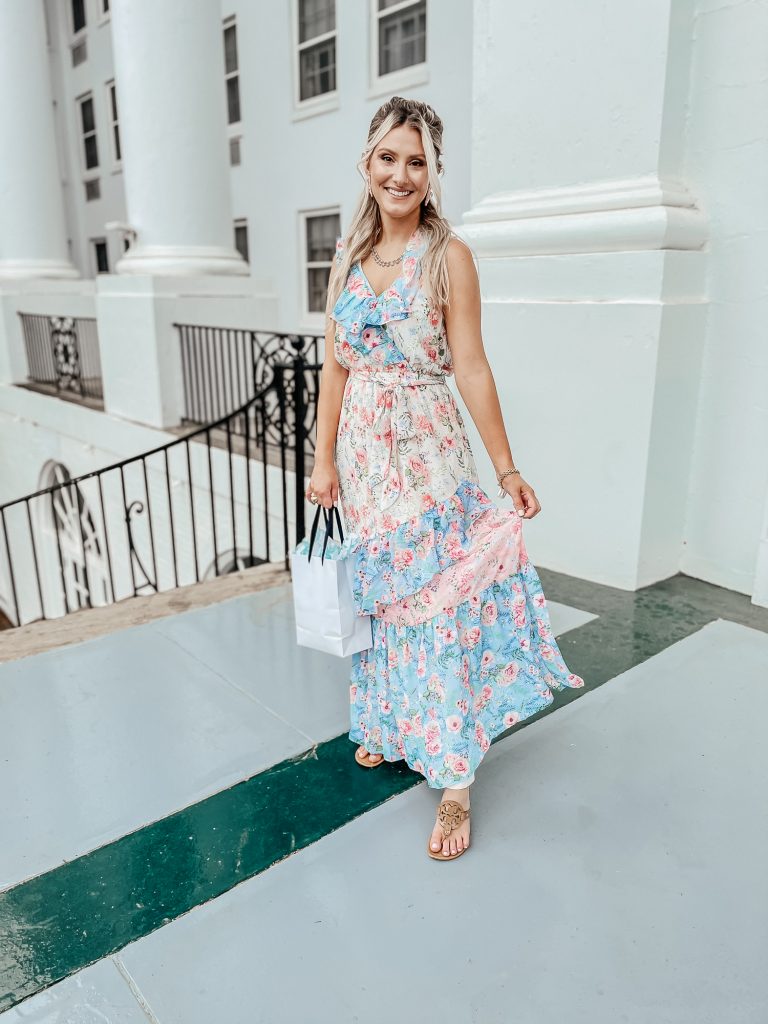 Outfit Details: Floral Print Maxi Dress // Butterfly Earrings // Flower Necklace // Sandals
Catalina and Rosa wore the cutest little dresses too! Catalina wore her pretty blue dressup ball gown I found on Amazon. Little miss was feelin' herself!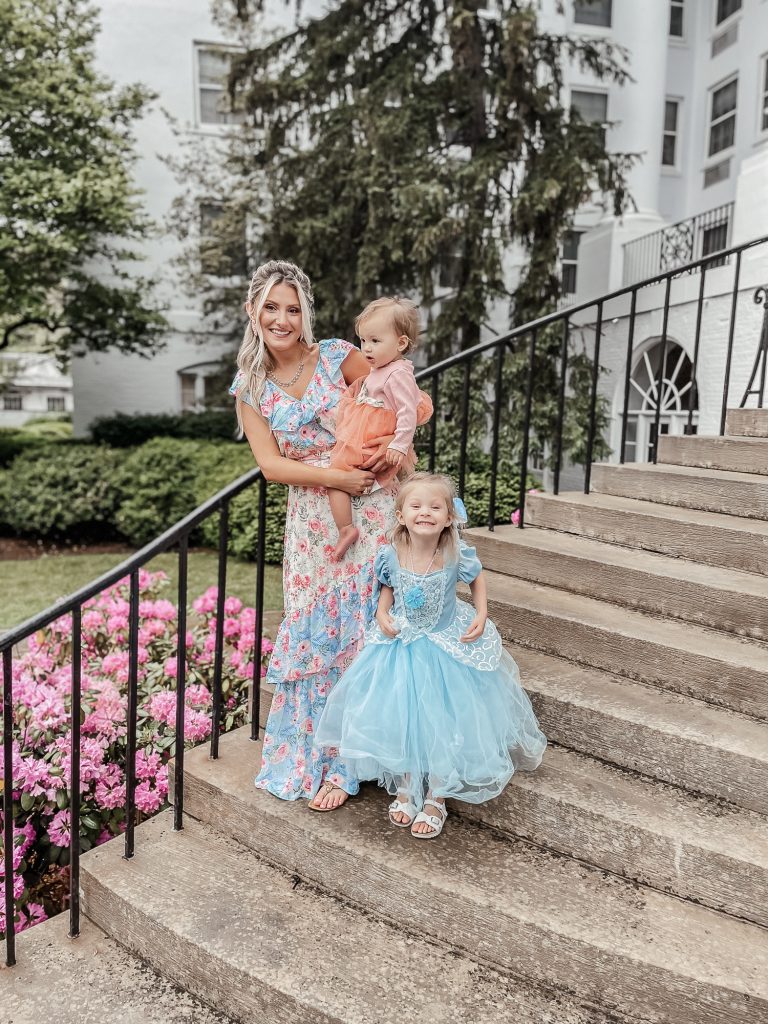 Outfit Details: Catalina's Blue Princess Dress // Rosa's Pink Dress // My Dress
More Travel Posts! Things To Do in Fayetteville North Carolina, and What I Wore On Vacation In Jupiter Florida In June