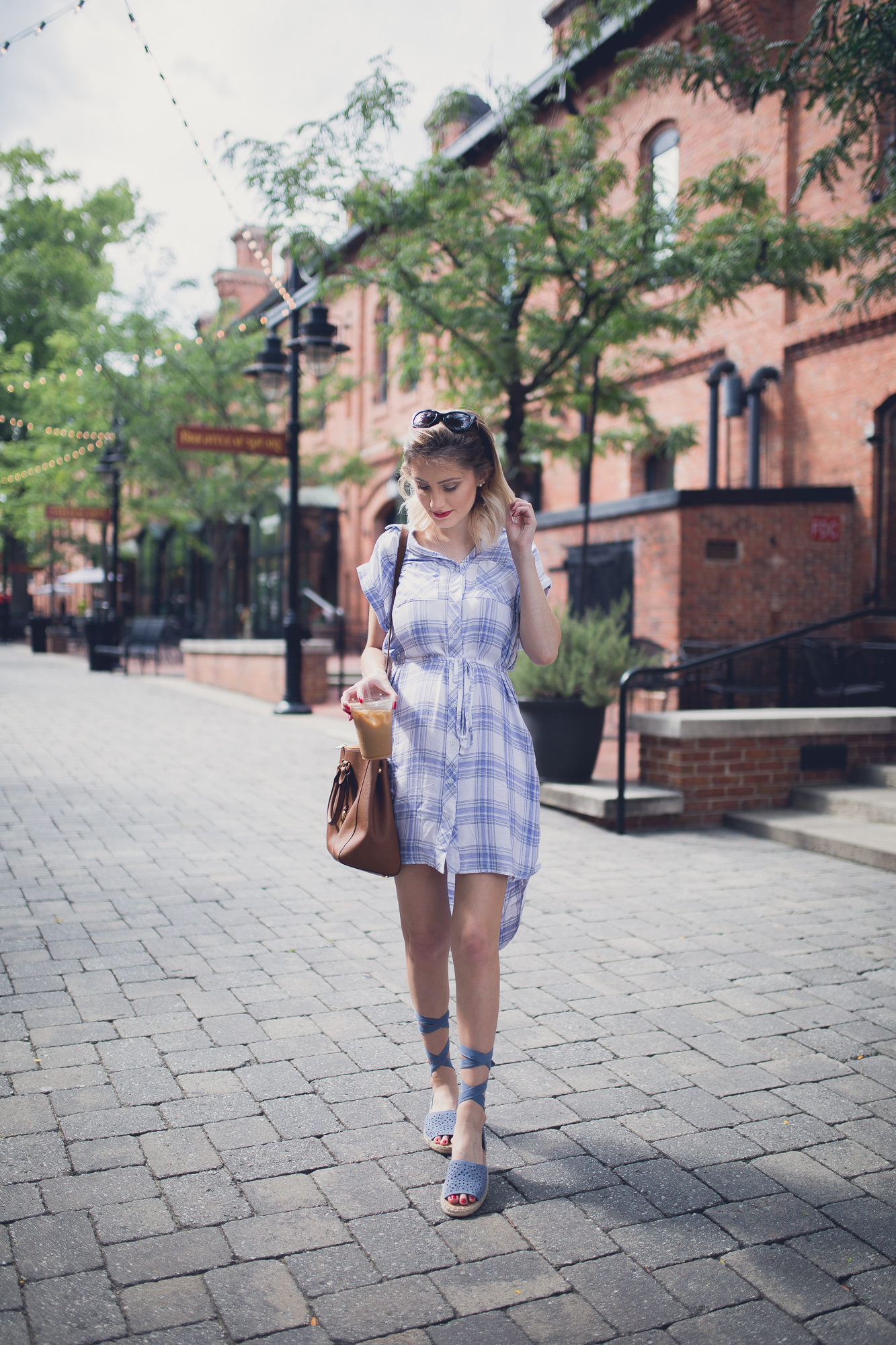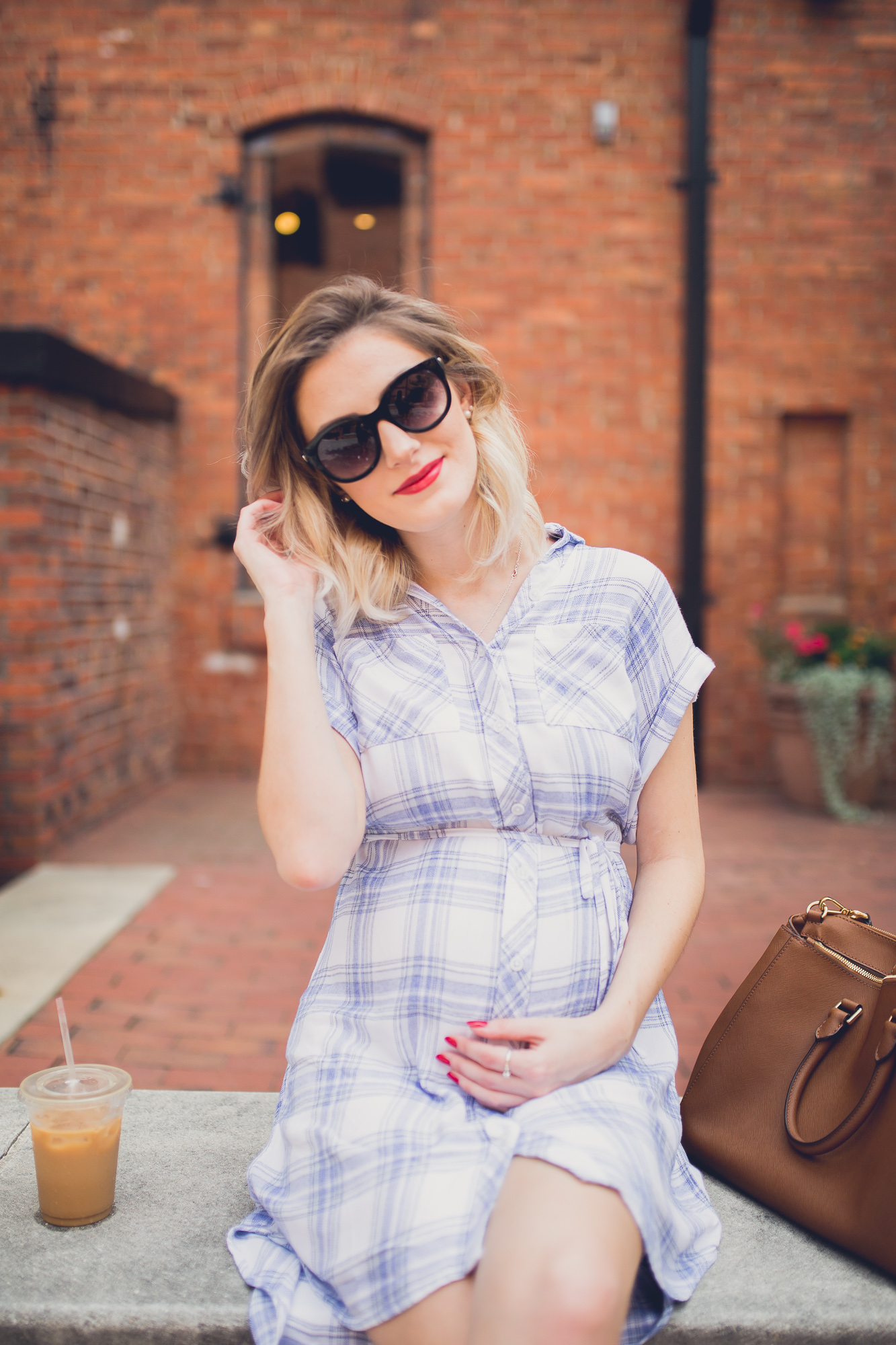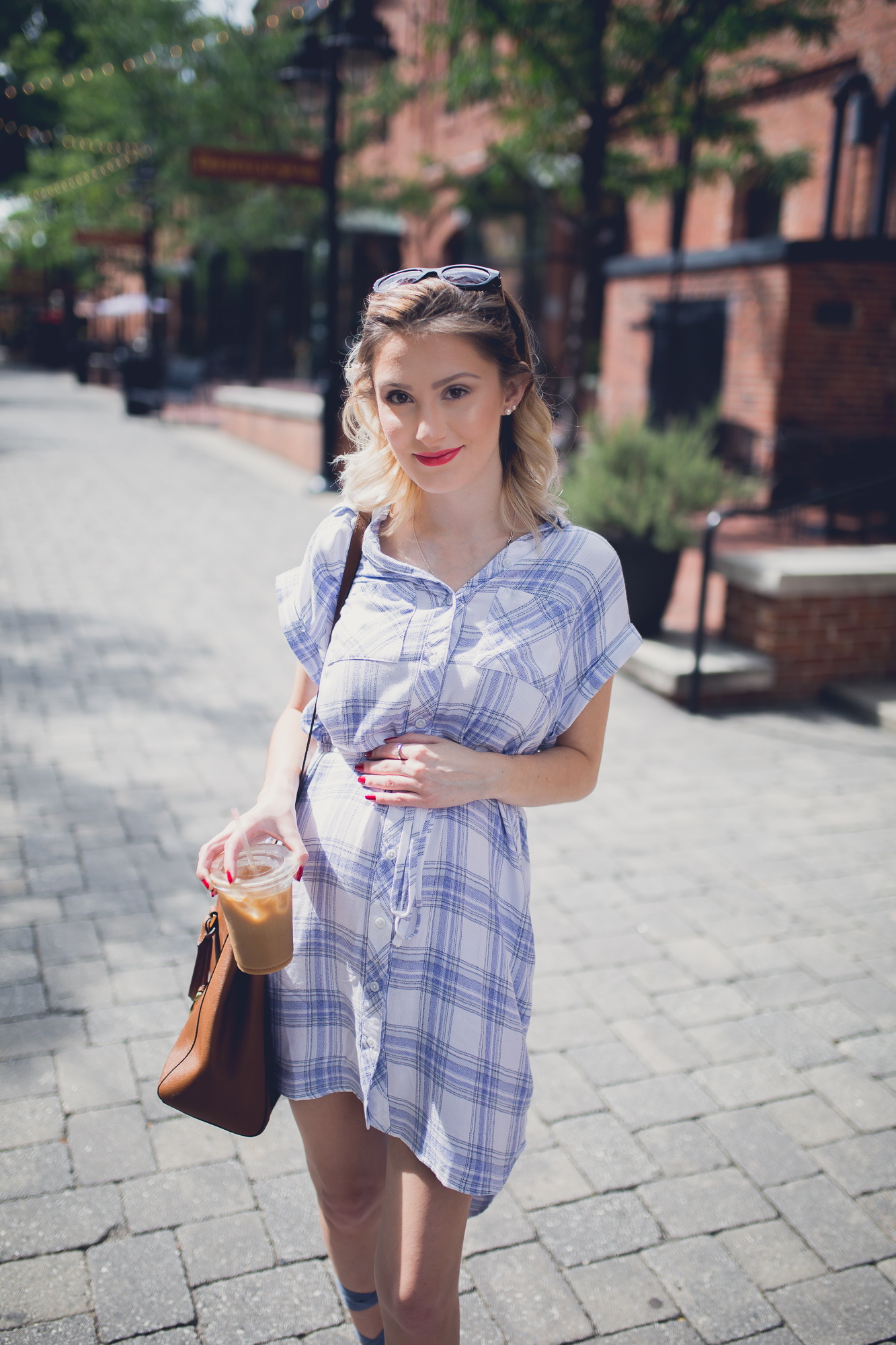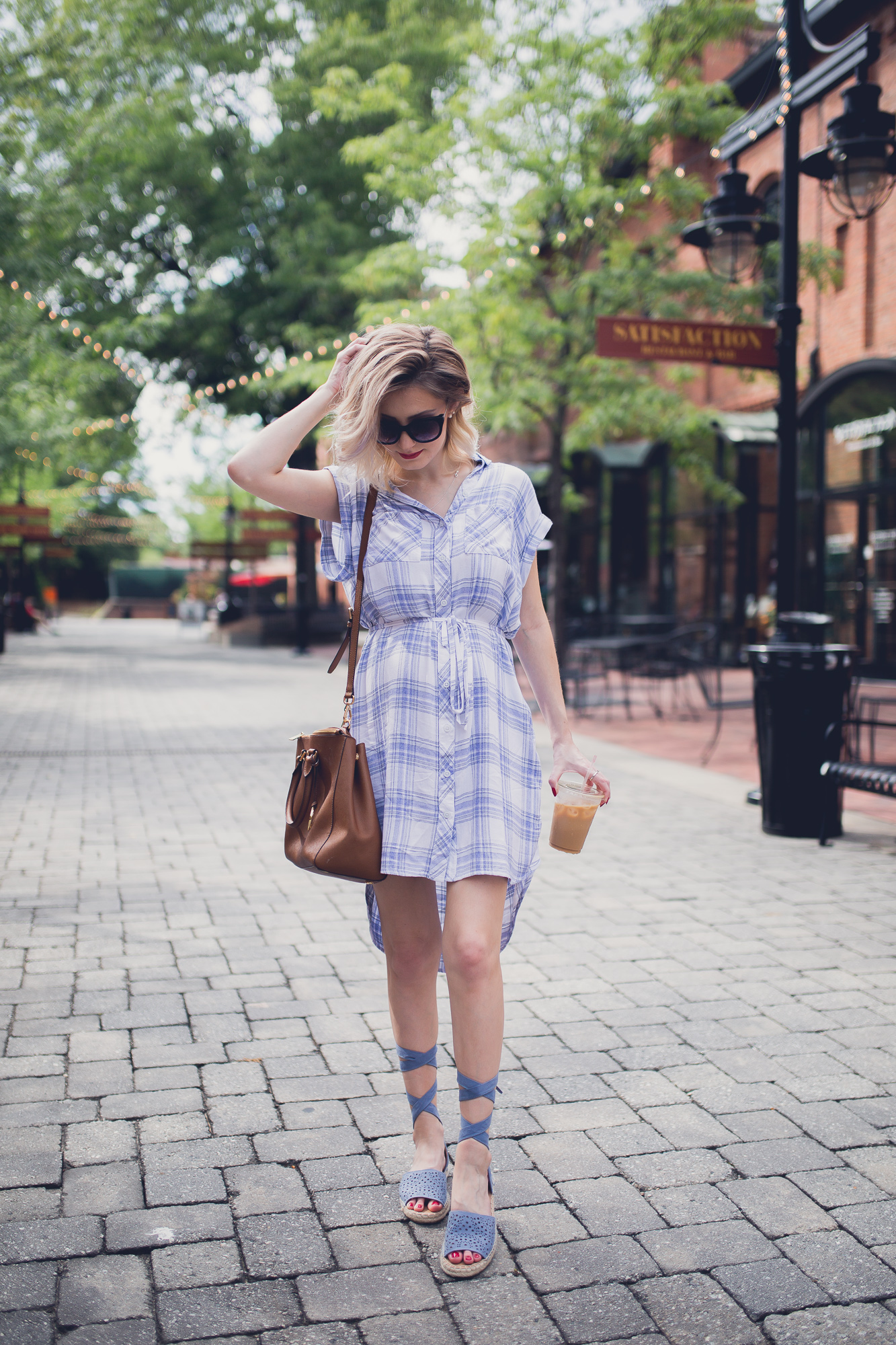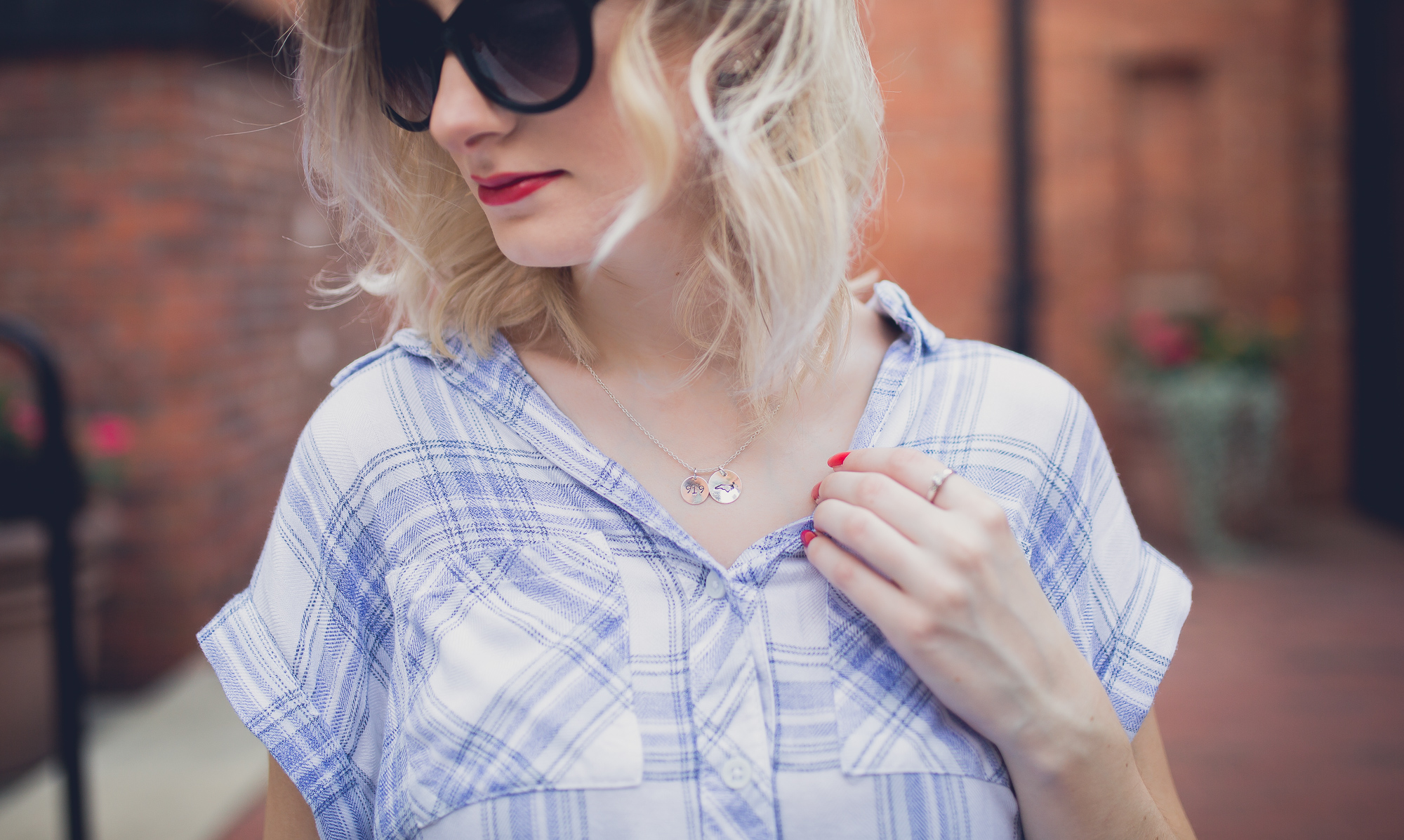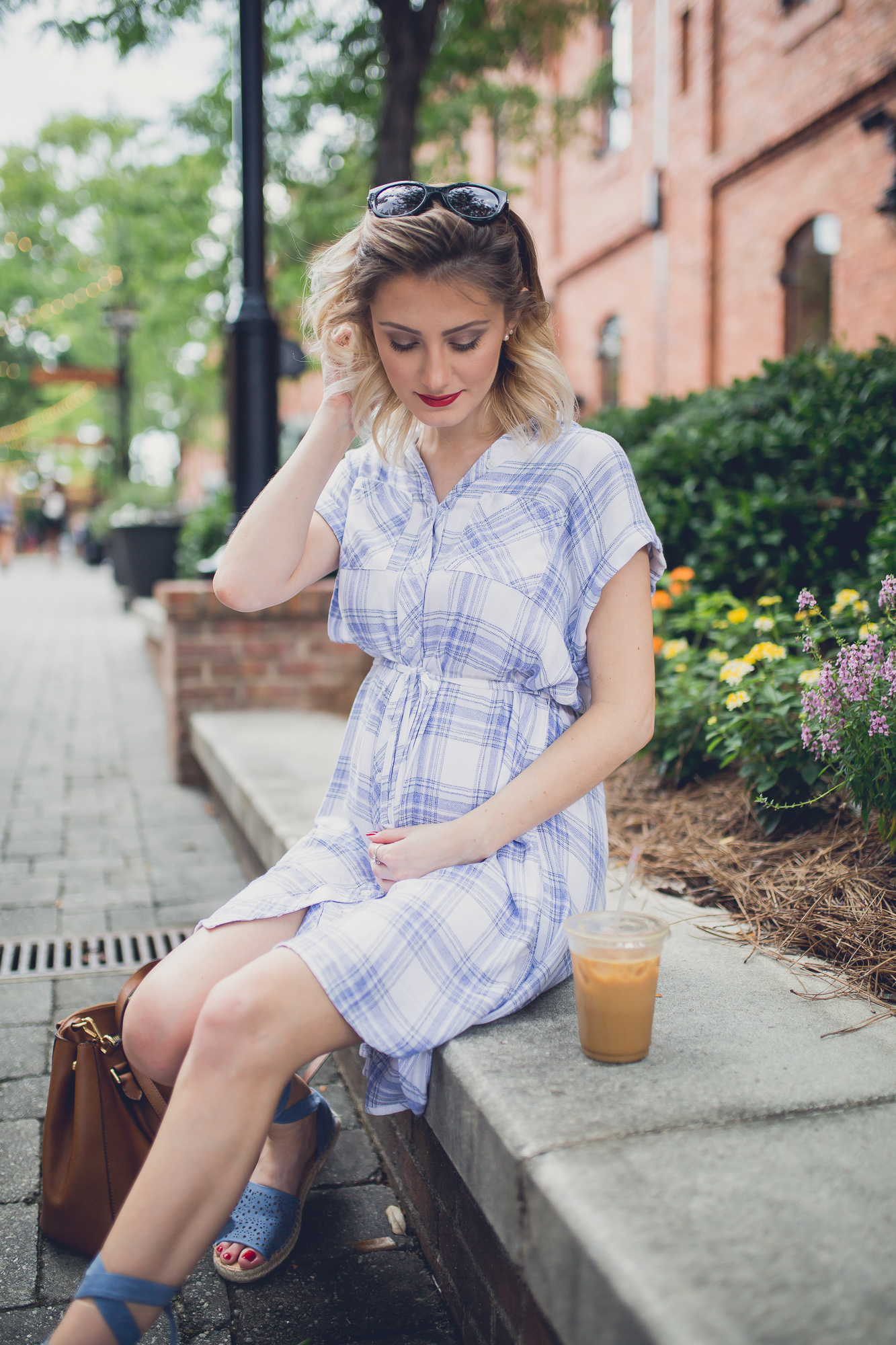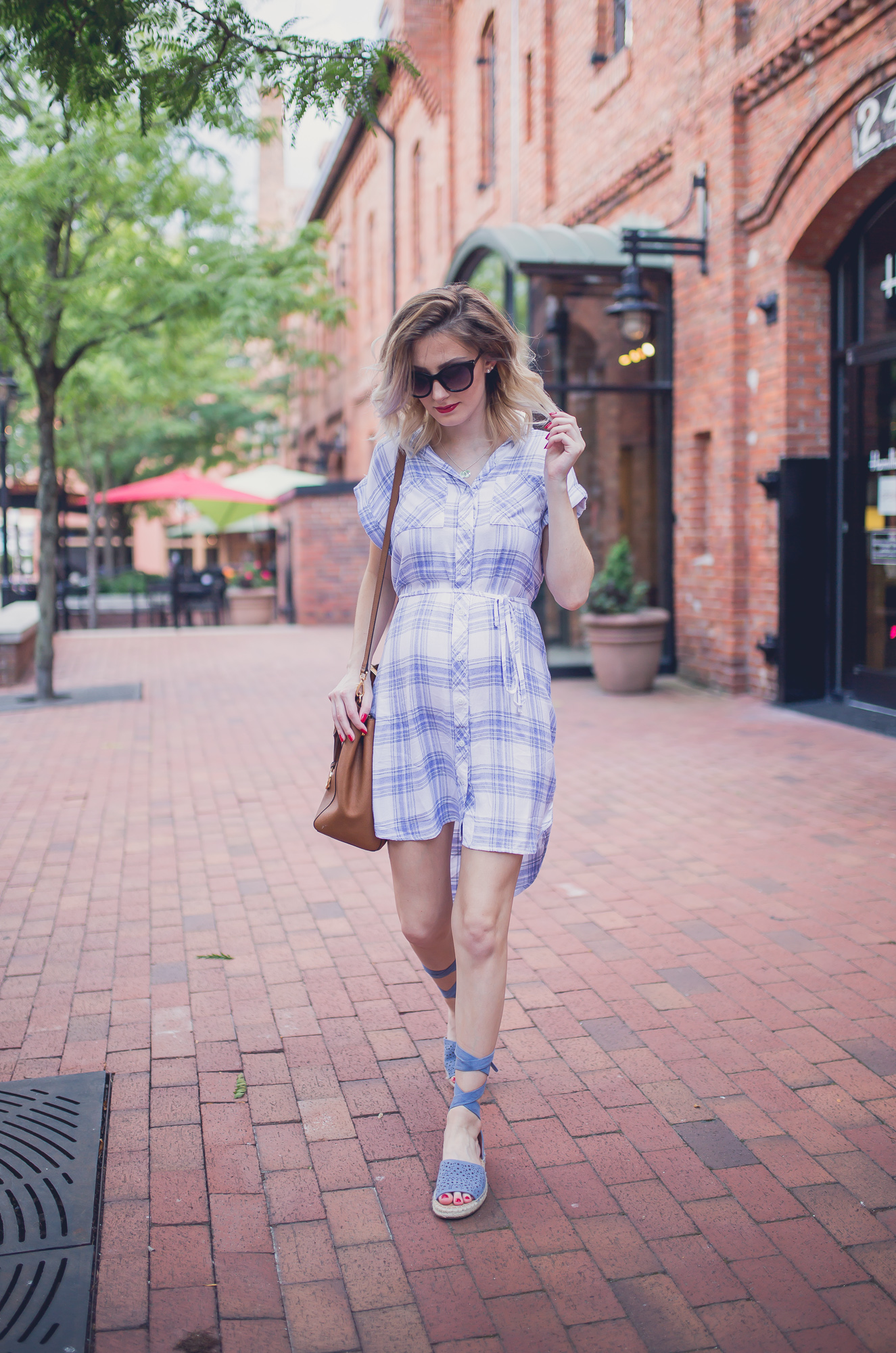 Is it just me or is this summer hot, like extra hot?! Maybe it's just because I'm pregnant and that makes the heat even more miserable.  I was pregnant with my son through the fall and winter so this is new for me (and much more uncomfortable).  This dress was the perfect thing to wear on this sweltering day since it is light colored, light weight, and very breezy and thin.  The wide open sleeves allowed for a lot of air flow and also a bit of a peep show for anyone at my sides.  I bought these adorable shoes to wear with the dress I wore in our Gender Reveal photos but ended up being barefoot all day so I decided to wear them with this dress.  I lines created by the lace up feature of my shoes really compliments the lined plaid pattern of my dress.  Since blue and white are pretty neutral and toned down I decided to add a pop of red on my nails, toes and lips and and really love how the contrasting blue and red went to together!
My gorgeous red lipstick is the color Crave by SummerReign Cosmetics and is all natural and organic made right there in North Carolina!
My adorable North Carolina necklace is from CY Design Studio and it has really had me thinking about my life here in NC.  I moved here almost exactly 5 years ago.  I'm from West Virginia and had lived there my whole life, so moving to another state right after I turned 19 and graduated high school was really scary!  On top of that, my wedding was planned for the end of July just a few weeks after we moved.  Little did I know that I had another little surprise coming my way.  Two weeks before our wedding we found out that Brayden was gong to be joining us in a few months.  2012 was busy!  We had a rough couple of years when we first moved here with no money living in a one bedroom apartment, and I was honestly pretty miserable at the time.  It"s really amazing for me to think about how much has changed since those crappy first few years.  Whenever I'm unhappy with something in my life, I try to remember how much changed in such a short amount of time for me (in a good way) and that really great things and improvements in life situations can happen so quickly.  Enough with the sappiness, here's something you might actually be interested in though:  A discount code for 10% off of your CY Design Studio Purchase 'JESSICA10'
I was surprised to find a dress so similar online in the slide below!
Five Random thoughts/things from the week:
I have not bought a single necessity for Catalina!  It's crazy because I am so excited to be having a girl, you would think that I would already be going crazy with getting her stuff.  She has a few outfits but I guess it's time to start shopping!
Joel and I finished watching House Of Cards. Our thoughts on the last episode, WTF
Cravings:  Zinburger (duh) and bagels with cream cheese
I am currently reading The Silent Wife and I should have finished it already since it's such a short book, but I get so mad at the horrible husband/boyfriend in it that I have to set it down for my sanity
My sleep is horrible lately!  A lot of pregnant women have very vivid dreams so mine are super stressful.  I have very clear dreams about losing something, trying to find something or accomplish things, or messing something important up.  These dreams last. All. Night. Every night.  I wake up feeling like I've been working haha. Have any other expecting ladies dealt with this?