Who doesn't love an outfit that is comfortable but still looks cute and put together?! I got so many compliments on this dress when I posted it on Instagram. Everyone loved the effortless vibes which is exactly what I love about t-shirt dresses! This one is also only $20!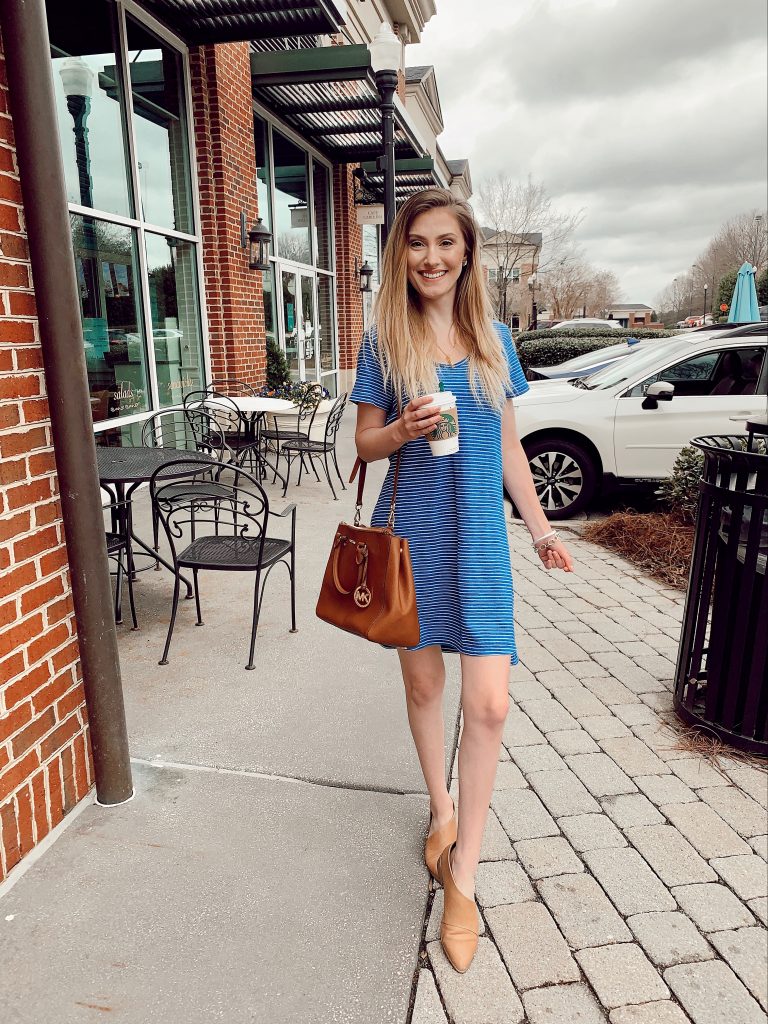 I found this dress at Target and immediately bought it without even trying it on. I purchased a similar dress from Target a few years ago and loved it. This had the same shape so I knew I had to get it.
It's relaxed and flowy but still flattering. I didn't feel like I was being swallowed up by it. I love that this t-shirt dress is slightly longer in the back so I didn't have to worry mooning anyone while chasing Catalina around. The material is also really comfortable.
I also love the scoop neck! It's one of my favorite necklines to wear since I think it is more flattering on my frame than other necklines are. We can't forget to talk about the color! It's a navy tone that looks slightly distressed up close with thin white stripes. I normally stay away from vertical stripes but since these are subtle, I didn't mind them.
This t-shirt dress is the perfect casual and effortless outfit for spring and summer! It also comes in a rusty orange color, (which I also bought), and a distressed black/gray color.
I love tan and navy together so wore my favorite booties (that I love so much, I wrote an entire blog post about them), and my tan Michael Kors bag.