It's that time of year! Beach trips, pool days, and all kinds of summer fun. I don't tan year round but when the weather warms up I'm all about that summer glow. As some who is very pale I don't like to lay out in the sun or in a tanning bed. I know that would dangerous and age me so quickly being as light as I am so I only use sunless tanning methods. Sunless tanning is the safest option and your skin will thank you for it!
I have tried so many different tanning products from tanning towels to sprays, creams, mousse you name it! I have also tried various brands in the self-tanner industry. You can read my Bondi Sands Self-Tanning Foam Review here, and my Sun Tan City Spray Tan Review. My current go-to self tanner has been Loving Tan 2 HR Express Self Tanning Mousse but Ulta was out so I decided to try the St. Tropez Self Tan Express Bronzing Mousse. Let's get into the details!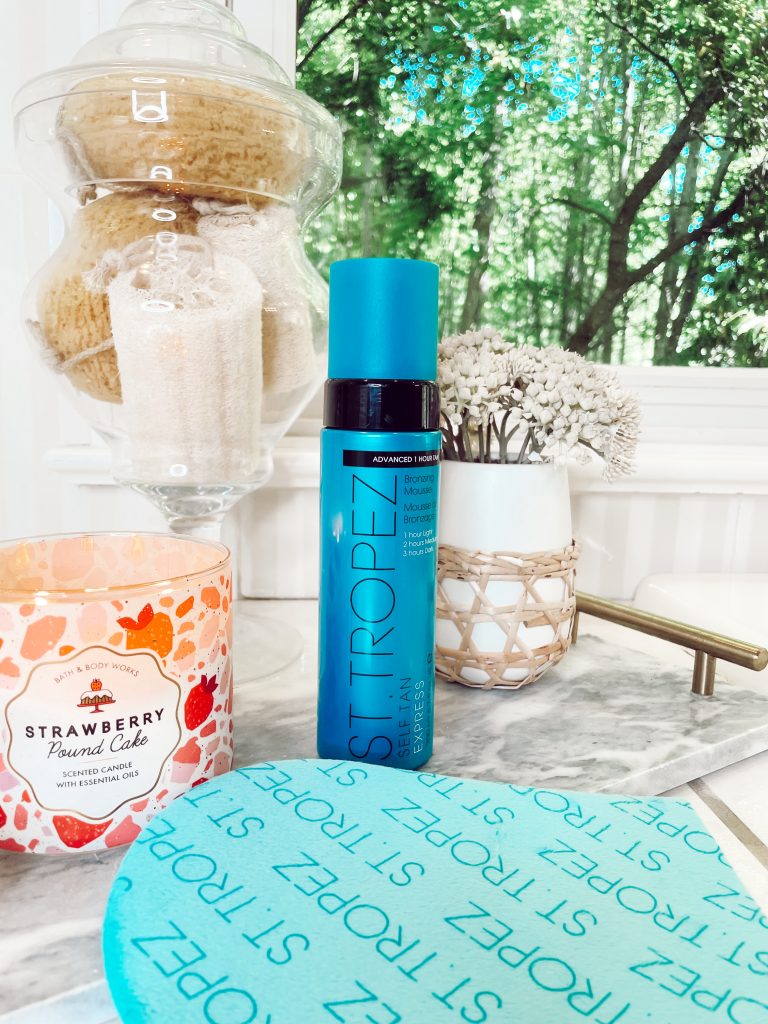 How Dark Does St. Tropez Self-Tan Express Bronzing Mousse Get?
You get to choose how dark your tan gets with this self tanner. You leave the tanner one for 1-3 hours depending on how deep you want your tan to be. One hour will give you a light tan, two hours will give you a medium golden tan, and three hours for a deep tan.
How Long Does It Take For The St. Tropez Bronzing Mousse To Develop?
After rinsing off following the 1-3 hours your tan will continue to develop for 8 hours into your chosen shade. So you may not see much of a tan initially but within 8 hours you will see the results!
Below is my legs before, I applied the self tanner and left it on for 2 hours. The after picture is 8 hours after I rinsed it off so it is fully developed.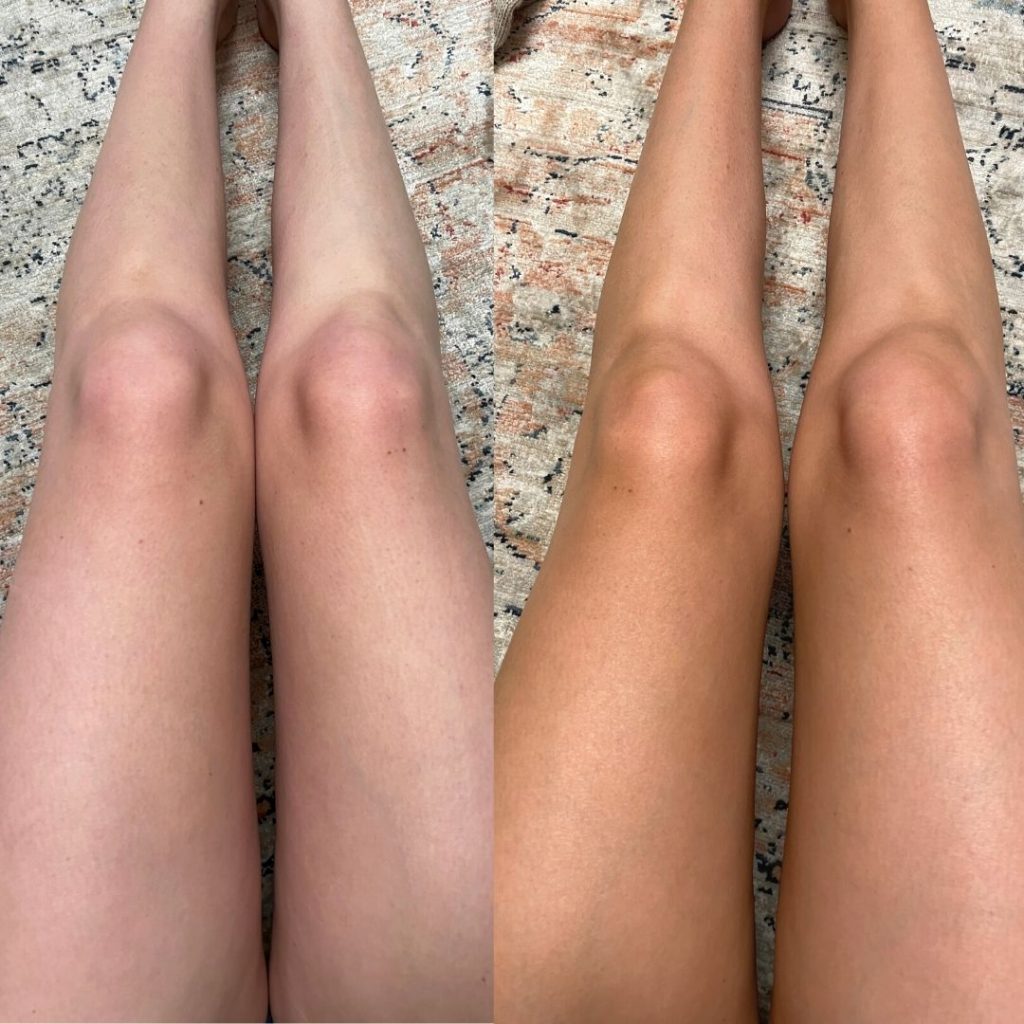 Does St. Tropez Self Tan Express Bronzing Mousse Stink?
Of all the self tanners I've tried I would say this one smells the least! When first applied there is not fake tan smell. After a while I smell a slight tan smell but it is not bad at all! This is one of the least smelly fake tanners I have tried.
Is The St. Tropez Self Tan Express Orange?
The developed color is not orange but is definitely on the warmer side. I prefer the shade Loving Tan gives me on my neutral/cool skin tone. The St. Tropez color is more golden.
Price Point
The St. Tropez Self-Tan Express Bronzing Mousse price is comparable to other popular mid-high end tanners. A full-size bottle contains 6.7 oz. and will cost you $44. The smaller size contains 3.3 oz. and costs $34. Compared to Loving Tan which also contains 6.7 oz. and costs $60. So St. Tropez is a bit more affordable.
How To Use St. Tropez Self Tan Express Bronzing Mousse
I use my Braun epilator to remove any long hairs on my legs. I love how epilating keeps the hair gone longer.
I shower then shave to get any hairs my epilator missed.
EXFOLIATE! Exfoliating is one of the most important steps in self tanning. It removes dead skin cells so that your tan applies and develops evenly and stays on longer.
After your skin is completely dried apply the tanning mousse with a tanning mitt. I've been using the St. Tropez Luxe Double-Sided Mitt. It works just fine however I prefer the Bondi Sands Self-Tanning mitt. I think it is softer and more flexible.
Let mousse dry then leave on the amount of time for your desired shade.
Rinse. I try not to use any soaps or lotions on my skin when I rinse just to ensure nothing affects how my tan develops.
Final Thoughts
Overall I think the St. Tropez Self Tan Express Bronzing Mousse is great! It is easy to apply, doesn't take long to develop and doesn't smell horrible. I still prefer the color that Loving Tan gives me but St. Tropez is a but cheaper. If you have a warmer skin tone or prefer a warmer tan then this would be great for you!