If you follow me on Instagram you know that I recently went to New York and ate. A lot… There were so many delicious vegan options (as well as gluten-free)! I made a lost of some of the delicious places that I ate and what I ordered.
Taïm
This was probably one of my favorite meals in New York! Literally everything was vegan except for two items and everything was also gluten-free except for the pita and tabouli. I had the lentil soup which was delicious protein packed and perfect for cold days. I also had the falafel sampler, (they have three different flavors)! My sister-in-law got the falafel salad which was vegan and gluten-free!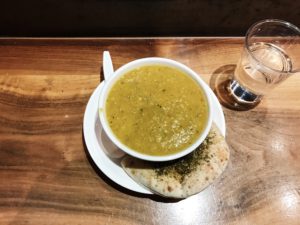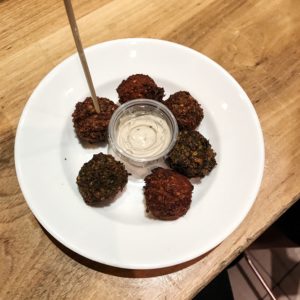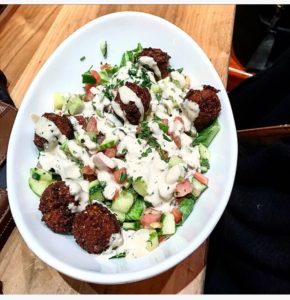 By.Chloe
By.Chloe has two separate store fronts that are side by side and I believe they may have other locations as well. Everything on the menu is 100% vegan! One part is where you can buy their sweets! I had my first cinnamon roll since I went vegan and it was delicious I only wish that it had a little more icing on it! The other part was where you could buy food. Unfortunately I only got to get the cinnamon roll and a meatball hoagie but they were so good! The employees on the food side were the kindest people.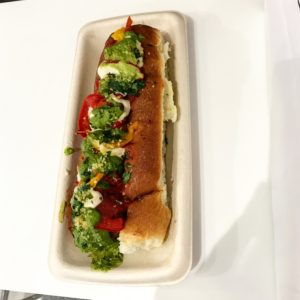 Champs Diner
Three words. Vegan. Diner. Food. Anyone who knows me knows that I love breakfast food no matter what time of day it is. IHOP used to be part of my weekend routine until I went vegan and i have missed it dearly. Champs Diner was in a somewhat sketchy-ish area that my sister-in-law and I kept our fingers in our pepper spray but the long cold, shady, night time walk was worth it for these delicious pancakes, veggie bacon strips, soy sausage, and tofu scrambles! It tasted just like they real thing and I kid you not, I ate just about every bite.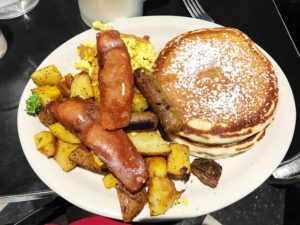 Shangri La
The beauty of New York is that you can have basically anything delivered. My last night there I had Shangri La delivered and it was delicious! They have a vegetarian menu and the veggie dumplings as well as other items are vegan!
Pizza Plus
Pizza Plus didn't have a ton of options basically just pizza was vegan cheese and veggie toppings, but they also had say sausage and soy pepperoni. I opted for a daiya vegan pizza with olives and basil. Unfortunately the gluten-free dough is not vegan only the regular dough is and our waitress was not super friendly or knowledgable about this and had to keep going and asking the cook. I almost ordered the gluten free dough and she didn't bother to check and make sure it was vegan, (even though I said I wanted my pizza to be vegan), until I asked. It's definitely not a place to go to for the service but the food was good!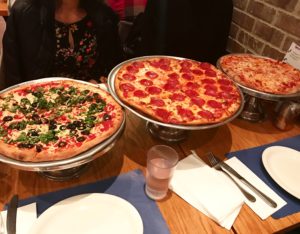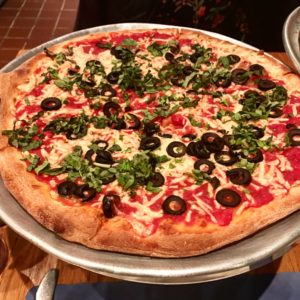 S'Mac
Sarita's (aka S'mac) does not have the most informative menu in regards to their vegan options so when I ordered my food I was expecting plain pasta with some vegetables. I was very shocked to see creamy cheese substances on my dish and asked the waiter in confusion if it was vegan. I received a simple "yes" and tried a bite, (again, not a place that you go to for the service). After some online searching we discovered that S'Mac does in fact have their own vegan cheese made with coconut milk! It really was so delicious they really should have that information on their menu somewhere!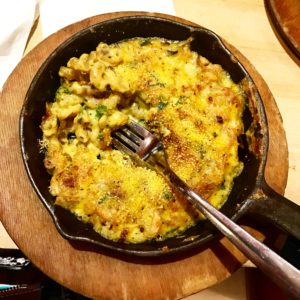 BCD Korea House
This place is open 24 hours and serves a delicious tofu bibimbap! The appetizer that are automatically included in your meal, (which we were not aware of), consisted of a couple of n0n-vegan items like a whole fried fish… The vegan food was pretty good though and had I known I would have asked them to hold the fish.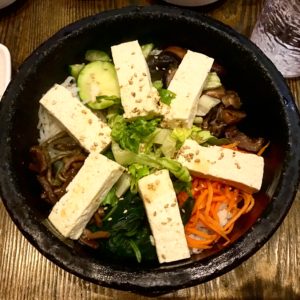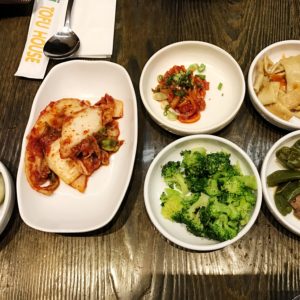 SnowFox Cafe
This is a sleek and I mean very sleek grab and go cafe. Most of the food available was sushi but they had some delicious looking vegetable sushi and the place was just downright trendy! Their bathrooms, I shit you not, had a noise maker with bird chirping sounds.
Bogota
This was the first restaurant we tried when we got to New York. It is a Latin restaurant and has multiple vegan options that are labeled on their menu. I ordered one, that's right, one veggie empanada because I had no clue that they were so small. When our meal came out my lonely baby empanada looked so sad in front of me. Everyone already assumes that I have an eating disorder so this definitely would have made them think that they were right. I ended up ordering another one and a big side of yellow rice because I do in fact actually like to eat.